Feb 03, 2014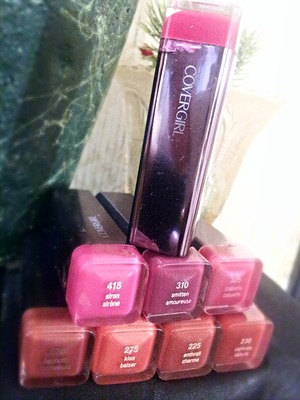 What you need to know!
I own 8 of the Covergirl Lip Perfection Lipsticks. ( Coquette, Siren, Kiss, Hypnotic, Tempt, Enthrall, Captivate and Smitten). These lipsticks are moisturizing, rich in color, silky smooth, and vibrant. Covergirl also offers the Queen Collection of Lip Perfection lipsticks mainly for women of color, but any skin tone can wear them. Hey, look at it as more shades to choose from. The lipsticks last a very long time due to its ability to leave a stain on the lips. Your getting a 2 in 1, a lipstick and a lip stain you can't beat that. Removing the lip stain is easy just use soap & water or your facial cleaner. While applying they go on smooth with a light scent that eventually goes away in no time. Some of the lipsticks are slightly off from the color on the outside of the tube which can be a problem if you want that specific color.

Subscribe to my YouTube Channel @ Glamorous Leigh Eje (links are on my Beautylish page) and follow me on here. Thanks =)
http://www.youtube.com/user/Glamoro...