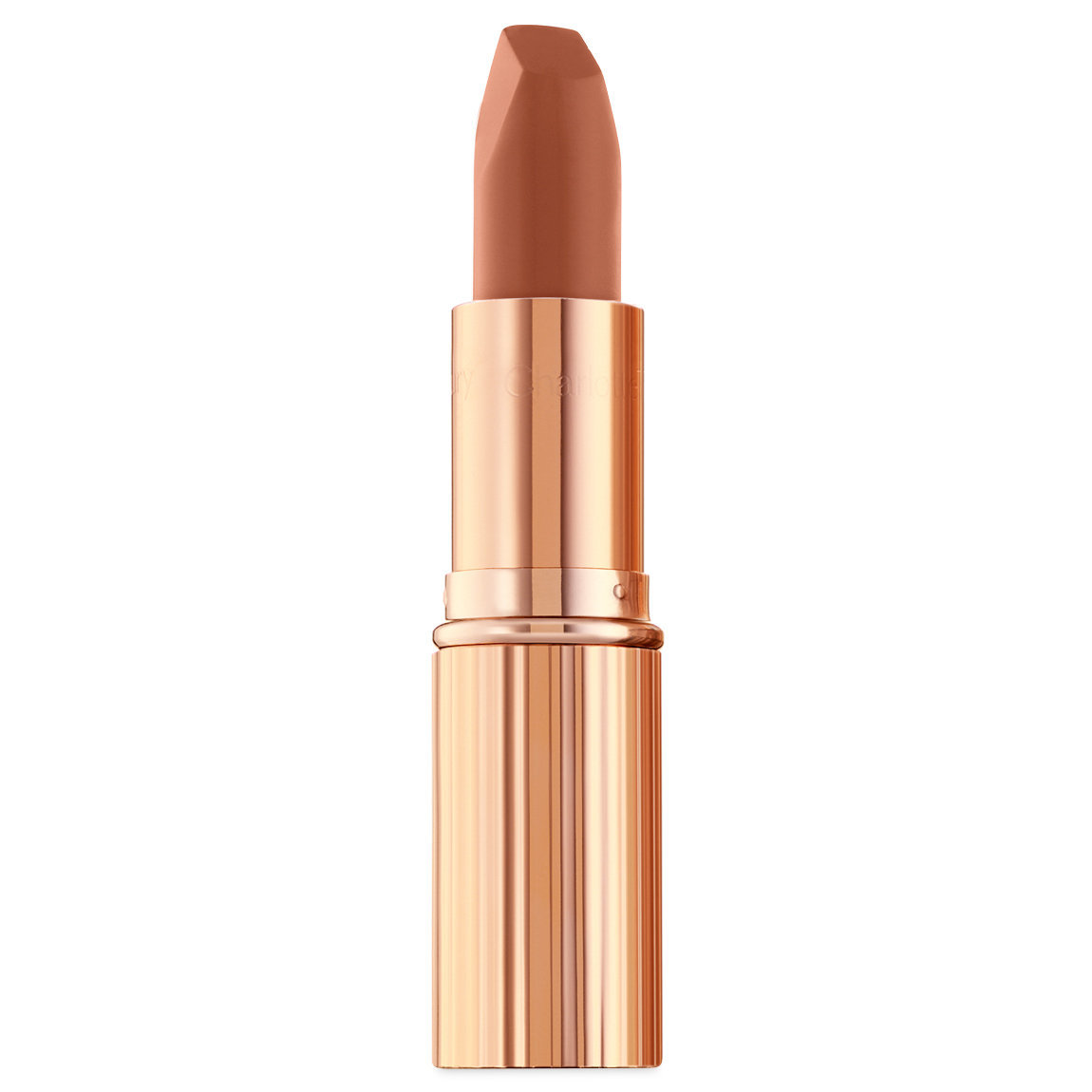 Product Description

The Story

A new kind of matte lipstick.

Create the illusion of fuller, wider lips with Matte Revolution—the matte lipstick of the future! Unlike traditional matte lipsticks, which can feel dry and cakey, Matte Revolution's cashmere-soft formula conditions and nourishes as it shapes a full, plump, and plush pout.

"I've always loved creating a fuller-lip effect with matte lipsticks on campaign shoots. A matte finish can flatten the lips for a wider shape." – Charlotte

---

About Catwalking

This neutral peach enhances lips' natural hue for an instantly plump, luscious pout.

---

Why It's Special

For a full, plump pout.

Get plumper, wider lips that appear lit from within with the long-lasting, modern-matte formula. 3D glowing pigments reflect the light for a luminous full-lip effect.

Soft-as-cashmere feel.

Matte Revolution glides over lips and stays comfortable all day, thanks to the softening and hydrating power of lipstick tree and orchid extracts.

No lip brush needed.

The revolutionary square tip mimics the shape of a lip brush so that you can apply your favorite color perfectly every time.

---

How To Use

Apply Matte Revolution straight from the bullet in layers. Charlotte's tip: Apply a luminous concealer, like The Retoucher, around the lip line and the cupid's bow to frame and highlight the lips' full shape.

---

Details

Ingredients

Shipping & Returns

Free Shipping

Beautylish offers free shipping to the U.S. on all orders $35 and up. For all other orders, we offer $5 flat rate shipping.

Fast Delivery

We ship using FedEx Express (2 business days from order shipment date) and FedEx Ground (3-5 business days from order shipment date).

Satisfaction Guaranteed

If you are less than completely satisfied with your purchase, you may return your order within 60 days (from the delivery date) for a full refund. We'll cover the cost of return shipping within the U.S..

World-Class Customer Care

Beautylish's team of makeup artists and beauty experts are here to help. If you need assistance in anything from color matching to your perfect skin care regimen, we're here to help.

Phone: 1-877-992-5474

Email: service@beautylish.com

Reviews

Team

Rosalind D S.

Sep 09, 2015

Matte but creamy

Matte revolutions are not matte matte kind of lipsticks. I don't prefer glossy lip color at this moment, meanwhile I have dry lips. So these creamy matte babes became my HG. Before I tried them, I thought I'd only like a few colors, like Birkin Brown, Sexy Sienna and Very Victoria. Then I did arm swatches, still didn't change my mind. Everything changed after I put them on my lips, dude, I like almost every single color!!! My favorite color is of course Birkin Brown, I had sort of cocoa lip color obsession since I was 5. My least favorite color is Red Carpet Red, since I'm not big fan of this kind of red, and you can find the similar color everywhere.

Walk of Shame and Bond Girl surprised me, I don't usually like red tone lipsticks except the dark ones, so I thought they were those ones that I hate. But they're not. I have pale lips and I always want them to look healthier, WS and BG did it.

Oh, the deepest two colors Glastoncherry and Birkin Brown's texture is a bit patchy compare to the others, however it doesn't matter. I love love BB.

I'll post all the lip swatches later on my page.

Made my lips look and feel like the desert.

My least favorite Charlotte Tilbury product so far. The packaging is nothing special. This lipstick skipped and dragged across my lips. It accumulated on the my lip creases making my lips look dry and patchy. I did not find the formula hydrating at all either. The shade is pretty; somewhat matte with some shimmer.

Fantastic color and great formula!

I was almost hesitant to purchase this. One, I usually find matte lipsticks to be very drying, and I always make sure that my lips are well-moisturized beforehand. Two, what if this was all just a bunch of hype? Three, it's not exactly cheap. Despite my initial reservations, I found the color "Lost Cherry" so pretty that in the end, I thought what the heck and ordered it. As usual, Beautylish came through and I got my package super-fast, and so nicely packaged and with such a sweet handwritten note, too! First of all, whoever buys this should realize that it's a matte lipstick -- I repeat, it's MATTE -- it will NEVER be a hydrating lipstick! If you're looking for a lipstick that is moisturizing and balmy in texture, don't buy the Matte Revolution. If you take care to moisturize your lips beforehand (I use Lucas PawPaw ointment), that helps a lot. Secondly, despite the fact that it's matte, it wears comfortably on the lips. I've worn matte lipsticks that felt like they continued to suck every drop of moisture from my lips every second that they were on my lips. This doesn't do that, but since I'm used to a much more balmy texture, I did add a tiny bit of clear lip gloss on top, which gets me to.... My third and final point which is unlike some other matte lipsticks I've worn, when you add gloss to this matte lipstick, it does NOT feather or bleed. I ate and drank with this lipstick on and I had a bit of fading around the center of my lips, but nothing major -- it's not like I had a huge spot of no color on my lips -- the color actually hung on pretty well. I did carry around the tube for reapplication. Highly recommend! Here's a pic of the Lost Cherry in action. Pillow Talk was used to lightly line the lips, Lost Cherry was filled in with Chikuhodo Z lip brush. Gloss wasn't added until almost after an hour after this photo was taken. I wore this for almost 12 hours and experienced no bleeding, feathering, or chapping, and only applied bit of clear gloss twice during that time frame.

THE PERFECT COUPLE :)

This is Your perfect Nude! This color is a perfect match to my lip color. It is like it was made for me. It is also the exact match to the Pillow Talk liner, that so many people love & no wonder. :)

I waited until the lipstick came out before purchasing the lip liner, because I knew that I would fall in love with it & would want the lipstick. It was defiantly worth the wait, they are THE PERFECT COUPLE :)

Yet I can use the Pillow Talk liner with so many of my lipsticks. I am going to get another 1 because I am going to be using it everyday. :) The formula is the same as her other Matte Revolution's it did not dry out my lips like some of the other brands of matte lipsticks I have tried. It also lasted a long time through 2 coffee's & a muffin. Definitely a hit with me. "NOW IS THE TIME FOR SOME PILLOW TALK". :)

One of my favorite lipstick ranges!

Please don't judge this lipstick range by the two Norman Parkinson release colors (Miss Kensington and 1975 Red). Those were such a disappointment in texture compared to the other lipsticks in this impossibly lovely range. I literally have all of the shades but one color in this collection because I fell so head over heels with the formula - it's a rich, comfortable, semi-matte with gorgeous shades that last a long time on my lips. They also fade beautifully over the day into a soft stain.

My favorite is probably Red Carpet Red - such a classic, slightly cool toned red that is retro but current all at once. Full on pigment. Amazing on fair skin. I also especially love Sexy Sienna, Bond Girl, Love Liberty, and Lost Cherry. Glastonberry and Very Victoria are a little bit sheerer than the rest, but that works with the shades since they're so cool toned. Amazing Grace is a stunner, too - a deep rose that's very classy with a variety of make up looks.

Just a heads up - Bond Girl and Walk of Shame are EXTREMELY similar. They're basically the same shade, except WoS is a little bit rosier in undertone.

I also love the shape of the bullets! It makes creating a perfect edge so simple.

If you're a fan of rich colors and a semi-matte formula, definitely give these a go!

So sad about this one....

I purchased the whole collection minus the red lipstick as soon as it was for sale. I have been lusting after this for months now. The thing I was most excited for was this lipstick. It looks like such a pretty color - I thought there was no way that I would not love this one! Unfortunately, I am so disappointed with this. When I opened it and saw the color I could not wait to put it on. Once I put it on and looked at it I kind of stood there and thought... am I doing something wrong? I wiped it off, rubbed my lips clean, tried again, hoping this time it would be gorgeous. No. Same thing happened. It reminded me of how your lips look when you apply your foundation and get a light layer over them - every line, every dry patch, it all shows times 100. It makes my lips look awful and adds zero color. It makes me so sad but I am going to pack this up to return. It pains me so much to say but this is the worst high end lipstick I have ever purchased. :(

Obsessed😍

I am such a lipstick junkie and this.this is one of the most beautiful shades I have ever owned.At the first swipe i was so shocked at how plump and full my lips looked yet so matte ?? The formula is creamy,very pigmented,smooth,doesnt drag across my lips i wore it with mac lipliner in burgundy and it was a beautiful combo. Definitly getting more

perfection

1st of all the beautylish packaging is so cool its like a hand packed gift from a small boutique, I hope they never change that, it really is great. Very Victoria is long long lasting color, it does cure a tad darker but it is so perfect. I hope they re-stock the Miss Kensington, I am on the wait list & cant wait to buy it. I really love the matte color, it's so creamy with a low transfer. You will not be disappointed, well worth the money.

Love it!

I absolutely adore these lipsticks. They're not full coverage on the first swipe, but you can easily build the colour intensity up. Lasts around 5-6 hours without eating, and the best thing is, it doesn't dry out my lips. I have very dry lips and these wear just fine throughout the day. A big splurge, but worth every penny.

(I got the shades: Bond Girl, Walk of shame, Love Liberty, Amazing Grace and Glastonberry.)

Amazing indeed!

I am not a big fan of matte lipstick but I feel like I hit the jackpot with Charlotte Tilbury's matte lipsticks. Amazing Grace is just a fabulous candied berry color and if you really want to make it pop, get the Crazy in Love lip pencil too. It matches the lipstick perfectly. This matte lipstick doesn't crease or cake, it goes on lips smoothly and stays on for hours. I don't know why some people say that it feels dry, perhaps much lighter colors may look dry, but I don't have this issue at all, and I don't use any lip primer or balm either. I love it so much that ordered a few other shades. Definitely worth a try if you like matte look without dryness.