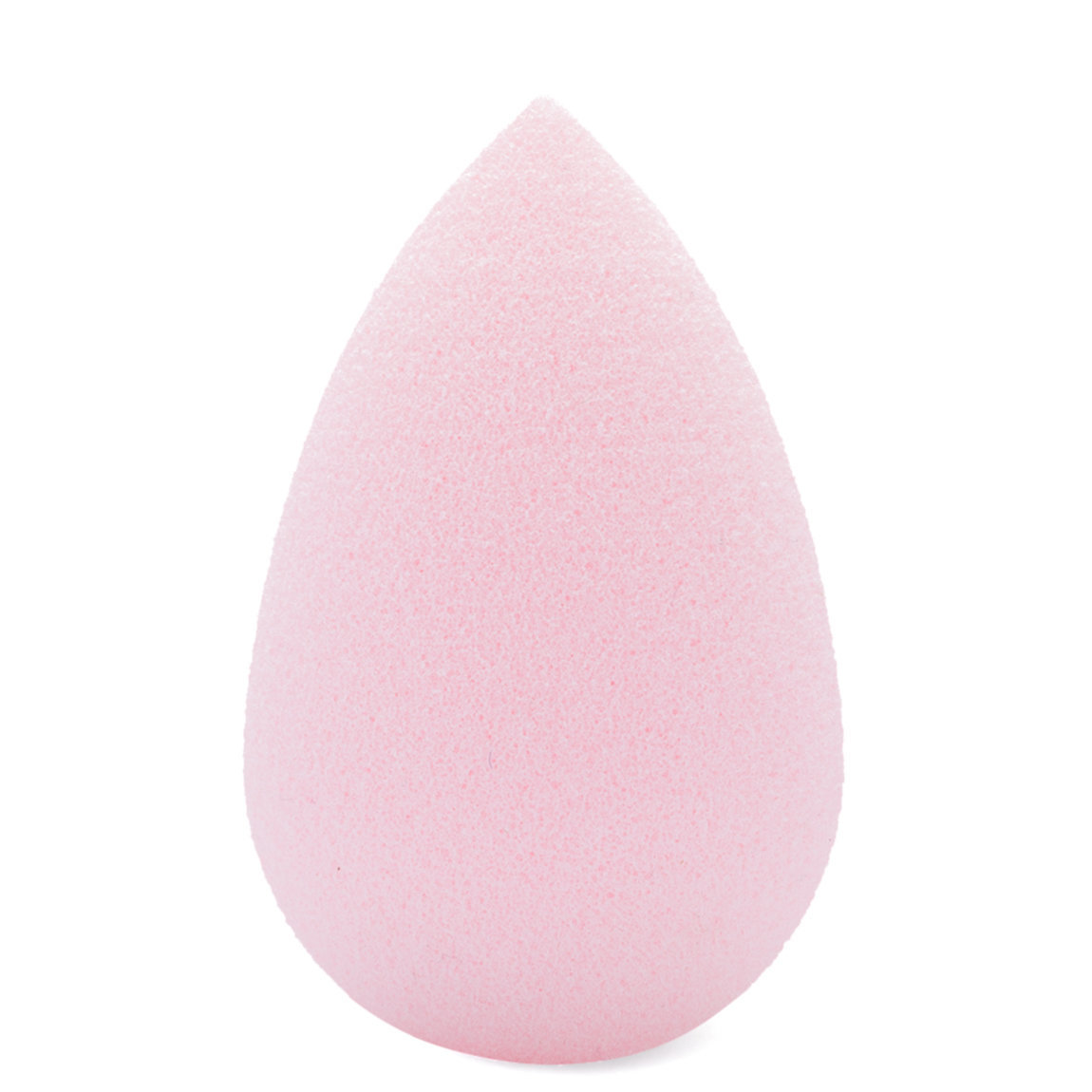 Product Description

About beautyblender single

beautyblender is the first ergonomically designed non-disposable sponge applicator that allows you to flawlessly apply your makeup. It's designed to be cleaned with its partner blendercleanser – making it super eco-friendly. It comes with an instruction disc so you can quickly master your application technique.

Why It's Special

Achieve a streak-free, flawless finish
This award-winning blending sponge's unique shape and exclusive material ensures seamless application without caking, streaking, or wasted product
Apply primers, foundations, powders, blushes, highlighters, and more with smooth, like-airbrushed results

How to Use

Wet your beautyblender with water and squeeze out the excess liquid.
Bounce and roll primer, foundation, powder, blush, or any other complexion product across your face for flawless results.
To clean beautyblenders, wet with water and rub over blendercleanser solid or liquid blendercleanser to create a rich lather. Squeeze and rinse to remove any excess cleanser and water. Let dry in a well-ventilated area. With regular cleaning, the lifespan of beautyblender is 3 months.

Other Details

Allure Best of Beauty 2020: Tools - Makeup Sponge
Latex-Free
Odor-Free
Hypoallergenic

Ingredients

Shipping & Returns

Free Shipping

Beautylish offers free shipping to the U.S. on all orders $35 and up. For all other orders, we offer $5 flat rate shipping.

Fast Delivery

We ship using FedEx Express (2 business days from order shipment date) and FedEx Ground (3-5 business days from order shipment date).

Satisfaction Guaranteed

If you are less than completely satisfied with your purchase, you may return your order within 60 days (from the delivery date) for a full refund. We'll cover the cost of return shipping within the U.S..

World-Class Customer Care

Beautylish's team of makeup artists and beauty experts are here to help. If you need assistance in anything from color matching to your perfect skin care regimen, we're here to help.

Phone: 1-877-992-5474

Email: service@beautylish.com

Reviews

Simple, Genius, & Pink.

10 minutes after purchasing my 1st Beauty Blender my first thought was, "Did I really just spend 20 bucks on a !@#@$* sponge?!" FACT: Replace "sponge" in the first sentence with either "Nars Orgasm" or the "UD Naked Palette" (Yes, I said it) and that for me is the all too familiar feeling of another expensive disappointment. As Make Up connoisseurs (*cough* addicts *cough*) we all know that once a product is hyped your admirable efforts to resist buying into its too-good-to-be-true promises of cosmetic perfection becomes as useless as the American version of a BB Cream. It's weak & just sad... And it's not like we're talking about a blush or palette here. Nope, we are talking about a sponge... A $20 SPONGE. So imagine my delight after the W.O.S out of the store when the Beauty Blender delivered. This honestly might be one of the few "says what it does & does it well" products I've ever used. All I could think was, "the claims are...true?! and the results are...beautiful?!" The clouds parted, the angels sang, and the Make Up GODS themselves said my normally large pores weren't even visible. The application is simple, no need to worry about brush strokes or putting your grimy foundation covered hands all over your face (Editor's Note: Ew.) In 3 minutes my skin, which is an insecurity for me (redness, cystic acne, large pores etc), is stunning. I FEEL beautiful. My skin looks like those pudgy half-naked people in a Renaissance painting; my face glows, my skin is supple, and the finish is flawless...Yes I am still talking about a sponge.

Okay Jenny, let's reeeeel it on in a bit. I will say that a person that knows & frequently wears Make Up will appreciate the Beauty Blender MUCH more than some one who rarely ventures past a tinted moisturizer. That is not meant to sound condescending (damn you for only needing tinted moisturizer!) I'm saying that as someone who has experimented A LOT with make up. I recognize the slightest hint of "cake face," "uneven application," "brush strokes," etc. I know the results I want & I would repurchase the BB in a heart beat to achieve them, as opposed to someone who is reading this and thinks I need to get out more.

After all we are just talking about a sponge right? ;)

Jacqueline H.

Aug 10, 2014

Way Way Overrated and Overpriced

This sponge is designed to mimic a stippling motion which is a bounce or a roll from right to left and left to right, so if you are using this sponge, whether or not you know it or realize it, you are performing a stippling bounce/roll. Cool right? Uh, In my opinion, not really and here's why:

You can achieve the same results using 25 cent makeup sponge because it's all in the wrist baby not the sponge. :) In addition, a stippling motion layers and blends, and that in my opinion, is designed for more targeted areas that need extra coverage, not the entire face. Even when moistened, I find applications with a Beauty Blender look heavy handed. I honestly do not understand the popularity and the price of this particular sponge when the same results can be achieved with a simple wedge sponge from The Dollar Tree. To each their own though. :)

Airbrush without the Airbrush!

1. Apply your foundation with clean fingers, brush, however you normally apply. 2. Saturate Beauty Blender in water. 3. Squeeze excess water from her. 4. Wrap a Kleenex around her to blot water again. 5. Roll it around your face with the palm of your hand (don't drag, roll). 6. Marvel in the mirror at your perfect skin:)

Elizabeth R.

Jul 24, 2013

I definitely think this product is a tad overrated. It blends out your foundation wonderfully and gives your face a natural finish. However I do believe you should invest your money in a nice brush like the Sigma F80. Brushes will last you much longer and in my opinion are way more sanitary. I bought this off amazon about 3 months ago and I hardly use it to be honest. I think its inconvenient to travel with because you don't want it to get misshaped under all your other makeup products. Its not a bad product at all but I do not find it necessary.

A class of it's own!

I had purchased a regular sponge applicator at Ulta and used it for a good while. While researching sponges and sponge applicators I came across a thing called the Beautyblender. It looked interesting so I purchased it. OH MY GOD! Did it change the way I put on my foundation! It was so soft and supple on my skin and made my complexion flawless and airbrush-like. The best part about it is that it grows when you wet it! You have to use it wet or else it will be like any other regular sponge. I would highly recommend this to anyone, any skin type!

Moderator

This is not worth the $$$.

This is one of the most, overrated products that everyone and their mother seems to love. I have used 99 cent sponge packs, brushes, and then this sponge. I really do not see ANY difference between using this sponge and a regular cheap one. The only convenient thing is the shape, really. It creates the same effect as a buffing brush... but for us dry skin ladies a buffing brush can be a disaster so of course the next best choice is a sponge. Don't throw your money out the window for this... buy some fun make up goodies. This sponge stains as well so it doesn't even look cute on a vanity top and unfortunately you can't really hide this away unless you want to shorten it's life span which is generally 3-4 months. (It's not a one time purchase thing like a brush is).

This little sponge is sooooo amazing! I was really skeptic at first because it's just a sponge and it was pretty expensive. But I finally got it as a gift, and wow, I totally regret not getting it sooner! For everyone that's hesitant about buying it, just try it and I'm sure you'll love it! The texture of the sponge is very soft, and squishy making it versatile when applying onto your face. The biggest thing for me was that it DOESN'T leave streak marks, like brushes may. It helps the product blend so well into your skin, making it look super natural! I have dry skin on my cheeks, so before when I applied foundation with my hands or brush, it looks really flaky, and caked. But now, I don't have that problem! The foundation seems to like sit into my skin if I dab it with this beautyblender, and it creates the smoothest, most natural look. Highly highly recommend!

The only tool you will ever need

I originally told my self I was not going to spend this much money on a sponge especially when they sell similar products for much cheaper. At target one day I purchased a knock off version of the blender and was no impressed. That sponge fell apart within a month and after hearing from my friend rave about the beauty blender I said what the h@$! and bought it. I am SO glad I did. The sponge I have now has lasted me since December and it's still going strong. It applies EVERYTHING perfectly. If you only purchase one beauty tool, buy this! I can use this for foundation, powder, blush, bronzer, and blending out a contour. It makes my face look amazing! (Not to brag or anything). It's super easy to use and takes of very little space. I also love how the container it comes in works as a holder for it while it dries. Absolutely a must have product, without a doubt buy it.

Never going back to brushes

This product seriously lives up to the hype. Forget everything you thought you knew about cosmetics sponges because this is nothing like the rest. A damp Beautyblender doesn't absorb too much product and gives even, buildable, flawless coverage. $26CAD isn't cheap, but after 6 months of use (with proper care and frequent cleanings) it's hardly showing any signs of wear. Worth it!

Loved my Beautyblender but....

I got a Beautyblender for free in a Birchbox and was super excited to get to try it. I loved it and would not use anything but my Beautyblender. For me there was no comparison to this and a regular sponge. Then after a while it started to get hard so I tried to wash it but that made it even worse. I would give this product five instead of three stars but... the price is totally ridiculous. I can get a pack of 30 sponges for the price of just 1 of these. I am not going to waste that much money on just a sponge. I'd rather spend it on a new foundation or eyeliner. If money isn't an issue then I would totally recommend this!