Beauty Product Reviews

Dec 27, 2020
Smells horrible!!
Not sure if I got a bad tube but this one smells so awful! This is my first time ever trying a Stila product so I'm not really encouraged to try others if this is what they smell like. I didn't know what to expect since there are no reviews of this product besides the one I'm writing now.
Otherwise, the formula is fine and the color is nice and neutral, not too opaque but a little sheer so it's good if you don't like a heavy liquid lip.
I can't return it because I bought it on sale, but this one will probably end up in the trash.. I cannot tolerate the scent and it made me feel sick after wearing once :/

Sep 06, 2020
UNUSABLE PALETTE - adding to my previous bad review
I already left a different review explaining my disappointment in this palette. Basically, don't waste your money. It's one for the trash. I explained this was the first time I've been disappointed in a JSC product.
Unfortunately, after emailing customer service about this, this is also the first time I've been disappointed in Beautylish customer service. The girl who replied tried to pass it off like IT'S SUPPOSED TO BE LIKE THAT! there is clearly an issue here. Look at the other reviews, it's not just mine. She really sent me instructions for how to put on eyeshadow... and then said the pebbles in the pan are a normal part of the formula 🤦‍♀️ I don't know how to talk to someone else who can fix this, Beautylish may be losing me as a customer.

Sep 05, 2020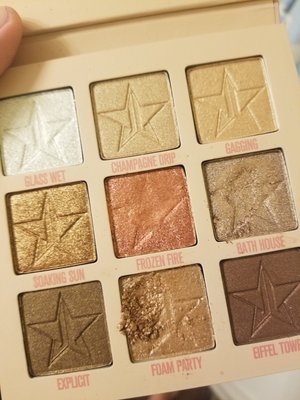 Do not waste your money! Awful
I want to start by saying I LOVE JSC, I'm a loyal JSC customer and I have loved every single product and palette from this brand thus far, but this mini was utterly disappointing! What happened to the top-notch quality formula they swear by? I wish I could get my money back!!
Pigment payoff is nonexistent, and I used a light finger on several colors that completely crumbled into the pan and fell all over my floor making a mess. It seems as though they are pressed too hard or something. Forget about using a brush. I simply cannot believe JSC would approve and distribute these.
Beautylish is not at fault here, they are always great. Just spend your money on literally any other product. I wouldn't mind if this one went into the trash. This makes me question whether I should try JS palettes in the future if this is the direction they're going. I attached a picture of one of the crumbled shades. This was after I barely touched it!
On the plus side, Beautylish shipped it very fast and it was wrapped beautifully!