Beauty Product Reviews

Jan 27, 2021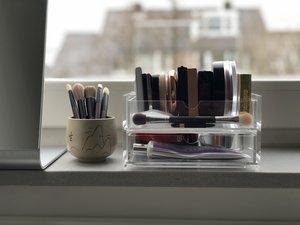 Most versatile brushes combining the quintessential Sonia G brush shapes and quality.
Bravo! Bravo! After patiently waiting for 2 weeks for the international delivery, I finally got my hands on this set. I have been purchasing high-quality makeup brushes from Beautylish since the end of 2015, and I take time to make my considered choice before buying.
Before the release of this travel set, I researched for a half year and decided to purchase the "Sculpt two"; "Jumbo blender"; and "Flat definer" individually from Sonia G's brush offering end of September 2020, as that would really fill the gaps in my current brushes collection, also fit my makeup habit. End 2020, I did a decluttering of my makeup brushes and found all three of Sonia G brushes to be strong contenders in my everyday rotation.
Though I love the well-engineered shape of these brushes, the smaller brush size really blends on my Asian eyes perfectly, but the Brown Saikoho Goat Hair is not workable with creams and liquids, which is a limitation. Until this set comes out!!!! Hat off to Sonia for the great choice of versatile brush shapes, and of course, exactly what I would go for ;P Besides the same brush shapes, and undyed goat hair, more resilient, better at blending action.
I love the finish of these handles!!!! I didn't love the lacquered finish of the normal line as it's not my aesthetic taste, neither blue nor red lacquer would be my choice at all. I love more natural or minimalistic finished handles, now insert Keyaki Zelkova Serrata Woden handles which stole my heart! The finish is also matte and soft touch, which is so chic and a joy to use every day. About the shortness of the handles, Indeed, it is significantly shorter than most of her normal-sized brushes, but as a fact, the Jumbo blender doesn't come much shorter than my Chikohodo T-7 eye blender brush, which I have two of, and are my all-time favorite blender brushes, the later was not marketed to be a short-handled brush, and I never found anything wrong with it in the application. So I guess, with these three eye brushes, as I only do makeup on myself, the short handle will not come as a hindering element, I am holding it closer to the Farrel for more detailed work anyway.
Now a few words about the two face brushes, which are new to her collection, as I don't have all of her face brushes, I cannot say how much more it is adding to the greater whole of her master collection. However, I can say that these two are very much a smart proposal to my current favourite brushes from other brands, the "Classic face" has the same shape 360-degree resemblance to my priced possession Suqqu cheek brush. (Which is referenced by Lisa Eldridge as "fresh bloom to your cheeks") though when I use my Suqqu brush, I love it for all over face powder application. However, the blue squirrel hair on the Suqqu cheek was so fragile that I am concerned that when the bristles touch my face a bit wet from the foundation, it starts to shed hair or damage the brush, so I was looking for an alternative, Where I see this "Classic face" as a beautiful contender.
last be not least, as this is my first impression review on the brush set, I am going to experiment how i prefer to use the mini base. The two options are: 1) To use it to apply my Chanel Les Beiges Healthy Glow Bronzing Cream, (which is a stable in my makeup) I bought this first time 8 years ago as a student, finished my first 30 gram jar, and recently repurchased a fresh one to introduce back to my routine. I currently to use it with my Sephora Synthetic buffer brush for mineral powders, (this one is with me for 10 years as well) and no other buffer brush has replaced it since. So I will see how the application compares. 2) Another option is to buff in my concealers as I am experimenting to simplify my base makeup with just applying some concealer on the centre of my face, and blend the Dior Forever Skin Correct for a minimal makeup look.
Overall, I can safely say the first impression is been great, and hats off to Sonia for her genius choices. I read from her blog that this set will be gone for good once sold out, that is why I bought it so soon after its release, (usually it takes me 3-6 months to justify a brush choice) But I would recommend anyone who sees a fit of this set in your collection to snatch it up before it's gone.
- my first makeup review on the internet.
Best regards, Nounou