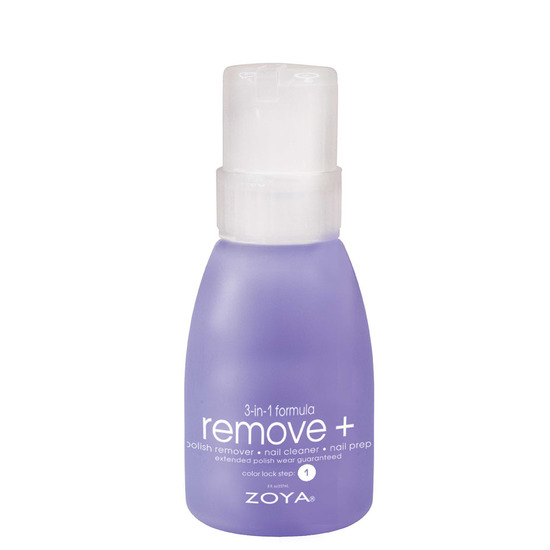 Rollover image to zoom
Reviews

The best!!
I struggle finding a best and gentle polish remover to remove glitter mess for years. I came across this product; BAM! I'm truly impressed with the quickest way to remove glittlers under 30 seconds. It made my cuticles fresh and non-drying. It kept my nail beds healthy and yellow free.

RicczBeautyBlabber X.
May 14, 2013
Is there any polish remover better?
Seriously the best polish remover. It takes off the toughest glitter and doesn't leave m,y nails dried out after. I love the bottle too. It makes my life so much easier since I do a pedicure every two days most of the time. Oh and the smell is nice too,not over whelming at all!

One of the most worthwhile products I've ever brought
I'd been on the hunt for a great polish remover for a while and I had heard a ridiculous amount of people wax poetic about this particular remover so I decided to take a chance and order me a bottle. I could not be more glad that I did. I've had trouble with other removers drying out my cuticles and taking way too long a time to actually soak the polish off my nails. Remove+ feels almost moisturizing, takes off my polish in record time (even glitter polish) and the scent is actually kind of pleasant which I didn't think was actually possible since most polish removers give me a headache. I will never stop re-purchasing this. Holy grail status for sure!

I recently got this FREE with my order from zoya bc they had a coupon code for reaching 50 k facebook fans. That is why I really love Zoya they always want to give back to their clients! Anyways.. I love this remover! It really gets off the polish so clean & SO FAST!

So much more than a regular polish remover!
This is a great product! I was honestly not sure if I would have purchased this myself (I got it for free as part of a Zoya promotion on Facebook). I figured that nail polish remover is nail polish remover...how would this be any different? Well I will definitely purchase it again now that I've tried it! The bottle is very unique and so much easier to dispense polish remover than the regular twist off cap bottles. One downside would be that there were no directions included on how to work the bottle...maybe I'm just an idiot, but it took me a while to figure out that all you have to do is press a cotton ball down on the top, not turn the whole bottle over =p This remover works wonders at taking off all your nail polish. Usually when I'm finished applying my polish, I'll put a little more remover on a cotton swab and go over any messy areas. This is usually extremely difficult and takes forever and a lot of rubbing, but with this remover I barely had to wipe the area before the polish was removed! And the best part? This smells amazing! Not at all like that chemically nail polish remover smell that I'm used to. It has a slightly fruity smell (at least to me). :)

Best Remover Ever!!
This is the best nail polish remover that I have ever used! You only need a little bit on a cotton pad and your polish easily comes off you dont have to scrub over and over. It also doesnt leave a funky white color around your fingers. I feel like this has really helped my nails become stronger and my nail polish def. lasts so much longer. I would HIGHLY recommend this.
---