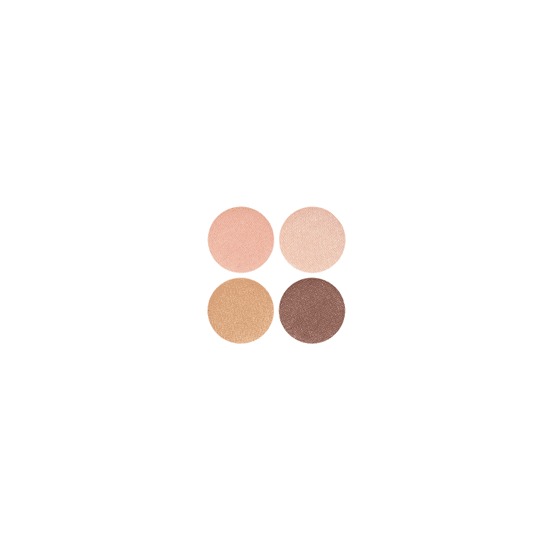 Rollover image to zoom
Reviews

I love, love, love this palette. Like many have said, the palette is rich in pigmentation and super easy to blend. Don't do what I did and use a lot of the product first time I ended up looking like I'd let a child loose on my eyes, I really didn't expect it to be so pigmented. I love that the product is cruelty free. And that I get an amazing discount! Definitely a must have. I use the black in this palette as a shadow and have recently started using it on my brows too for an everyday look and slightly heavier for a nights out. I also add water to my brush and use this to create the perfect flicks.

I love blue shadows, Mermaid is perfection & cruelty-free!
I first fell in love with Youngblood eyeshadows with their Starlet quad, and now Mermaid has become a top favorite of my collection as well. If you are familiar with my blog, then you won't be surprised to hear that I L.O.V.E. blue eyeshadow! I love it as an accent color, a liner and even on my waterline during a neutral look. I subconsciously find a way to incorporate blues into my makeup with nearly every look I do. Blues remind me of water and watery shades make me feel happy. It took me all Summer to realize this is why I'm gravitating towards blues so often. Mermaid is a palette with four "shades of sea and sky", Pink Pearl (non-vegan) a baby pink almost lavender shimmer with a blue/green duo chrome, Abalone (non-vegan) a blue shimmer with baby blue iridescence, Ocean Mist a watery blue shimmer, and Sea Glass a teal or "Robin's egg" blue shimmer. My favorite is Sea Glass, I think it is the most pigmented, it's beautiful used as a liner too ;)

Best for smoky eyes & cruelty-free!
I've been playing with the Youngblood Pressed Mineral Eyeshadow Quad in Starlet since late last winter. I wanted to take my time in reviewing it because if you're like me, a bit tight with the money, I want to be sure that all four shades can be used on their own, all together and that they are grade A quality. I'm so pleased to say that the Youngblood Pressed Mineral Eyeshadows are amazing! They are rich in pigmentation, buttery in texture, extremely easy to blend out and into each other, they don't crease on my moderately oily lids (tested with/without a primer), and because of how little product you need to use - you get a lot of product for your money. I can't even begin to tally how many times I have used this palette, and it still looks brand new, barely any dips in the eyeshadow pans so far. I love the quality of the palette, it is black and sleek - a classic look, and the closure is magnetic. The strong magnetic closure is not too strong where you're struggling to open it and not too light where it'll open on its own in your cosmetic bag. There's a full size mirror inside, normally I don't use these, but the large size is actually really handy for when I'm doing my lower lash line makeup application. The back shows the eyeshadow names, this takes some getting used to, for some odd reason I always get the eyeshadow names mixed up. As I mentioned earlier, the eyeshadow quality is fantastic! I love mineral eyeshadows, and having them pressed but still hold that amazing pigmentation is simply a luxury I enjoy. The quad is described as "icy accents and dramatic darks". Moonstone: a frosty white (very similar to MAC Crystal Avalanche) Storm: a matte charcoal with a slight brown hue Black Opal: a rich satiny pitch black Platinum: a shimmery cool toned silver
---