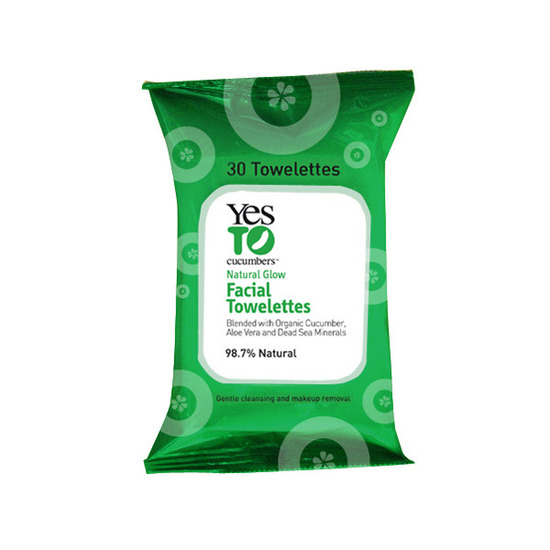 Rollover image to zoom
Reviews

Not for me
I bought these because my regular makeup wipes were out of stock. I'm not a fan. The smell is bothersome and they're not wet enough for me, it almost felt like I was rubbing a damp paper towel across my face. They also did a poor job at removing my waterproof mascara. I'm sure these might work for someone else so I'll probably give them away. But they're just not for me.

Love these
These towelettes are amazing! I love the smell and the packing which has a little door thing to keep them moist. They take off ALL of my makeup and my face feels great after using them. I used up the whole package now and definitely noticed an improvement in my skin. Nothing huge, but my skin is a lot healthier looking. Yesterday I picked up a pack of the grapefruit towelettes and I cant wait to use them! Hopefully, I can get my hands on the whole line.

Favorite Makeup Removing Wipes Ever!
I love love love these! They take almost all of my makeup off, save for a little mascara- but even the last little bit of mascara can be taken care off if you let the wipe rest on your lashes for 30 seconds or so. They're cool and soothing, and make my face feel clean instead of dry and tight, or overly oily. They're wonderful for sensitive skin! I keep some on my nightstand in case I forget to wash my face before bed, and some in my bathroom for a quick wipe down if I'm freshening/changing my makeup.

must have!
absolutely love these! i use them every single day and rebuy them when my pack runs out. I've probably been through at least 10 or 15 packs of these. They take off my makeup so easily and dont leave an oily finish like other wipes i've tried. I tried their tomato ones and they didn't take off my makeup as well as the cucumber

Absolutely love it.
I use these probably every single day, several times a day. They're the best facial/make up wipes I've ever used. I've gone through many packages of these since I found them. They smell great, make my skin feel great, thick, big enough that even if you wear a TON of make up you can take it all off in one wipe, remove eye make up extremely well. They also don't have that sticky feeling that a lot of other make up wipes give you. They get your face really clean but if you do wear a lot of make up you still should wash your face before going to bed with something exfoliating just to be sure you don't have any make up left that might clog your pores.

Lovely natural product!
Of all the wipes I've used, this one is probably my favorite. I love that it is a natural product! The scent is really refreshing and it removes all of my makeup. These are a little pricier than the majority of the wipes I have tried, but I feel they are for sure worth every penny!

Yes yes!
I love effective, affordable health and environment-conscious products! Yes to Cucs takes off my makeup very well. You can't expect any makeup removing towelettes to work with one light swipe, but I didn't need to expend any extra effort to feel clean again. I got a two-pack of the 30 towelette packages at Target for $10, great value.

What I thought I was buying is a gentle, natural product. But when I got home and tried it... They really burn the skin, and mine is not even sensitive. They're also not spectacular when it comes to taking off make up. I can't help but wonder, how something that is supposedly natural can be so aggressive on your skin?
---