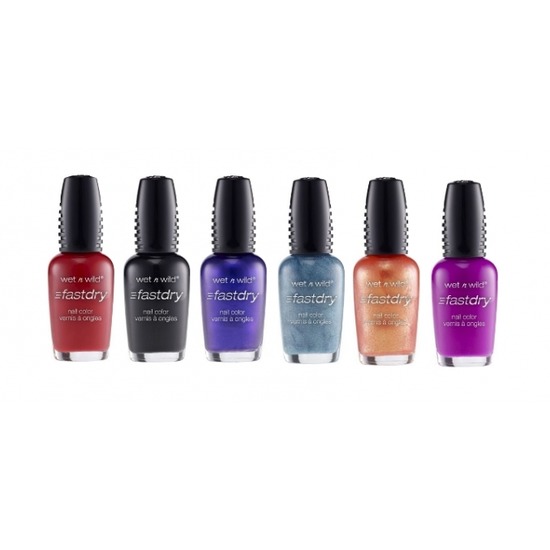 Rollover image to zoom
Reviews

I enjoy using wet n wild fast dry for those times I don't want to wait hours on my polish to dry. For the most part by the time I finish painting my hand the polish is already dry. The polish comes in a ton of beautiful colors and does not give that sticky tacky feeling once the bottle is half empty.
What I don't like about the polish is the fact that I have to apply 3 to 4 coats of the polish in-order to get the desire color I want. Also the longevity of the polish is not so hot but not really a big deal since this is the case with most nail polishes.

Sojourner W.
Jul 07, 2012
Fast Fun Colors!
I bought these a few weeks ago and I love them! I own Everybody Loves Redmond, Buffy the Violer Slayer, and Party of Five Glitters. I think Everybody Loves Redmond is an amazing red color for all year round. I think Buffy the Violet SLayer is a great jewel toned purple, but really hard to remove due to how dark it is. Party of Five Glitters is obviously a glittery nail polish and it's so pretty and fun. My only complaint is that the glitter is hard to remove and for all three, it takes about 3 or 4 coats to get a nice color payoff. However, these nail polishes live up to their name of being Fast Dry because they dry extremely fast, which is what I love! They only cost $1.99 and I want to pick up more, they're great! The Bottom Line: I recommend them. Pros: - Retail Price - Availability (drugstores in the US, not sold in UK) - Color - No Chipping Cons: - Sheer - Darker colors harder to remove

Love These!
They have sooo many gorgeous colors to choose from! I'm pretty sure I own at least 5 of them by now. They aren't exactly 'fast drying', whatever that really means, but they dry fast enough. I always use a quick dry top coat as well. The only other thing about these is that they can be a tiny bit sheer. Not exactly a one-coater. But the colors are so gorgeous, and two coats will look perfect! I will definitely buy more of these!
---