PRO Smooth FX Lip Scrub & Balm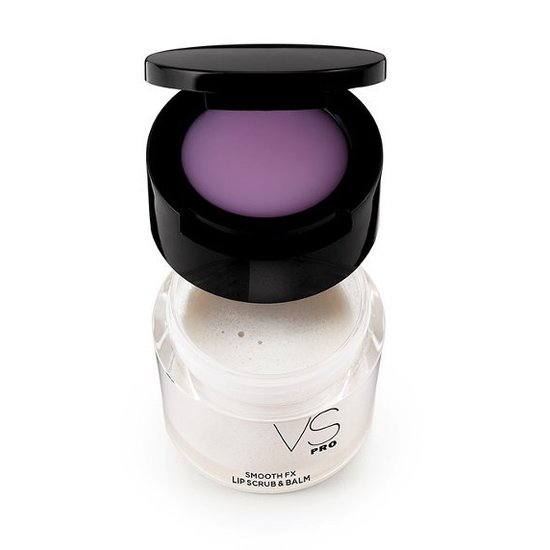 Rollover image to zoom
Reviews

Love it!
I usually wait a few days after purchase & use to decide if I like the product for myself or not but not with this one! I use this product at the end of the day and I still feel the effects through out the next day. The scrub is not too harsh not too slick, and the balm has a nice soothing minty feeling after use. I would recommend using this before using lip colors for perfect, smooth lips.

THIS IS AMAZING.
This scrub is an amazing replacement to your everyday lip care routine. Toss away your lip balm. This sugar based scrub actually works AMAZING. The longer you scrub this in the softer your lips will get from removing all that dead skin. The balm is super soothing and has a minty sensation when applied directly after the scrub. Definitely helps with any lip situation and a must have in anybodies makeup bag. They now even sell a balm separate from this scrub/balm duo.

Love it!
I love this lip scrub and balm. My current lip scrub had just been used up, so I picked this up, and I was actually impressed with it! The scrub works just fine, and there is a decent amount of it in there. And the balm is so delicious and minty! I was definitely expected typical petroleum scented/tasting gloss, but it was lovely! Definitely long lasting and moisturizing on my lips. Impressed by this!

Good but....
This is a good product but the price of $16 is steep for what you get. I make homemade lip scrub with honey and raw sugar that works very well. Then just apply some good old fashioned carmex or your fave lip balm. Much cheaper, but alas, I had to try this and will finish it.

Not for me
I tried this product today...I followed the "directions" on the box. My lips didn't really feel any different afterwards than they did before I applied the sugar scrub. I tried it again thinking maybe I didn't massage it onto my lips long enough, but the result was the same. I did however like the tingling lip balm. It says to apply a light layer, but I applied a generous amount. I hate chapped lips.

I just love it
It's been more than 2 hours since I applied the lip balm and I have to say, I am pleased with the results. My lips still feel soft, smooth, and supple. I also like the tingly, minty feeling that the lip balm leaves on my lips.
But what I also love about the product is that it is compact. I love that it is 2-in-1 as that makes it compact and practical; which is an advantage because it saves space in my make-up bag.

Elizabeth W.
May 12, 2011
Good Scrub...Not so Happy With The Balm
I saw this product on of the Youtube Guru's sites and knew I had to try it for myself! The things about this product that I love are easy to see. I love that it is in a convenient pot form and that when applied to my lips doesn't have a funny taste or a greasy texture. The scrub is decently thick so it doesn't just slide around on my lips! The balm for me isn't very moisturizing for me. It is pretty cakey and I prefer just to use my Nivea Kiss of Moisture Lip Balm instead, but I know of others who really like the balm so I guess it just depends on your style.

The two products in one is a nice feature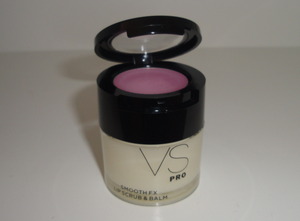 Finally! I have found a lip scrub that works well! I had previous tried Pop Beauty and Tarte Cosmetics lip scrubs but I wasn't really happy with the results. But I really like this balm. I picked up this lip scrub at Victoria's Secret for $15. I haven't really tried any Victoria's Secret beauty products, but their VS Pro line intrigues me. This jar contains two different products; the top unscrews to reveal the scrub and the top flips up to reveal the balm. The scrub is just the right texture for me. It isn't overly gritty, and it doesn't melt the minute you apply it to your lips. It tastes sweet and has a pleasant smell but it isn't very strong. The balm is also nice, it's not too greasy, and it has a nice, light mint scent. With this product, you first apply the scrub to your lips with your finger. Then you rub your finger back in forth to scrub you lips. Next, you wipe off the scrub with a tissue and voila! My lips were so smooth! Finally, after the scrub is removed you may apply the lip balm to condition your lips. I really like the performance of this lip scrub. However, I'm not so thrilled about the ingredients. There are a lot of preservatives and words I cannot pronounce. Because your lips are such a sensitive area, I wish VS used less synthetic ingredients. This is great to use to prepare to lip color application, or to remove a day of lip color or lip stain. The scrub also works well in removing dead or dry skin on your lips that contribute to chapped lips. During the winter months (at least if you live in an area that actually experience seasons unlike me) lips are more prone to becoming dry and cracked. Using lip balm daily, and a lip scrub a few times a week will keep your lips supple and soft. See more pictures at www.izntlifesojuicy.blogspot.com
---