Dermablend Corrective Foundation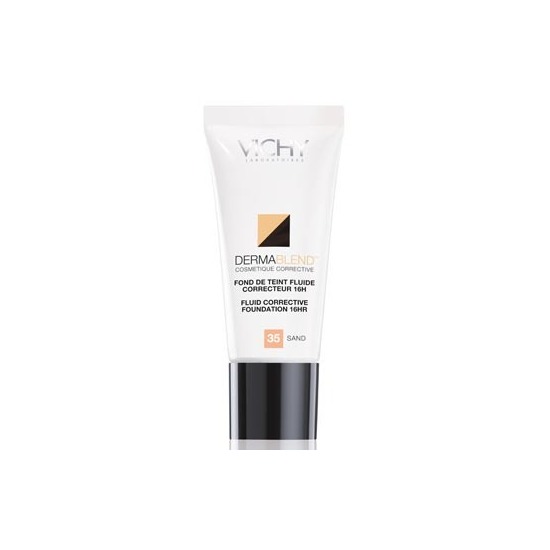 Rollover image to zoom
Reviews

I really wanted to like this product as I'd heard so many great reviews but after id applied it looked awful on me. The colour was great but the foundation looked powdery and uneven, almost patchy. I do have dry skin so I was wondering whether it was more suited to oily skin. I'm gutted that this was not what I hoped. I've watched so many you tube videos where it transforms peoples faces but unfortunately it didn't work for me!

Love
I stumbled upon this product from watching the famous Lisa Eldridgeas as she teaches those interested on covering one's own pesky blemishes on her Youtube channel. Discovering the $30 price tag, I was willing to determine this unfamiliar (I was unaware of the Vichy brand until the video) foundation's performance. After purchasing the product and removing the sticker, I've applied it to my cheeks where I currently have several blemishes due to hormonal reasons.
It's been at least a month since my purchase and I admit that this product, although once unknown, is now in my monthly favourite. It's ability to conceal even the ugliest blemishes while avoiding the cakey look is amazing. A minuscule amount of the product is enough to perfectly conceal a portion of the face.

Medium coverage-a little bit too heavy...COVERS BLEMISHES AND DARK CIRCLES!
I am a faithful user of Vichy foundations for two years now, and I was surprised when my mom brought me a sample of it from the drugstore she works at. Unfortunatelly, the shade was a little bit(more) too dark for my skin tone, but I can say that the coverage met my needs. A nice, medium coverage that doesn't look too cakey on the skin. But I kind of hate the way it feels on my skin: I prefer lightweight non-comedogene skin products(also that don't crease), and this one feels like I have two pounds of make-up on my face... Overall, I think is a great concealer for stubborn blemishes and dark circles!
---