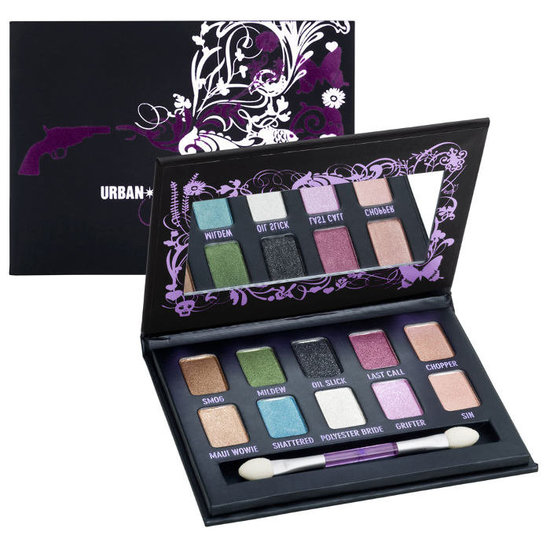 Rollover image to zoom
Reviews

Nice shadows, but hard to create a complete look
Note: This review is for the 2013 version of this palette (with the silver/skull cover)
I love the variety of shades in this palette. Great for making spring/summer looks. Oil Slick might as well be a matte black, the sparkles disappear when you blend it. Polyester Bride is the only miss - bit too sheer and chalky and glittery for me. I took off a star because of the lack of matte shades, making it hard to make a complete look with only this palette. One of the Naked Basics palettes will complement this one well. The shades are SO pigmented, very blendable (they almost blend themselves), so buttery, and so sparkly! Very fun palette.

Fabulous!
This eye palette has lasted me over 4 years. The colours are versatile! I usually use the gorgeous white colour first, then a middle colour being any of the others, then finish with the black. These are glitters, so I wouldn't recommend this palette for glitter haters. Although, the glitter hasn't dropped or flaked, in case that helps you! If you pop on the UD Eye Primer underneath, these beauties will stay on until you wash it off. If you like quick and easy make up application, a range of colours all in one palette, then you should give this a go! It will last a long time. The white is my favourite shadow!

Ugh, just not for me
I was given this palette as a gift from my ex because he knew I loved UD. I wasn't a fan and only wore the shadows for him. The colors themselves are not bad, my problem comes into the fact that most of the colors are glitter. For one, I hate glitter, keep that stuff away from me! But then there is also the problem that, unlike all their nonglitter shadows, these shadows are not soft! I have to scrub at the shadow to get it on my brush and then it doesn't go on very pigmented, I have to apply several layers, which isn't fun when the shadow feels rough instead of smooth (like theirs usually are). Also I found there to be much more fall out with the glitter shadows. This palette is a miss for me.

Stephanie S.
Mar 19, 2013
This is a really great every-day kind of palette. I usually take this one with me when I travel, too, because it is so versatile. It has enough shadows to make soft, daytime looks and bold, nighttime looks and everything in between. My favorites have always been Last Call, Sin, Smog, and Mildew, though all of the colors are pretty great. There is some glitter fallout from shades like Chopper and Polyester Bride, but nothing that isn't too hard to manage. I have given several of these palettes as gifts, mostly because I love it so much and it makes a nice segue into higher end cosmetics. I have not tried the reformulated version yet since mine still has miles to go; I believe I have had it for about 4 years.

GOOD UD STARTER PALETTE
I bought this product several years ago and fell in love with it and Urban Decay. All the colors are great and good quality, the only reason I don't use it that much anymore is because I have all of the same shades in more recent palettes. I don't personally care for all the colors in the palette, only because I feel there are better colors by UD that I would have chosen over these, but the colors are still beautiful. I would recommend this to anyone new to makeup or UD.

Great selection of Colors!
I am in love with this palette!! This is my newest addition to my makeup collection and I am very very happy! I originally went in looking for just a pretty olive green color for my eyes. I figured I'd spend the extra money for the palette vs. the single so I could get more bang for my buck. I stumbled on this palette and picked it up instantly.. The colors really stand out no matter what color I tried. I love all the glitter and shimmer colors too, I have a bunch of matte's already so I didn't mind this one not have any. The green I wanted is Mildew and its striking next to my brown eyes, make them really pop. My second favorite color is Last Call, it's just dark enough to be able to blend a little in with one of the neutrals. I'd say get this, 100%, if not for you than for one of your friends.. Christmas is coming after all. =)
I love the shimmer!
This was my first high end product and i am loving it!
All of the colors can be used on a daily basis and aren't to "out there". I love how i'm not paying 38 dollars for bright red and neon green that i can't ever wear. The packaging is sooo adorable and i love the design.
The price was even better! It was so affordable! And the eyeshadows are lasting so long! I got mine in december of last year and i'm just now seeing silver in the bottom of the eyeshadow!
A con though is that oil slick is just TO pigmented. I haven't used it at all. It just seems so hard to work with. But maybe that is just me. I don't have much experience with black.

Mary Anne M.
Jul 05, 2012
UD's Top 10-Selling Eyeshadows for Good Reason
This was my first Urban Decay product and I loved it when I was using it. The colors are silky soft and easy to apply and blend, and the palette alone contains enough colors for all kinds of looks for day and night. I actually used the sponge applicators but I also use an eyeliner brush to double the use of this palette as colored eyeliner. It's pretty standard without primer, so primer is a must to maximize the intensity and duration of these eyeshadows—you might as well, for how much this retails for!
The eyeshadows are all shimmery and Polyester Bride (white) has a little bit of glitter in it. This is great for those who love shimmery eyeshadows but I would have loved to have matte shadows (especially the darker ones) in this palette as well to create more dimensional looks and to pop the included colors out even more. This would have been an incredible palette especially on the go, if only the eyeshadows had some variety in finishes instead of a single finish.
At first I loved the packaging of this palette; it's slim, sleek, has a foil and velvet design on the cover of the palette, includes a pretty large mirror, has a hidden magnetic closure, and I can appreciate the sponge tip applicators as well though many would prefer brushes or fingertips instead. However, the palette is difficult to keep clean over time because the eyeshadow is so soft. I see fall out in the palette over time, and have been lucky that despite having only a magnetic closure that the fallout doesn't escape the palette into my drawers! But the shadows do get all over the inside of the palette which is bad because it contaminates the color wells, especially the lighter ones. This isn't so much a problem of packaging design but more of a problem with the packing density of the eyeshadows—after all, they are very soft.
Although the palette does last a long time (more than 2 years for me... is that bad?) even with regular use, I do feel that its retail price is a little too steep in comparison to other brands of eyeshadow palettes that contain more product of quality (and variety in finish!) for a fraction of the price. The product itself is great! But the price is the only reason I wouldn't buy it again, knowing I have more affordable options.
---