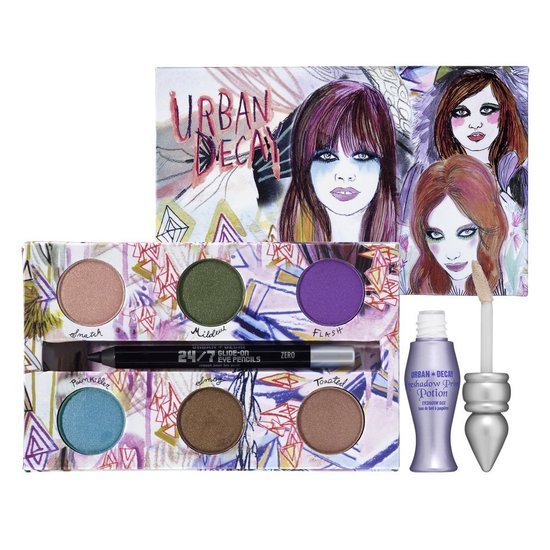 Rollover image to zoom
Reviews

StellarLove D.
Aug 20, 2012
One of my fav UD palettes ever!
This palette by UD, is by far probably one of my most treasured... not only because my husband suprised me with it two years ago but also the color "snatch" is still to this day like one of my top five fav shadows from UD!! The art work is soooo cute too!!!

old stand by
This too was my first Urban Decay eyeshadow palette, my first ever eyeshadow palette. It basically was the evil "gateway drug" to my makeup addiction! Anyway, the shadows are great except for a few little pesky problems. The Flash purple color is not as great as the other shadows- its a little crumbly/chalky, thin and not very pigmented. This was a little annoying because the purple would have made a great little eyeliner once dampened and applied with an angled eyeliner brush. The other teensy weensy issue is my favorite go-to color in the palette, Snatch. I'm sure a lot of you guys know how great it is right on the lid with the other coppery colors blended into the crease. However, the glitter is a little fall-out-y, but just barely. If it really bugs anyone you can just do your eyes before applying the rest of your makeup, or just put a little loose powder on your cheeks and flick off the fall out with a powder brush. A little tape can help too. Anyway, I love mostly all of the colors in this palette. The colors are almost creamy for being powder shadows and are extremely pigmented. The Painkiller blue color is great as an eyeliner to give a little pop to a bronzey nude eye look. Mildew is a sumptuous olive/forest green that looks great with other color combos but with the golden/bronze shades in here, its beautiful, especially with Toasted. And Toasted is a very unique shade as well. I also love the artwork/artist who designed the cover of the palette! Anyway, great palette all in all and I'm thankful this is the palette that got me into the world of makeup :)

If you love "pop of color" - this is your palette!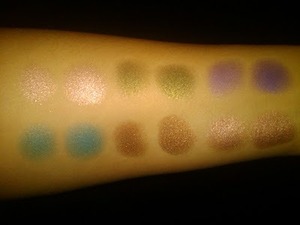 Honestly, I bought this shadow box specifically for Snatch and Painkiller, these colors are amazing and the other 4 colors are fantastic also. Below are swatches of the shadows, the shimmer that you see in the color in the pan transfers beautifully when applied to the eyes. I will also include swatches of the shadows on top of the Eyeshadow Primer Potion to show how the color changes with a base below it. I recommend this shadow box to people who are looking to ease their way into bolder shadows, this box has 3 great neutral shades and 3 bolder shades that can be easily used in moderation so they don't overwhelm your look.

amazing!!!
best ud pallet i have tried! it's perfect if you want to do a dramatic colorful eye or something natural. smog is my everyday color and i absolutely love it. i also love using this pallet for a pop of color on the lower lash line i use toasted as an allover eye color and then put flash or painkiller on the lower lashline. over all amazing product

Love!
This was my first UD palette and I fell in absolute love! Ok so there are a couple of colors that I don't wear that often, but I try to fit them in every once in a while. Toasted doesn't really look good on me so I use that on family members when I do their makeup. Flash is beautiful but I dont really do purple shadow. Other than those two, they are all great! I loooove snatch to pieces, minus the glittery fallout. And of course you get the pp <33 and the zero pencil which has become my go to liner. Over all Id say this is an awesome buy for sure!

amazing buy!
I actually got the same pallete except its the preen pallete with the peacock on it but it has the same eyeshadows as this one. toasted is my favorite and the other ones are great as well. but the only 2 dat dissapointed me were snatch, it has alot of fallout but its a pretty color. mildew isnt as pigmented as i expected but its fine.

Ok, so besides having the naked palette this is my second Urban Decay palette I have purchase and I must say that so far I have not been disappointed yet by my two purchases from them. The only thing I do not like about Urban Decay palettes is that they tend to repeat it seems like at least two of the colors in each palette they create, but I guess I can live with that. The color's are pretty and very blendable. No fall out and I love the fact that they always include their primer potion and eye pencil. And I can't leave out that the packaging is hot!
Overall awesome colors!
I love this palette. Not only is the packaging cool, but the colors are great too! The turquoise that is included is pretty similar to Deluxe Shadow in Peace, but its still awesome. My favorites are Mildew and Flash. The only thing that kind of bugs me is the glitter overload in the color Snatch, I tend to end up with glitter all over my face when I use this color. It's only a minor pet peeve of mine, but I give the palette 2 thumbs up! :-)
---