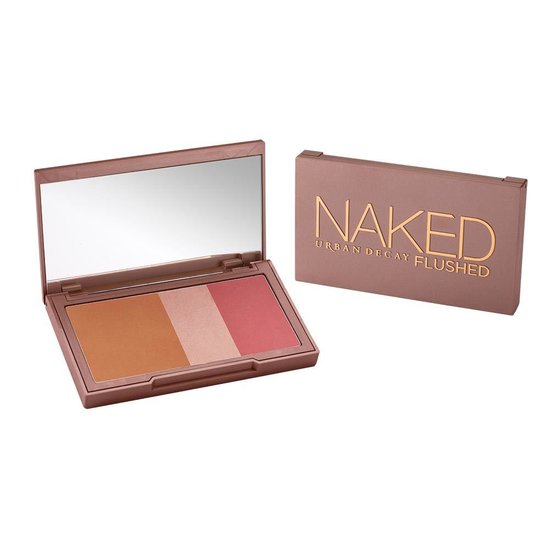 Rollover image to zoom
Reviews

The blush is a gorgeous color on my fair skin and the highlight adds a wonderful glow. I agree with Marie though that the bronzer is disappointing. There is not enough pigment for it to be noticeable when I apply it. When I try to get it to show up, I end up getting too much on my face and look orange. There isn't a real happy medium with the bronzer.

Great idea for travel but could be better.
The highlight is absolutely gorgeous... But the bronzer isn't pigmented enough and is more on the orange side so it can look muddy.. The blush is alright but nothing really standoutish. I was pretty disappointed in this since every other Naked product is so amazing.. Hoping they put out a few more in the future with better color selection & pigmentation.

amazing
I love this pallette. Unfortunately I brought it a shade to dark meaning i cannot use the highlighter, but the contour is great. It has a slight sparkle in it and is easy to blend. I have also found that if you swirl your brush around all the 3 colors it makes a really pretty blush!

Amazing blush, bronzer, highlighter in 1!
I recently just received Naked Flush as a gift for Christmas and all I can say is WOW! I own "Native" and it's my new fave! The best part is it lasts, and it looks and feels very natural on my skin. It comes in deeper and more golden tones, so there is variety for everyone, but you can create many looks with the palette I have. Check it out, it's worth the money :)

Love it!
I dont see why this product wouldnt work for the majority, as long as it's applied correctly. Once you have this, play around with it to figure out what application techniques work best for you. I have olive skin and I think the bronzer is the perfect colour, it actually looks natural, not too dark or full of huge flecks of shimmer. You could build the colour if you really wanted to. The blush is a lovely shade and full of pigment so even with my medium skin, I only have to lightly swish my brush it in the colour get the right amount. I see this as a good thing! It means it will last a long time. The highlighter is also nice and only needs to be applied lightly. I believe make up like this, is not ment to look like make up once its on the face, that is why the range is called naked, not caked!

Easy to Use and Gorgeous!
Thanks for this Urban Decay, so pigmented and soft. Looks amazing on most skin tones! The 3 colors layered on the skin give you a nice sunkissed glow! Love that the bronzer isnt orange, and looks very natural on the skin. The highlighter is a nice finishing touch when applied on the cheekbones

A Universal Palette
Ok, so I am late on the review boat here, but I have had this palette for as long as it has been out in Ulta stores. I have pretty fair skin so this palette was a huge HOORAH when I saw that the bronzer was not a deep color! Though this is a bronzer and not a contour color, it does put color into my face and give a healthy glow, I find this best layered with the bronzer near the bottom of the cheek bone, the highlighter on top part and then swiping the blush on top the apple to the high point of the cheek bone. This is also how the palette is laid out so this makes it a no-brainer when I grab for this palette. The highlight leans a little more towards the pinky pearl side, where as I prefer the golden champagne color for my highlight but it is a well designed palette as far as color. The blush is neutral, so you get the warm bronzer, the cool highlight and then a neutral pink. Everyone should be able to find one thing they like but I think it overall is a nice balance. I would recommend this to people who are not looking for a contour, people who want to warm up their complexion and give a great healthy look to their skin!

Another perfect edition to the NAKED line.
For some reason, every time UD comes out with another beauty product for the NAKED line, I immediately have to pick it up. Naked Flushed was no exception. My biggest concern before buying it was the bronzer. I'm pretty dark, so I was afraid that the bronzer would not show up on my skin, but I was pleasantly surprised to see that this is one of those bronzers that are buildable. I was so content with the finished look of the blush, highlighter, and bronzer that I bought it right after the MUA at Sephora placed it on my face. This product is also amazing for traveling.
---