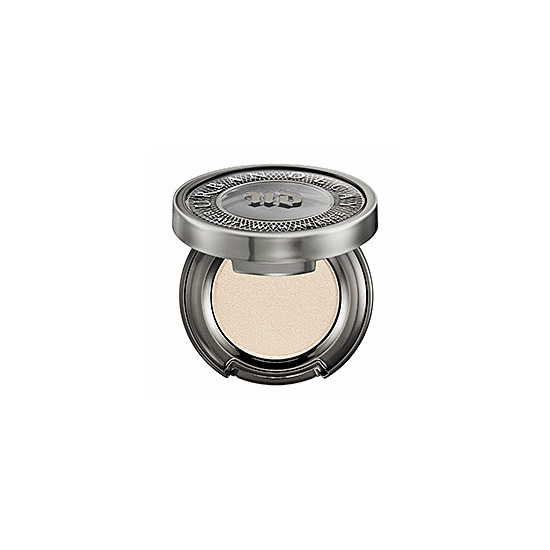 Rollover image to zoom
Reviews

Love!
I absolutely love this shadow. The sparkles pop so much under the light and gives you the diva effect! The one thing I do not like about this product is that I have to use Fix+ to apply it. You will get a lot of fallout and the fallouts are hard to clean up. So I suggest doing your foundation after your done using the product or use fix+ (or water) to apply. Hope you like my review :)
Contact me:
Instagram: @beautybykadria
Polyvore: www.kadriahassan.polyvore.com
Email: kadria.hassan@gmail.com
Beautylish: www.beautylish.com/KadriaHassan

Bordello shows up on my skin as a nude champagne pink with gold shimmer. It's pretty enough, but I don't know if I would've bought it on it's own (I got it with the BoS III palette). I had fallout as soon as I applied it, even with a primer, and found it difficult to blend. I don't think at this price point I could justify a shade this common with those kinds of issues. It's pretty, and it didn't fade, but it was messy to work with.

I absolutely love Smog. And for someone who prefers pops of colors to neutrals, that's saying something! But this eyeshadow simply impressed me. It's an opaque, medium brown with gold glitter, and I think the glitter is what makes this shadow extra-special. I can see this working really well as an alternative to black or grey for a smoky eye for a night out. The wear is fantastic too, I was able to make it to 12 hours with a base! It did fade a but around the edges, though. It also felt just a bit dry to the touch, but it applied without a problem. I definitely think this is a shade that could work for many people, even fans of color.

Love!
I have Urban decay eyeshadows in so many colors (I think I might be a palette collector, haha). Most of the colors are super pigmented and they are so soft (except the glitter ones, I find them to be rough and am not a fan of them, nor do they seem as pigmented to me). I barely touch my brush to the eyeshadow and it seem like the shadow jumps on it (like a magnet), a little amount goes on to the eyelid so smoothly and shows up great! It is also easily blended. I have tried shadows from so many brands, and so far I found none as good. You definitely pay for what you get with this product! If you want good color without using half the pot, I recommend these.

Rockstar is a great, versatile shade. It's a gorgeous, rich mauvey-plum. It goes on great, and isn't stiff or difficult to blend. There's no shimmer/glitter, but there's a velvety aspect that keeps it from being a dull matte. The wear is good (6 hours with some fading) but not great. Purple shadow gets a bad rap in the cosmetic industry, because the pigment is generally difficult to work with. However, Rockstar is smooth, buttery, and bold, which is great, because I love to wear purple. Def repurchase!

I'm in LOVE with this shade. It's a beautiful champagne gold with silver glitter. It's a multi-tasker, to. It looks beautiful on the lid, but I love it as a tear duct highlight as well. It goes on opaquely with a great metallic, foiled effect, even when dry and without primer. The glitter wasn't gritty, but without primer, there was a moderate amount of fallout (primer resolves this). Without a base, this wore excellently for more than 8 hours. With a base, it made it to the 15 hour mark looking flawless, with no fallout. I'm so glad this shadow didn't get discontinued, and would gladly repurchase.
(Read the full review at peakvolume.blogspot.com)

Haight is a shimmery blue-teal with a silver sheen. The color goes on opaquely with or without primer. If a base is used, the green in the teal is brought out more. It's more complex than it looks in the pan! With primer, the shade lasts 10 hours nonstop. Without, it looks noticeably faded at around 6 hours. Blue can be an intimidating color, but Haight is so versatile and wearable (it's softer without a base, bold and loud with one). Love!
(read the full review on peakvolume.blogspot.com)

MCRA is a shimmery/glittery champange-gold neutral. Over a bare lid, it looks like a soft rose gold; over primer, that color is more pronounced, and the glitter stuck better. Regardless, the glitter didn't feel large or gritty. It was also easy to blend. A huge drawback with this shade, though, is that it's crazy-prone to fallout. I had a noticeable amount within an hour. However, I got great wear otherwise. The color itself didn't fade for 8 hours without primer, and I made it to 10 with a base.
(Read the full review on peakvolume.blogspot.com)
---