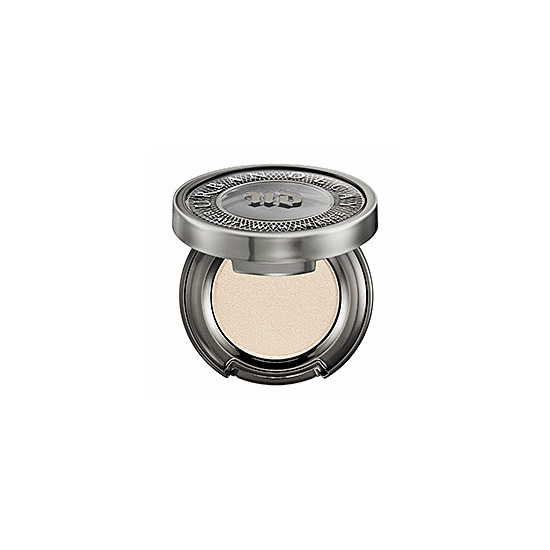 Rollover image to zoom
Reviews

Favorite eye shadow!
This has been my go-to color for months now. It blends so well with different shades and is so smooth going on my lids. It has the perfect amount of sparkle and can definitely be used for a day or night look. I use a thin layer during the day for a more natural look and darken it up at night. WARNING: packaging is not very protective - shadow broke first time I dropped it!

Wow.
I wish so much that I'd had this Urban Decay blackout eyeshadow in my "Goth" years. It is, without a doubt, the darkest, deepest, coal-black I have ever used. Incredibly pleased with it.

Moderator
GORGEOUS!!
This shadow, in Baked, looks absolutely amazing, the pigmentation is stellar and it's such a beautiful color, a deep warm gold. I love this so much, I'm really impressed. Now I get the hype about Urban Decay.

Rockstar is a great, versatile shade. It's a gorgeous, rich mauvey-plum. It goes on great, and isn't stiff or difficult to blend. There's no shimmer/glitter, but there's a velvety aspect that keeps it from being a dull matte. The wear is good (6 hours with some fading) but not great. Purple shadow gets a bad rap in the cosmetic industry, because the pigment is generally difficult to work with. However, Rockstar is smooth, buttery, and bold, which is great, because I love to wear purple. Def repurchase!

I'm in LOVE with this shade. It's a beautiful champagne gold with silver glitter. It's a multi-tasker, to. It looks beautiful on the lid, but I love it as a tear duct highlight as well. It goes on opaquely with a great metallic, foiled effect, even when dry and without primer. The glitter wasn't gritty, but without primer, there was a moderate amount of fallout (primer resolves this). Without a base, this wore excellently for more than 8 hours. With a base, it made it to the 15 hour mark looking flawless, with no fallout. I'm so glad this shadow didn't get discontinued, and would gladly repurchase.
(Read the full review at peakvolume.blogspot.com)

Haight is a shimmery blue-teal with a silver sheen. The color goes on opaquely with or without primer. If a base is used, the green in the teal is brought out more. It's more complex than it looks in the pan! With primer, the shade lasts 10 hours nonstop. Without, it looks noticeably faded at around 6 hours. Blue can be an intimidating color, but Haight is so versatile and wearable (it's softer without a base, bold and loud with one). Love!
(read the full review on peakvolume.blogspot.com)

The perfect crease color!
The texture of this eyeshadow is smooth, and very pigmented. I saw this shade while at my local Sephora and once I swatched it, I knew it would be perfect. Normally, I write very lengthy reviews for products I love, but in this case, all I can say is that it is simply amazing.
---