Dew Me Moisturizing Makeup Setting Spray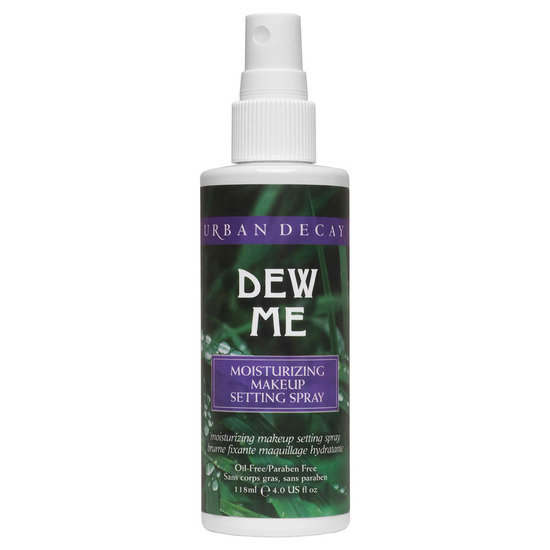 Rollover image to zoom
Reviews

Louise-Lesley J.
Jun 03, 2013
A saviour
My skin in recent months/years has become an ever changing mess. Over the last year it has made the slow transition from an oil slick to dehydrated at best. This meant practically all my products for my face needed changing. I used to rely on the original setting spray that UD came out with to keep my face in place but I've since moved to this
What can I say? It works. I notice the difference in how long my make-up stays put for if I don't use it and more importantly it gives my skin a dewy finish it wouldn't have if I didn't spray it. I also use it on my brush when I get dry patches that even my moisturiser and foundation can't help! Great product.

when I worked at Ulta, I'd spray these on once in awhile and I never felt like it did much to help my makeup stay on better than if I hadnt used it. I really wanted it to work for me, but it never made a huge difference on my skin, but it's probably because my skin is so oily.

This gives my face a dewy look no matter what kind of makeup I'm using.
I love this stuff! I can use powder on my face now without the worry that it's going to look chalky. I just do my makeup like normal, then just spritz this a few times over my makeup and my skin looks as if nothing is on it. Not to mention it helps make my makeup stay on a lot longer than without it. Also, I can re-spritz my face to add a bit of moisture that's been lost throughout the day which is extra convenient. I don't have to mess up my makeup by rubbing moisturizer in, I can just spray it on and let it soak in. Now, I can't even think of doing my makeup without this stuff!!

Awesome!!
Ok so I just started using this and I must say I LOVE IT! For some reason whenever I did my makeup before using this, it would rub off in less than an hour. Then I started using primer and it would last less than two hours. But when using Dew Me, my make up lasts all day long! I love it! It makes my makeup look so fresh. I get complimented all the time and I really give all the credit to this spray! It's a must have for us with dry skin!

Added to my everyday routine!
This doesn't make me SUPER dewy, to be honest but I definitely notice a huge difference in the length of time my makeup lasts. Usually my blush or contouring, etc. will either blend together or just fade away by the end of the day but when I started using Dew Me my makeup stays looking fresh all day. It looks as if I just applied my makeup even after I wear it for 7 hours. I think since MY face is more on the dry side I would want it to look more "dewy" than this makes it look, but it does add the moist, fresh look back to your face and I would still definitely recommend! It does the job it says and I use it everyday.
---