The Bronzed & The Beautiful Bronzing Collection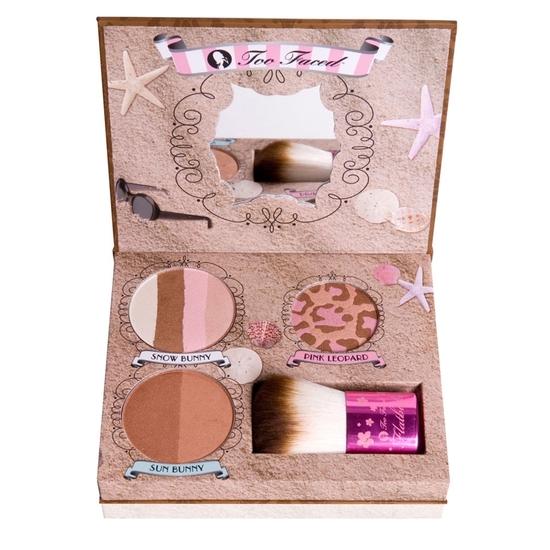 Rollover image to zoom
Reviews

bronzed beauty ♥
I have very, very fair skin so it's hard for me to find a bronzer that looks good on me but this product worked like a dream! it comes with various shades to mix to achieve a flawless, natural looking glow to your face. this is one of my favorite & most used products during the summer. :)

Great set for year round bronzing needs!
This set has all the color bronzers you will need for the year. Absolutely love it! I will sometimes use a combination of colors to create a different look. If you don't feel like doing shadow on a daily basis, you can sweep some snow bunny across your lids.

Perfect set of bronzers....BRING IT BACK PLEASE!!!
I was so happy to have ground the perfect set of bronzers...they are great for all skin tones. Even when your not in Summertime these are great. But....to my biggest disappointment this has been discontinued and I am praying that they bring it back.

Must-Have!!
This is actually one of the first Two-Faced products I ever bought. And of course, probably the main reason I am in love with their products today! I have never bought a Two-Faced product that I am not satisfied with!! I love that this set has 3 types of bronzers for different times of the year!! Snow Bunny is definitely my favorite, though. Perfect for my lighter olive complexion!!!

I love this product.
My mom has it and I'm so sad that it's discontinued. The bronzers are just right; They aren't overly pigmented and they aren't to sheer either and I'm very pale. It's good to swipe over the eyelid if you're only looking for a little bit of color/ shimmer or use them together instead of just on their own. And the brush that comes with it is so unbelievably soft.

I looove this bronzing palette<3
This palette has a great price, is good for traveling or having it in your purse, it has different bronzers which you can use on their own or combine them also you can use it over the eyeshadow to give it a twist of shimmer. Overall love it(;
---