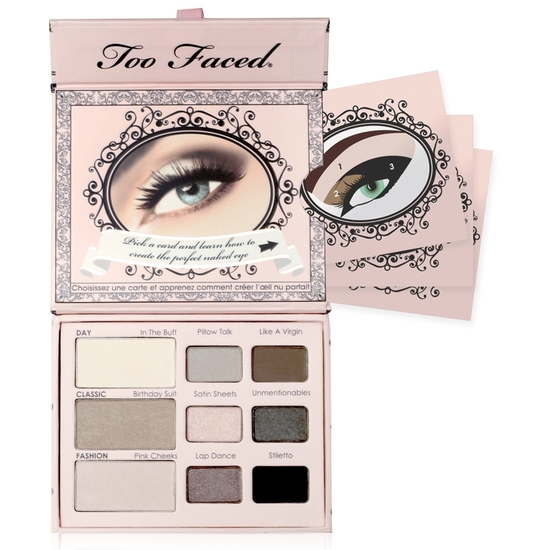 Rollover image to zoom
Reviews

Gabriella C.
Jul 21, 2012
I bought this palette 3 years ago and have been in love with Too Faced eyeshadow palettes ever since! Though the packaging is big and bulky, Too faced has since slimmed down their packaging. I bought this product when I was a freshman in high school and thought it was really neat because the colors were so natural looking it didn't even look like I was wearing any eyeshadow. I think this palette is great for young girls/beginners! What's also great about too faced palettes is that the shadows are separated into categories and have the little "how to" cards. Like I said, great for beginners! It's a great palette for that "girl next-door" look. I think the Colors are very pigmented and they blend pretty well. It takes a bit of time to get the colors well blended, but overall i think this palette is great and definitely worth it.

Day to Night
This is my must-have eye palette for weekend trips. I agree that it's too bulky to put in a purse but it fits perfectly in my carry-on suitcase. There is a little bit of fall out because the powder is soft, so I give my brush a few more taps than usual before I apply it. I use all of the colors but my 3 favorite for day or night are Pink Cheeks, Pillow Talk and Lap Dance.

Very Impressed
I bought this at the beginning of the year as an alternative to some MAC shadows I was coveting but not affording at the time. The colors in this palette are SO soft (almost to soft, there's a little bit of fallout sometimes) but the colors are great neuturals and you can do really simple looks or sexy smokey looks. I love the matte black in here to set liner with too! And even though I am a major MAC shadow user now, there are certain shadows in this palette I wear on an almost regular basis. Definitley worth the $35.00!

caught my eye the packaging is so cute i love the shadows very velvety and easy to blend the black is nice and many neutral shades and easy to combind colors. great for day and night looks and great color pay off and stays in place minimum fall out and a little goes along way as most of the shadows by too faced always do.

Amazing colours!
I love this set, it's all I use right now! All of the colours look fantastic on their own or combined (in any combination, not just the suggested looks!). Very easy to apply; I actually use my fingers for an easy swipe across my eyelid for the lighter colours, and it still looks amazing.

Elizabeth G.
Dec 29, 2012
pin up perfection!
I love Two faced products, but i am not biased! But these palettes with out a doubt will forever [hopefully] be in my kit. I LOVE wearing this for my pin up look and it is the look i have in my profile picture as well. The quality of these items are smooth and silky ;never chalky! With a primer these shades will last you all day/night!!!!!! I cannot rave enough about how awesome the Naked Eye Collections is, just try them out yourself and see!!!

Love it!
The shades of eyeshadow are very pretty, and compliment each other well. It's fast and easy to make your makeup look amazing with this eyeshadow palette. It's easy to mix and match the colors, because they all look good together, and by changing it up, you can get a completely different look each time.

Perfect Neutral Palette with Matte
This is an absolutely perfect palette for neutral looks. Not too shiny and plenty of matte colors. This is not only for light skin. I have tan olive yellow skin tone and it looks abs great on my skin tone. If there was only one palette I could use it would be this. There is shiny and matte and 3 cards with looks and instructions which I follow. Use a primer to make it last all day but each look is doable and enhances your eyes just right. It was this palette that got me interested in Too Faced and made it num 1 for me. Nothing replaces this palette. Pigmented and blendable.

PERFECT BRIDAL EYES
As a freelance makeup artist who also works full time for our nations #1 beauty retailer it's nice to have one go-to eye palette when you don't have much time to organize your kit with single shadows. This is always a go to for me in my kit. In addition this is also a palette I recommend for the bridal party to consider for purchase because it is easy to use considering the card inserts and after I explain and show them how to use it. THIS PALETTE HAS ENDLESS POSSIBILITIES.
---