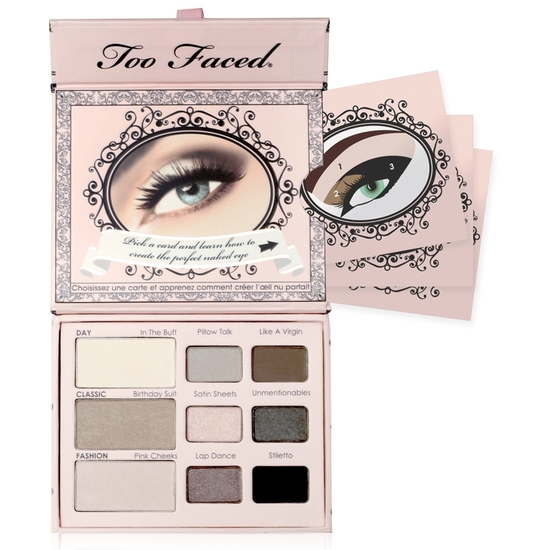 Rollover image to zoom
Reviews

Not the best neutral palette. A little overhyped, they have better boxed eyshadow kits. Has a few standout shades.
Last XMAS, I was dying to get this. I got a bunch of other neutral eye palettes (my thing) and this one, which I thought would be my fave! Honestly, since then, its my least used. Don't get me wrong, there are some beautiful shades in here that create beautiful looks! But there are only a few shades that perform really well, and its not worth the money to buy an eye kit for only a few eye shades. The light lid/highlight colors are really thin and sheer in texture, and I like their finely milled, silky quality, but they lack pigmentation. I have a pretty big chunk of neutral eyeshadow palettes and the lid colors can hold their own without a base. They aren't super super bright, but that's to be the case without an eye base like Milk. So, I was a little annoyed with that, especially since this particular palette was and still is getting praised to high heaven. I am one of those people that finds it a little hard to stand alone on a differing opinion on makeup- sometimes its easy to go with the crowd and modify a slightly negative opinion. However, the lighter shades might just blend into my own lid shade, which explains the lack of pigmentation, but still. I think the other eye kits that come in these little boxes are probably better quality though, and this is still OK, especially for beginners looking for something really soft and natural. What I do like about the kit is the packaging- its adorable. Too Faced has some of the best packaging on the market- and they know it! But in this instance, I kinda felt like the packaging had more substance than the product. I do however really love a few shades and I will briefly describe them. The names are super adorable. Like a Virgin is a grey color, its a little stiff, not super pigmented and hard to blend but its a great outer corner shade. Satin Sheets is one of the best shades. Its a golden shimmery pink with a greenish duochrome tint to it. Really beautiful and great as a lid shade with a twist. Unmentionables is shimmery gunmetal grey and Lapdance, another favorite is a silvery taupe grey with a brownish/lilac sheen. Those are both crease/outer corner shades. Its quite adorable and so portable, anyone who sees this is your makeup bag will be jealous. I just find the lighter lid shades to be not so useful. However, you can always supplement the good shades with other shadows! <3

caught my eye the packaging is so cute i love the shadows very velvety and easy to blend the black is nice and many neutral shades and easy to combind colors. great for day and night looks and great color pay off and stays in place minimum fall out and a little goes along way as most of the shadows by too faced always do.

Amazing colours!
I love this set, it's all I use right now! All of the colours look fantastic on their own or combined (in any combination, not just the suggested looks!). Very easy to apply; I actually use my fingers for an easy swipe across my eyelid for the lighter colours, and it still looks amazing.

Elizabeth G.
Dec 29, 2012
pin up perfection!
I love Two faced products, but i am not biased! But these palettes with out a doubt will forever [hopefully] be in my kit. I LOVE wearing this for my pin up look and it is the look i have in my profile picture as well. The quality of these items are smooth and silky ;never chalky! With a primer these shades will last you all day/night!!!!!! I cannot rave enough about how awesome the Naked Eye Collections is, just try them out yourself and see!!!

Love it!
The shades of eyeshadow are very pretty, and compliment each other well. It's fast and easy to make your makeup look amazing with this eyeshadow palette. It's easy to mix and match the colors, because they all look good together, and by changing it up, you can get a completely different look each time.

Perfect Neutral Palette with Matte
This is an absolutely perfect palette for neutral looks. Not too shiny and plenty of matte colors. This is not only for light skin. I have tan olive yellow skin tone and it looks abs great on my skin tone. If there was only one palette I could use it would be this. There is shiny and matte and 3 cards with looks and instructions which I follow. Use a primer to make it last all day but each look is doable and enhances your eyes just right. It was this palette that got me interested in Too Faced and made it num 1 for me. Nothing replaces this palette. Pigmented and blendable.

I absolutely love this palette! I anchor the weather for my school's own news station, but being a student means I don't have a lot of time to get ready before the news cast. I wear the lighter shades to school and before I go on air I add the darker shades on top. I need neutral shades but ones that will show up on camera, especially with all the lights! This palatte is the perfect all in one, and I'd recommend it anyone!
---