Reviews

Lovely Rita B.
Mar 19, 2012
Oh Mama! You're Sexy and Great!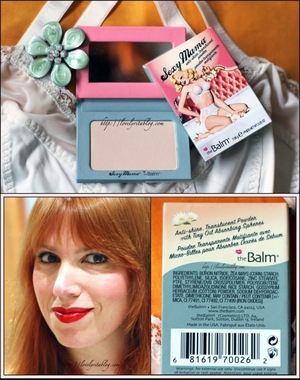 Oh The Balm! I love you! You keep making my day every time i have the pleasure to enjoy one of your gorgeously packaged products! Just look at that! Isn't it just the perfect mix of retro, sexy and cute? This anti-shine translucent powder is described by the brand as the way to "powder your face without a trace, this sexy formula with revolutionary, tiny, oil-absorbing spheres removes dreaded shine leaving you with a soft matte finish. Sexy Mama has powers like no other powder, it's virtually invisible, fooling even the most attentive admirer!" And oh Mama, it does work nicely! It provides a matte complexion, very smoothly and without being cakey at all. It erases all the shine immediately and for quite a long time, nice staying power, i use it over UNE's BB Cream Foundation (it's not a foundation per se but it's all my skin can take without further consequences) and it gives a beautiful finish and adds some nice glow (it contains some small sparkly particles) while allowing the skin to breathe (no talc in this). Sexy Mama looks lovely and it feels even better: Another hit by The Balm.

The Best Mattifying Product!
I love this product. It helps take off shine and prevent it for the rest of the day, Sexy Mama also adds a tiny bit of color which is nice on days when you don't feel like putting on makeup. One of my favorite products from the Balm, and the packaging is soo cute.
---