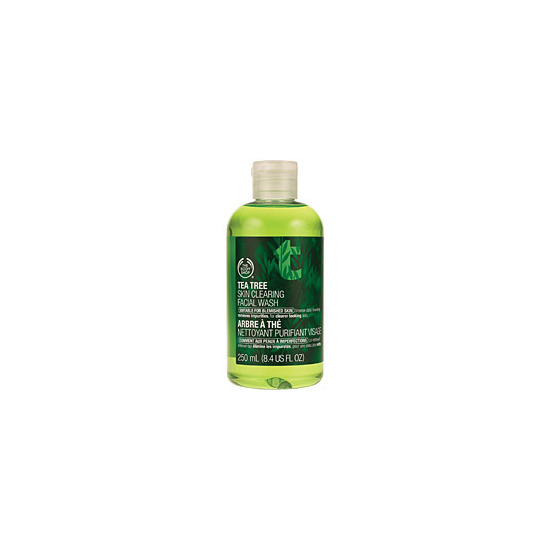 Rollover image to zoom
Reviews

Perfect for Oily/Acne prone skin!
After years of going through many drugstore cleansers to help my acne, I turned to natural products. After researching the benefits of Tea Tree Oil, I found this product. Basically, the benefits of tea tree oil with acne is that its anti-bacterial and anti-septic. In other words, it completely cleanses out your skin, free of the acne bacteria left on the skin.
It has a minty clean smell & a refreshing feeling to the face. If you're not a fan of mint smells, I suggest you try the Seaweed line from The Body Shop. This product is especially perfect for the warmer months because it tends to strip excess oil, without feeling dry. In regards to the acne, it slowly dries them out. But if used in conjunction with a pure tea tree oil (like, Jason's Naturals Pure Tea Tree Oil), the acne will dry out much quicker. I swear by this routine for horrible acne days!
I use this product daily - AM & PM. It's the only face cleanser I turn to! I'm on my fourth or fifth... or maybe even my sixth bottle! Salicylic acid and benzoyl peroxide only work for a brief time on my skin, but tea tree oil truly is my acne medication! Plus, it's a great "bang for your buck" type of product. $11 for 8.4 fl oz, easily accessible, AND natural? How could you go wrong with that? =)

Awesome!
This stuff is amazing! I purchased the kit which includes the cleanser, toner, lotion, and tea tree oil. I use it every day and my skin looks and feels good. its also good to use for "that time" ladies. The fact that it feels tingly and smells good, doesn't hurt either.

Must have
I usually only use this iin the morning f I fall asleep in my makeup because I am afraid that I will breakout afterwards and this cleanser is AWESOME! It doesn't strip your face and it is not very heavy. I tend to have oily skin and this product is perfect for getting rid of the oil and fully removing the makeup from my face plus it smells nice. Definitely a must

Works a treat!!!
I use this wash twice daily and it had minimised oily and greasy skin and breakouts of spots!!! My skin looks clearer and I also use the tea tree blemish stick and oil!! It gives a refreshing smell and relaxes when used!! One of my favourite body shop products xxxx

Super easy to use 👍
I really like this cleanser in the morning times (when I'm running late) because it is easy to just out on your face 😛 it has this gel texture and it bubbles up easily, but whenever I was it off I forget there is still some of it of my hands so I end up splashing bubbles on my face and in my nose 😁😁😁 I hope you guys try it 👏👏

Amazing buy!
Tea tree oil is my new best friend. I have combination skin (dry to oily) and it gets rid of most if not all the oil on my face. Just it in the morning because it's easier for me. Definitely recommended to everyone
---