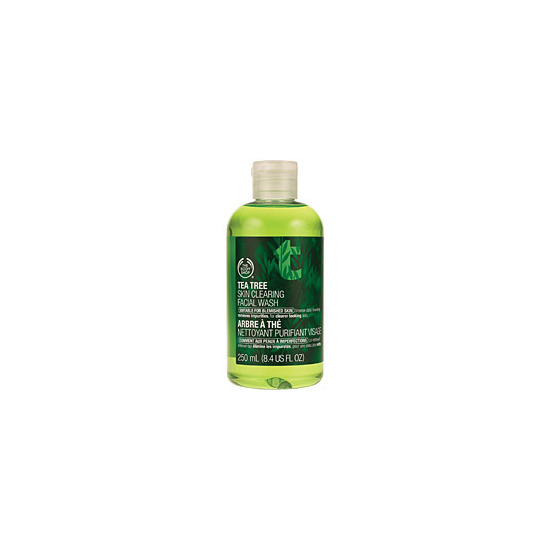 Rollover image to zoom
Reviews

Great for acne!
Got this product about a year ago. Lost it and recently found it again. Really great for acne and oily skin. It takes away excess oil without stripping the natural oil, therefore drying it out. But I wouldn't recommend it for someone with dry skin because it will dry it out and perhaps cause more breakouts.

Works a treat!!!
I use this wash twice daily and it had minimised oily and greasy skin and breakouts of spots!!! My skin looks clearer and I also use the tea tree blemish stick and oil!! It gives a refreshing smell and relaxes when used!! One of my favourite body shop products xxxx

Super easy to use 👍
I really like this cleanser in the morning times (when I'm running late) because it is easy to just out on your face 😛 it has this gel texture and it bubbles up easily, but whenever I was it off I forget there is still some of it of my hands so I end up splashing bubbles on my face and in my nose 😁😁😁 I hope you guys try it 👏👏

I wanted to love it.
My cousin raved and raved about how great this face wash was so finally she had convinced me to buy it. I had bought a kit with the face wash, toner, and the moisturizer. Keep in mind my face was completely clear prior to me buying this with using my regular skin care routine. When I purchased the kit from the body shop and started using it, I seen my skin getting really dry (I have super oily skin) and it started to break out in places I usually wouldn't. A week or two after, my face was covered in really painful cystic pimples. I stopped using it and went back to my regular skin care routine and my face is back to it's clear self. So for me this stuff was a fail and it makes me mad cause I'm stuck with 3 pretty much full bottles of the products and the body shop is over an hour away from me. I suggest if you have oily, acne prone, sensitive skin.... Don't even waste your time/money.

Amazing buy!
Tea tree oil is my new best friend. I have combination skin (dry to oily) and it gets rid of most if not all the oil on my face. Just it in the morning because it's easier for me. Definitely recommended to everyone

Hm.
This was my favorite until The Body Shop released the "Tea Tree Cool & Creamy Wash" one (which isn't as drying). This one (combined with the toner and moisturizer) kind of dried me up, so I had to make up for it using a serum. I still keep a bottle, though, to clean makeup. But on days where I don't wear makeup, I still prefer "Tea Tree Cool & Creamy Wash".
---