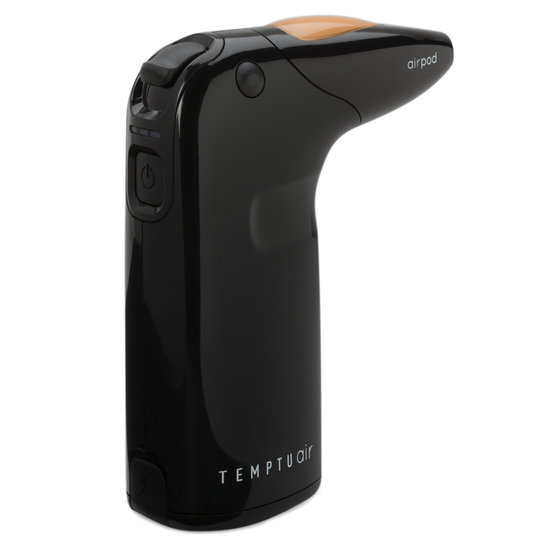 Rollover image to zoom
Reviews

Team
A Pro Makeup Artist in the palm of your hands!
I have always wanted to try out Airbrush makeup because of the amazing results that I have seen and now I can truly see why it's so great.
The TEMPTU Air makes applying my bronzer and blush so incredibly easy and flawless, it looks like I just went and had my makeup done by a professional. Plus, it truly lasts all day which is awesome!
This machine is extremely easy to use too. Once it's charged, set your strength and easily adjust the intensity and coverage you desire by pulling the button dial back and forth while aiming it at your skin from a distance. It's as simple as that.
I love that you can achieve either a really natural look that truly appears to be your own flawless skin, or you can go full glam with ease. I can even highlight and contour with the TEMPTU Air and the trigger allows you to be really precise if needed.
I love this machine. For the price though, I just wish that it was sold as a starter kit bundle combined with a foundation. Here's to wishing ;-)

So worth the money
I've wanted to invest in Temptu products for years and I finally broke down and bought the Temptu Air! The greatest investment of my life!!!!! The color goes on evenly, it's simple to use once you get the hang of it, and it's super easy to control the amount of product you wish to use. I got this with and the foundation in the color 11 Chestnut. It was slightly darker than I needed, however it made me look like I had an awesome tan. I had to order a shade lighter than that from a different company because Beautylish nor Temptu carried the color. But I can still us it as a contour color!!!! By the way the color last 12+ hours! Please please please see if you guys can get the color 10 Almond. Thanks again!!!

Simply amazing...
My n°1 for foundation... it's love at first spray ! I love it, my clients love it, the photographers love it,... what more can I say ?! It's portable, small, light weight, the design is beautiful and it works perfectly. You can do very precise or large work with it. (PSI range is great, can do face and body work with it) Yes, it's not cheap but it's definitely worth the money.
---