One Step Camellia Cleansing Oil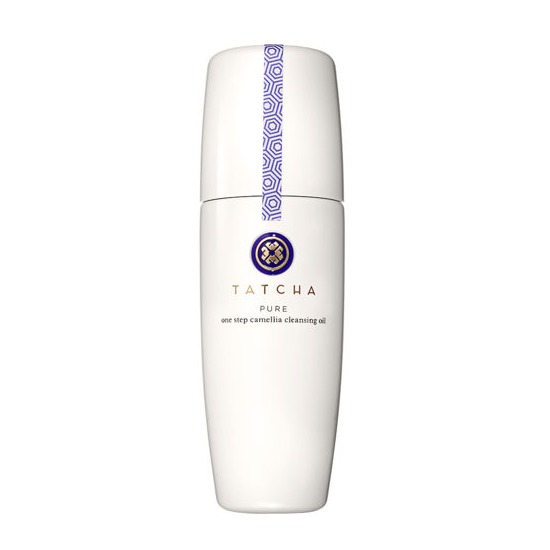 Rollover image to zoom
Reviews

OILCleanser for my OILY face? Seriously?
Sounds a little counter-intuitive? Nah, simple logic. OIL DISSOLVES OIL The oil cleanser breaks down and dissolves oil, bacteria and makeup with out the use of soaps and other solvents that can strip your skin of essential moisture.. thus the over production of oil etc. I have oily skin and wear a "fair" (drag queen) amount of complexion makeup...: Concealer, Foundation, Powder, Blush etc. At the end of the day, the oil from my face + the makeup = for a greasy paste like substance that only a foaming face wash could remove, or so I thought. I was equated the "squeaky" feeling to clean skin as I'm sure most of you can relate.
I've tried a few different oil cleansers as they are popular in Asia but nothing comes close to... drumroll... TATCHA One Step Camellia Cleansing Oil "A beautiful blend of camellia and rice bran oils. Melts away even waterproof makeup leaving skin fresh and pure."
One Step? What does that mean? Was there two steps before..? Did I miss class that day? Many Oil Cleansers require a follow-up step to remove excess oil left by the cleanser Nude,
TATCHA's oil cleanser is truly one step, removing all my spackled on makeup including WATERPROOF mascara and stubborn eyelash glue. Just a couple pumps on DRY hands and DRY face, massage on skin in circular motions: your make up will melt before your eyes! Rinse with warm water and pat dry. I did the white towel test- totally free of any color! No more embarrassing half orange/brown towel stains for me!
My skin is free of makeup, skin feels clean: No oily film residue or that stretched out dry feeling. It take a little getting used to; I just could not believe my skin could be so "moisturized" after using a cleanser that could remove my makeup!
Check out the video: http://www.tatcha.com/shop/one-step-camellia-cleansing-oil

Amazing
The entire Tatcha line is really just magical - every aspect from the product itself to the packaging to the light floral scent is just an amazing experience. I have very oily skin but none of my cleansers removed my makeup at te end of the day, so I finally tried this oil - it works like magic. Every trace of makeup is gone, my skin is soft and clean, and never feels right or dry or stripped. I can't recommend this enough, I know it's pricey but it's worth it - investing in skin care of this quality is sure to pay off for the rest of your life!
---