Airbrush Finish Bamboo Foundation Brush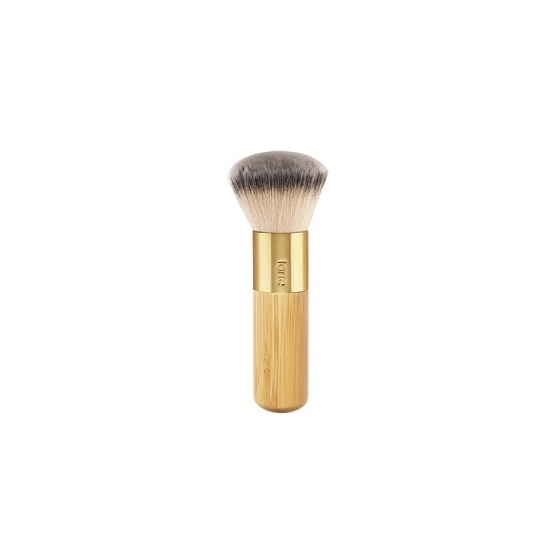 Rollover image to zoom
Reviews

Air Brush
I love this bamboo brush. I decided to pick this brush up when I purchased the tarte foundation. I am extremely happy that is did. Having a great foundation brush truly makes a huge difference in your foundation application. I have found my new favorite foundation brush!

Hello amazing! Nice to have met you.....
Ok, is this brush big? Yup. Does it really....I mean REALLY leave your face flawless? Yup. I love this thing! I browsed around and wanted to try this brush as well as the Tarte Amazonian Clay Foundation. I found this on QVC for $40 + shipping for BOTH items!!! The price of the foundation alone is that, so I suggest purchasing from QVC.com if you want this puppy. It is super soft and airy. I suggest not putting the product directly onto the brush to 1)not mess up the bristles and 2) so the product does not seep into the middle because then you have to seriously deep clean it. I use this about every other day, either for my foundation application or to buff on my MAC MSF natural. It performs beautifully. The handle is thick enough and the weight sits perfectly in your hand. It does not stand on it's own so I have it in a little container that I pour loose powder in, and clean after use. I have cups with sand that hold my brushes and this sucker is way too big for one of those. I own brushes from MUFE, Bhumi, Sephora, MAC, Sigma, Smashbox and a few others and this is just as great of quality. I used this with liquid foundation and powder mainly. I have not tried it with cream foundation. I'm sure if you had a powder foundation this would work beautifully.

Dream Brush!!!
This brush was recommended to me at Ulta a few weeks ago, and I am SO glad I bought it! It is probably the most expensive single brush I own (I usually purchase from Sigma), but I am so happy with it! It makes your foundation go a long way, and gives a very natural and blended look. Say goodbye to streaks or globs of extra foundation...this brush is so large and dense that it does an excellent job with blending into a very easy airbrushed look. I have used it with two different liquid foundations so far, and both are very different in coverage and finish. It is SUPER easy to clean as well, and it is very sturdy and keeps its shape! DEFINITELY look into this brush. It is a nice contrast to my flat top kabuki that I have had for over a year.

**One of a kind foundation brush!**
This brush came with the tarte Amazonian Clay Foundation when I purchased the foundation from QVC. It works wonderfully with the tarte AC foundation! It helps to achieve that "airbrushed" look. The only reason I gave it 4 1/2 instead of 5 stars was the fact that it does not work well when I use it to apply other foundations. It seems to absorb them and the reason for this is because the tarte AC foundation is much thicker that most foundations which helps it to stay just at the top of the bristles of the brush. I haven't even tried to use the tarte AC foundation with any other brush, because this brush applies the foundation with a flawless finish!

Good brush!
I really like this brush, it does have great application. Smooth bristles as well. The only downside is that it's on the large side, size wise, so it's complicated to get around the nose, under the eyes, etc. I actually really like this for bronzer application!
---