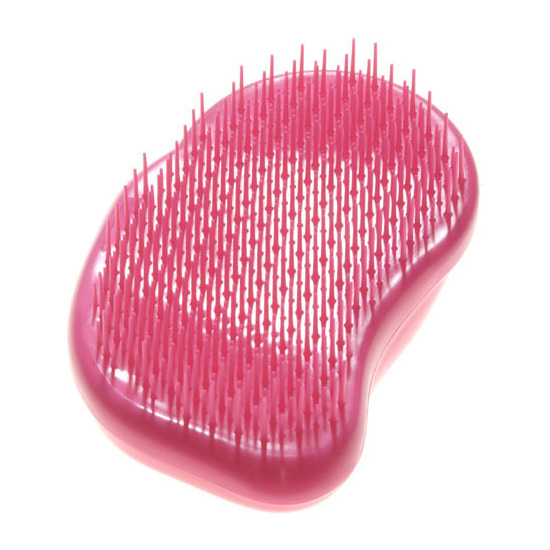 Rollover image to zoom
Reviews

Team
gets the tangles out without hurting or tugging!
Oh my gosh. My life is changed. I seriously hate combing my hair ALOT and it wasn't until I picked up my Anna Sui hairbrush that I realized I didn't mind it so much. HOWEVER. When I'm out of the shower, I still, for the life of me, cannot comb my hair properly to have it not be a giant knotty mess. Maybe once a month I will actively use detangling spray and a wide tooth comb to comb my hair out.
That all changed when I saw my cousin using the Tangle Teezer during the holidays and she said it detangled quickly and painlessly and was really easy to use. ALL OF THE ABOVE! It's very inexpensive and pretty easy to find in most places and its very ergonomic in the hand. I actually enjoy combing my hair and it doesn't "catch" or snarl the hair either, it just seems to glide like absolute magic. I feel like my hair is slowly reaching its full potential these days without me having to tease it sky high these days (its my goal to love my hair the way it is without having to backcomb...as I went for that crazy Motley Crue look for a long time) and this is helping me to keep my hair knot free, healthy, and with less feeling that I'm growing weird things in the giant tangles!

Hayley Louise S.
Apr 11, 2014
Never use a normal hairbrush again!
I bought this in December 2013 and have not used another brush since. Not only has my hair grown 4 inches! - I don't suffer any breakage anymore, this doesn't 'pull' your hair as it's brushing.
I've not had one tangle it cannot tease out yet! Definitely worth every penny - wish I had bought it sooner. x

A must have!!
I have fine hair and it knots so easily, especially after it's been washed. I finally gave in and bought one, and I don't know how I lived without it! I was causing so much damage to my hair trying to brush it wet, but with the tangle teaser it's quick and gentle! Definitely a must have, especially if you have children who hate having their wet hair brushed!! No more tears!!

Adorable
I found these brushes really cute and adorable but since I stopped using mine my hair is far less greasy! I think they're great when you hair is wet or just out the shower but because they're nylon your dry hair will turn really greasy!
---