Color Wheel Eye Shadow Palette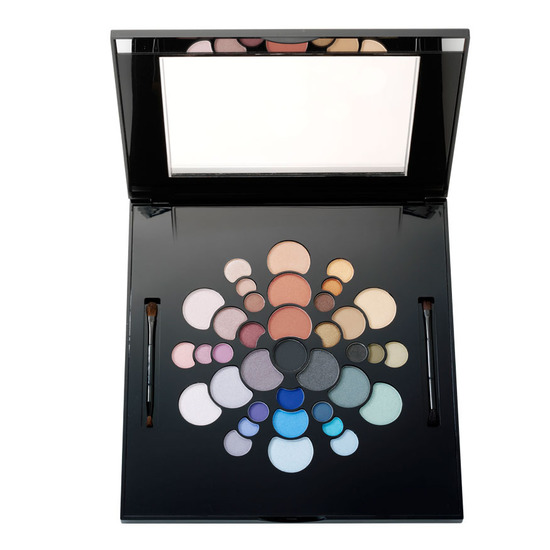 Rollover image to zoom
Reviews

a great go to for everyday and special occasions
That really stinks that you guys were not satisfied with this product- I get bummed too when the MU you purchase is totally crappy. I have to say that I love this palette. The booklet is a little darling, and really helped me when I was just starting to get interested in more "professional" makeup. You can copy the looks or edit and change them however you want. Mixing and matching colors from the color wheel family is also cool, although I'm so satisfied with sticking within the color family trios I haven't needed to experiment much. I will say that I have a hunch that the cooler colors might be a little chalky and less pigmented and the opposite side, the warmer colors are more lush, creamy and pigmented. The cooler ones might perform better when wet or with a base, and honestly- they might be just as good, but I was blinded by the amazing-ness of the warm shades! I'm sure the consistency and overall acceptability of each shadow is different palette to palette. Some of the shadows irritated my eyes, but again, I have sensitive eyes that take awhile to get adjusted to the makeup I'm wearing in that given moment. Anyway, I love the teal, rose, burnt sienna, olive, lavender, copper, gold, pink, and nude trios and I want to play more with the turquoise set up. Overall I've used this palette dozens of times to match outfits and spice up my look for special occasions and events. It was gifted for me, but the price is relatively reasonable for around $50.00, its a holiday palette I think, and its been repackaged in a pretty floral design cover, so hopefully it was successful enough to have another go around. I would give it a shout-out, although theres a possibility it got worse or better in quality since I received it, maybe two or three years ago.

Marta Fabiola P.
Oct 20, 2011
Not Impressed!!!!
While I am a fan of some of the Stila eyeshadows I saw this color wheel and thought I get to use all my favorite colors in one. But I found the shadows to have so much fall out and not pigmented enough. The colors were beautiful and a great variation but the quality for me at least was not up to par

Waste of money
The eyeshadow is powdery and flaky. It's also not very pigmented. I bought this last year onlne thinking it was a great buy and it was not. If you are looking for a great palette I suggest going with one of the palettes by bh cosmetics. Not only do they have a variety of palettes to choose from but they are great quality (very pigmented). And also less expensive.
---