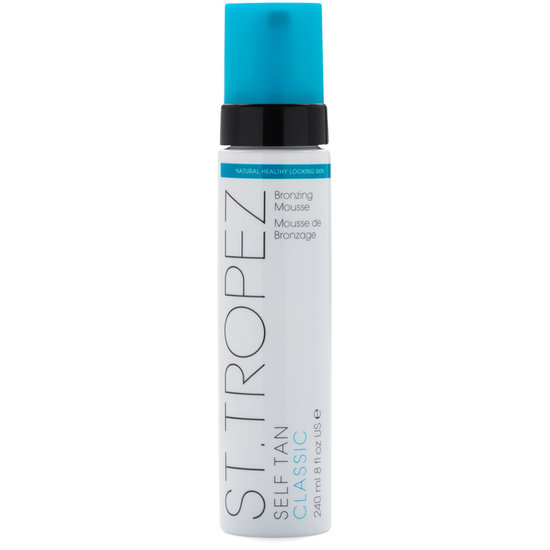 Rollover image to zoom
Reviews

One of the best
I have tried a lot of self tanners and this is really one the best for a reason. It gives you such a natural olive color, doesnt streak, and lasts longer than most of the self tanners I have tried. It also wears off gracefully! I use it overnight and make sure to put towels under where I am going to sleep to as not to stain my sheets. I do not do anything that will make me sweat or get wet as this will affect the tan and make it blotchy or have droplets of non tanned skin. Spend a little extra on this if you have had bad experiences with other self tanners.

Horrible !!!
Makes you look like you took a bath in muddy water!!!! I hate this product!! BUT I LIVE THE GRADUAL TANNING LOTION BY ST. TROPEZ! I make the mistake of buying the tanning mousse !!! I had to throw it away !!

This was my very first self tanning mouse.. My first love lol. The end result is natural bronze NOT ORANGE. St. Tropez has been my favorite tanner brand for a few years. I venture out I do also switch between Million Dollar Tan and Fake Bake but this is by far the best I have used.. I would absolutely recommend this product.

This is hands-down the best self-tanner I have tried, and it is the one I use regularly now. I am very fair, and because of the mousse's green tint, it does not come off orange on me. Instead, you get a natural looking, glowy tan. Using the mitt, I get a nice and even application.

Ehhhh
I heard this was great...had high hopes but unfortunately I found it not at all great for me! ...it's streaky and the entire 'tan', not just the initial 'tint' washes off in the shower right away. .....I have Med Olive skin .. the color was ok/not orangey but definitely nothing fab about this. I'll stick to Lancôme self tanner/tinted gel. This stuff cannot compare..

Stephanie K.
Aug 31, 2015
Pretty good
I purchased this since Loving Tan is always sold out and heard just as high of reviews on this, it works great as far as color goes. I wish it didn't take 4 hours, it you get sweaty it will run. I always have to remain so still for awhile in fear of the crease in the elbows, under boob, behind the knee etc... Color lasts about 3 days and fades pretty evenly. It's a good tanner, not sure if cheaper brands are just as good though.

Great Product, Not So Great Smell
This self-tanner gives a great, very natural tan on my skin. It isn't splotchy and as it is fading, it seems to fade together without being too noticeable. I do have to make sure to exfoliate really well prior to self-tanning but as long as I do that, I am off to a good start. Just like any other self-tanning solution, this one does give a fake tan smell. I have heard different things from many people but I think it all depends on your body chemistry. Overall, great product and I can overlook the smell.
---