Soothing Oatmeal Shea Butter Lotion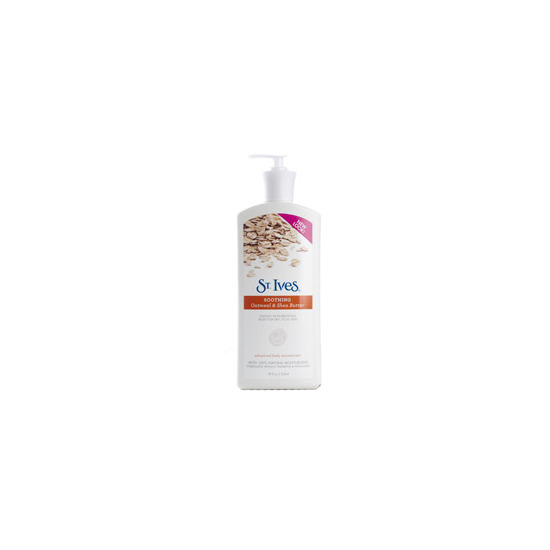 Rollover image to zoom
Reviews
Team
definite buy
this lotion is soooo moisturizing, absorbs easily, and smells good. It's not expensive either, ringing in at around 8 bucks. I keep this just outside my shower door so I can grab it and apply it in the shower after towelling off... I definitely recommend this lotion and the technique as my skin is noticeably softer and smoother ^^

Great Winter Lotion
I spent a whole $9.99 on a St. Ives Christmas package at Walmart just to get this lotion! (Apricot scrub and moisturizer was just a bonus). Before I bought this Aveeno body lotions seemed to be the only products that would retain my moisture. I am very satisfied with this one and it definitely helps to keep more money in my pocket.

Hydrating & Natural!
I love this moisturizing lotion! It's super hydrating and feels so natural. I love how I feel like I'm putting on an organic lotion vs. one with harsh chemicals. The scent is not strong so it doesn't mix with my perfume. It's also pretty light rather than a heavy moisturizer.

best
what can i say besides i love st. ives product and specially this one its my favorite lotion nxt to coco butter it deff leaves my skin super smooth and hydrated especially when i use it with the scrub man i love the scrub wish i had sum of the lotion left and wish i nu who stold my scrub! =( 4 sisters who knows lol but i really recomend this product nothing but awesome give it a try only like $4? who wouldnt? i deff do =D

Good Nighttime Lotion
I have dry, flaky skin, especially during the winter. I have a hard time finding affordable products to sooth my cracked hands. I usually use St. Ives Collagen Elastin, but decided to try this new scent. I found it a little overwhelming & it clashed with my daily perfume. It might be better used as a nighttime lotion.

An amazing lotion for daily use! I ran out of my other daily lotion and I wanted to try a St. Ives product. I love it so much! I was slightly skeptical to buy this because of the bottle's pump. I usually do not buy lotions with a pump because that means the formula is more watery, therefore less moisturizing. But I LOVE this lotion! My skin does not dry out after a few hours after using this like others. Also, it soothes my skin and is easy to apply. I do not recommend this for extremely dry skin because it is more light weight. The smell is awesome and not too strong. I own the shea butter version and would definitely buy it again.
http://dreamingofbeautyx.blogspot.com/

So affordable
This lotion is great for itchy and irritated skin. I've used it in the morning and it lasted all day. I absolutely love that St. Ives has gone paraben-free. It's difficult to find a product without this ingredient that's also affordable and actually works. The body wash, as mentioned before, is also really good. I've had no problems with itchiness or dryness after using the lotion, but the results are even better combined with the body wash.
---