Blemish & Blackhead Control Apricot Scrub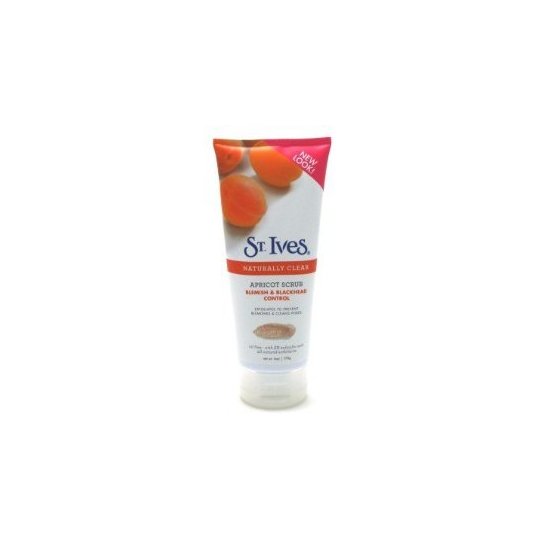 Rollover image to zoom
Reviews

I really like this product, but after reading some of the reviews saying things like, the apricot she'll is leaving tiny slices in you skin and how it is not good for you in any way, I'm not sure what I think. I really like it; it leaves my skin felling soft and smooth, it never ever dries my skin out, it smells great and it keeps my blemishes at bay. Also when I use scrubs I don't scrub hard at all. I gently use my hands and my ring finger in harder to get places like my nose. I hope this product is okay for the skin.

I don't know the difference between apricots and peaches because Western fruits are evil...
Didn't think it worked the first time—probably because I had overwhelming amount of dead skin cells (I think I was seriously so stressed out about life I stopped caring about everything for like weeks... Only used this after I've owned it for a month maybe? LOL). Then the second time around, it worked! It's lovely, smells nice, and has anyone bothered comparing how much this costs compared to Clinique Turnaround Instant Facial?! Hum, yeah... Plus, it doesn't leave weird glitter and makes my head look like a disco ball like the Clinique one. It does leave my face a bit pinkish after, tho. Then after a warm shower the pinkness is hone again. But maybe I shouldn't be rubbing too hard next time. Hm.

I love this product! At first I did feel the product was quite harsh on my skin but after a week; my blemishes rapidly began to disappear. I recommend a purchase, it leaves your skin very soft and clean. Amazing!

Stop using this
I hear it all the time. I ask, do you exfoliate? and I get oh I use that apricot scrub. NO. The walnut shell pieces that make up the scrub will cut your skin. I used to this in middle school thinking, yea I'm exfoliating. I could SEE the little cuts. My skin was super dried out and wasn't helping my acne. Unless you have rough feeling skin, I suggest a chemical exfoliant. Something with AHA's in it, or pinapple enzymes. Use regular table sugar in your cleanser if you really like that scrubby feeling.

worth a try
first time purchasing this product an I do like it. my blackheads are gone within one use. as to not damage my skin I only exfoliate 1 to 2 times a week. I will probably not repurchase on the fact that professionals say it can cause micro tears. plus I want to explore and try new products. :) I would say that this is good but can be harsh. so if considering buying by all means I'd try, expesically for the price but keep in mind that there are other products out there that can be better an less abrasive.

Amazing, but maybe too harsh.
I have been using this more a very long time on and off due to my sensitive skin. I find this harsh and that it makes me breakout. I stopped using this a few days ago and my skin has broken out MUCH less. That's just me I feel like, sadly. I do however love the smell, and it did make my skin smooth. Just too harsh. Instead, I use this on my back for my occasional back breakout. All my blemishes on my back are gone. This is more of a body scrub then a face scrub, in my opinion.

Priscilla G.
Aug 25, 2013
HOLY GRAIL. 💁💁💁💁💁💁
this scrub is my holy grail. the exfoliant balls are "huge" as some say but when you feel your skin after using it, you feel a baby's ass. yes, I SAID IT. A CHILD'S ASS. this scrub right here? keeps my skin soft, clear of acne, smooth, glowing & everything good you can imagine. trying this product out will NOT be a regret.

this scrub feels great!
The little scrubbie bits aren't so tiny that you can't feel them but aren't so huge that they feel too tough on my skin. My skin feels great after I use it! Because I have stubborn acne I actually use this twice a day and it has helped more than just their regular green tea face wash. My skin is still not clear by any means (which is why I left off a star) but it's the best over the counter scrub I've used! Doesn't smell bad, either!
---