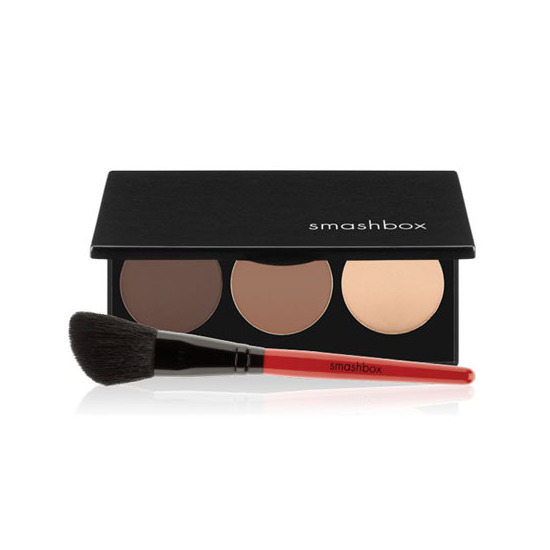 Rollover image to zoom
Reviews

Contour powder is the stand out
The amount of product is good for the price, and the contour color is the most perfect I've ever tried. I'm very fair and it builds nicely without looking muddy. The bronzer is a little dark for me - but I use it successfully with a light hand and it ends up looking natural. The highlight color is something I'm still playing around with...it doesn't show up very well on my skin, but I'm sure that layered under a different highlighter or over a creamier foundation/concealer it will work well. The brush is small-ish but surprisingly good quality.

I need more!!
This is one of my favorite products in my makeup kit, the shadow color is perfect, the bronze is brilliant, and the highlighter is amazing. The only upsetting thing is that it has been discontinued. If anybody knows a color that matches the shadow please let me know!!

Love this product!
I love that this has a matte highlighting color, as I find that a lot of my clients want that sculpted look without the shimmer. This is perfect for that. I do wish that it came in slightly different shade ranges, as the dark contour color is a bit much for very fair skins. That's why I took a half star off. Otherwise it's perfect! The brush is the perfect size, too. Never really used the bronzer shade much though, as I tend to use a blush tone to blend that area of the cheeks.

Love this product .. but SO sad it is discontinued
SO SO SO sad to learn this has been discontinued.. I hit pan on all three colors and went to replenish, only to find out it has been discontinued.. yes there are similar products but I loved the convenience of having everything in one palette. Hope this isn't a sign of more discontinued products from Smashbox now that Estee Lauder is controlling them.....

Love the contour color!
Though I don't use the bronze color in this trio, I'd still purchase it again. For the contour alone! It is the most "natural shadow" color I've found. Only a slight amount is needed or you can end up looking like you have dirt on your face (not cute) The little brush is nice too! I have other bronzers I go to so the one in this little pallet hans't been touched. The highlight is decent as well, but this get is a hit for me due to the contour. Def would buy again!

All Purpose Set
One of the best all in one contour palettes around. Also great as a basic eyeshadow set for that minimal or no makeup look. Can't go wrong with this.

I like Ben bye banana powder better..
I like the count our and bronzing powders however, the setting powder is too white. It makes you look like a ghost. I prefer to use the other two powders and then go in after with my banana powder. The brush is actually quite good, I was surprised.

Awesome
The best contouring kit I have ever used. The colors are great love the high light. Blends great so theres never any harsh lines. I love this product and just adding this in here I have never bought a smashbox product that didnt deliver. You have to try this if you are looking for a great face contour

One of my top 10 favourite products!
Contouring is one of those things that few people know how to do, but is a really good trick to slim down and add shape and definition to your face.
Why I like it:
It comes with the perfect wee brush. It is just the right size to fit under your cheekbone into the hollow of your cheek, allowing you to apply the perfect contour shape. Plus... it comes with the palette, free. And we all love free stuff. It has an easy to understand diagram of where to place each colour on the face which is really helpful. The contour and highlighter suits virtually any skin tone. It is compact, portable and durable. I have dropped mine several times and it has never broken. The inside of the lid is a mirror which is extremely handy. It lasts for AGES even if you are using it every day (or several times a day like me!). You only need the tiniest bit on your brush to create a subtle, natural contour, bronze or highlight. Slowly build it up to a level that you are comfortable with, being sure to blend well as you go. If you use too much, it is likely to look far to dark/light and not blend well. The highlighter is matte - so no shimmer. It gives a really nice "barely there" highlight for day time. If you want something brighter or more dramatic, just use as a base, and apply a shimmer product over it!
What I don't like:
I feel like its a bit backwards - I prefer to highlight first and contour last using the same brush to save on brushes and cleaning. The bronzer is quite orange. It works for darker skin tones, but not really the paler ones. On the bright side, I use it as a brow definer because my hair is copper. The contour is too pale for very dark skin tones.
---