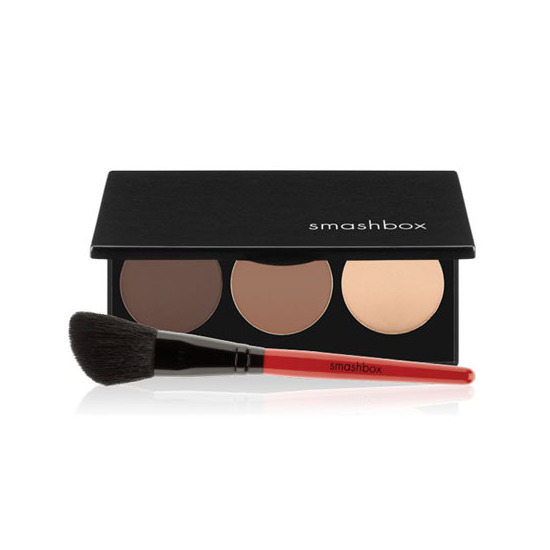 Rollover image to zoom
Reviews

Multi-use.
I hesitated to purchase this, but I really love it. I use it every day, though I rarely contour...
The three colors are all matte, and seem like they would work on most fair-medium skin tones. The shades are very well selected here, and when applied never seem orange or ashy, which seems to be why I rarely end up using kits like this.
In addition to contouring, these shades also make a nice smokey eye, and for my hair color, work very nicely in my brows. I rarely use all three colors for contour on the face, but often reach for just the light shade for highlight, or just the medium shade to bronze.
For those of you that contour the body, these shades work very convincingly on the chest.
It also comes with a contour brush, which is surprisingly good for something that comes with a palette. I find myself reaching for it when I use bronzer.
The pans of product are generously sized as well, and the three pans together weigh in at 0.404 oz.
It's a tad pricier than I would have liked, but ultimately I will repurchase when mine runs out.

I like Ben bye banana powder better..
I like the count our and bronzing powders however, the setting powder is too white. It makes you look like a ghost. I prefer to use the other two powders and then go in after with my banana powder. The brush is actually quite good, I was surprised.

Awesome
The best contouring kit I have ever used. The colors are great love the high light. Blends great so theres never any harsh lines. I love this product and just adding this in here I have never bought a smashbox product that didnt deliver. You have to try this if you are looking for a great face contour

Love this product .. but SO sad it is discontinued
SO SO SO sad to learn this has been discontinued.. I hit pan on all three colors and went to replenish, only to find out it has been discontinued.. yes there are similar products but I loved the convenience of having everything in one palette. Hope this isn't a sign of more discontinued products from Smashbox now that Estee Lauder is controlling them.....

I need more!!
This is one of my favorite products in my makeup kit, the shadow color is perfect, the bronze is brilliant, and the highlighter is amazing. The only upsetting thing is that it has been discontinued. If anybody knows a color that matches the shadow please let me know!!

Contour powder is the stand out
The amount of product is good for the price, and the contour color is the most perfect I've ever tried. I'm very fair and it builds nicely without looking muddy. The bronzer is a little dark for me - but I use it successfully with a light hand and it ends up looking natural. The highlight color is something I'm still playing around with...it doesn't show up very well on my skin, but I'm sure that layered under a different highlighter or over a creamier foundation/concealer it will work well. The brush is small-ish but surprisingly good quality.

Love this product!
I love that this has a matte highlighting color, as I find that a lot of my clients want that sculpted look without the shimmer. This is perfect for that. I do wish that it came in slightly different shade ranges, as the dark contour color is a bit much for very fair skins. That's why I took a half star off. Otherwise it's perfect! The brush is the perfect size, too. Never really used the bronzer shade much though, as I tend to use a blush tone to blend that area of the cheeks.

All Purpose Set
One of the best all in one contour palettes around. Also great as a basic eyeshadow set for that minimal or no makeup look. Can't go wrong with this.

Love the contour color!
Though I don't use the bronze color in this trio, I'd still purchase it again. For the contour alone! It is the most "natural shadow" color I've found. Only a slight amount is needed or you can end up looking like you have dirt on your face (not cute) The little brush is nice too! I have other bronzers I go to so the one in this little pallet hans't been touched. The highlight is decent as well, but this get is a hit for me due to the contour. Def would buy again!
---