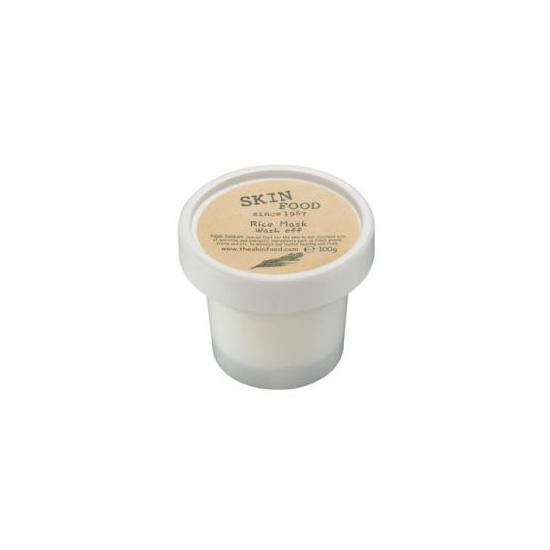 Rollover image to zoom
Reviews

First thing I want to clarify is that this is not an exfoliater. The consistency is extremely creamy with some ground rice mixed it. The concentration of the rice ground is way to little to give you a good exfoliation. This mask is more moisturizing than anything. I think that the formula softens the skin and lifts dead skin cells. The rice grounds did feel nice and helped to massage the dead cells away. The smell is like generic drug store hair conditioners.
The first few times I used this mask I was not impressed. Didn't feel like it did anything for me. The last time I used it I left it on while soaking in a bath for about 20 minutes and it made my face pretty soft. I also noticed that it brightened my face. The instructions are no good for this product. It says 'After cleansing, gently massage over dry face. Avoid eye area. Rinse off.' Is this not a mask? I think this mask only works when I leave it on for at least 15 minutes.
I also didn't like the packaging. Though the product is in a sturdy tub that opens and tightens easily, I don't like the fact that I have to dip my fingers in there to get the product.
Overall this product isn't terrible but nothing to rave about. I was definitely expecting more and was under the impression that this was more like an exfoliating scrub which it's not.

Mary Anne M.
Sep 03, 2012
Non-Drying, Gentle Exfoliating Mask
This is one of South Korea-based Skinfood's best-selling products both in Asia and at its USA retailers, and for good reason. This is my favorite wash-off mask, which doubles as a rinsing exfoliator with ground rice that refines my skin without drying or irritating it. I have combo-oily skin that dries during the winter and gets very oily during the summer, but regardless of the dry or moist seasons, my skin feels refreshed, balanced, soft, smooth, and radiant after use.
Some of the other exfoliators I have used are Clean & Clear Deep Action Exfoliating Scrub, Clean & Clear Blackhead Eraser Cleansing Mask, Neutrogena Purifying Pore Scrub, and Skinfood Wash-Off Mask in Papaya Yogurt. I detest the Clean & Clear exfoliator because its exfoliating agent is relatively large and irritating, and Skinfood's Papaya mask, while very moisturizing and great for dry skin, may have exfoliating beads large enough to cause irritation to sensitive skin.
The Rice mask likens to that of the Neutrogena Purifying Pore Scrub in the size of the exfoliating agent; both are very gentle on the skin, but Neutrogena's is primarily a scrub whereas Skinfood's is a mask intended to be rinsed off after 10 minutes left on. Between the two, I recommend the Rice mask more for drier skin because it is creamier, and the Purifying Pore Scrub for oilier skin since it is a more watery formula. But both will work just fine for normal or combination skin.
The Rice mask jar contains 100ml of product which—given that you use about half a tea-spoon—will last between 4 to 6 months of regular use if used every other day to every week. In the US I believe this retails for $17, but it can be obtained for $10–$12 on eBay directly from South Korea. For up to half a year of use and quality, it is worth the investment.
---