Good Afternoon Peach Green Tea BB SPF 20 PA+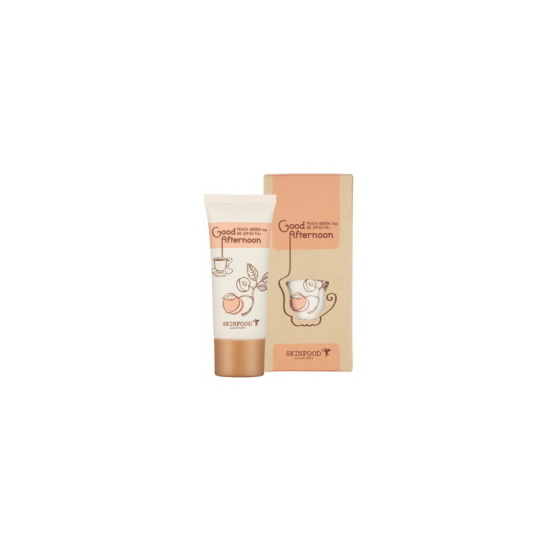 Rollover image to zoom
Reviews

I had been interested in BB Creams because I liked the idea and concept of them, but the western ones I've tried, seemed like they were missing the mark for me. I also had trouble finding any that were light enough for my skin tone. So I was really interested in trying a Korean BB Cream and after researching and reading a few reviews, I thought that this one would be worth trying first. When first squeezing it out of the tube, it's a bit thicker than the BB Creams I've tried before, which is nice, and you need less product to cover your entire face. It's definitely for fair skin tones and this BB cream has a light peachy scent to it, which personally, I like. It has pretty sheer coverage, like most other bb creams, but it's enough for my liking. It also feels very light on your face. It can make my skin feel a little oily throughout the day so, I find it's really effective to use a bit of e.l.f.'s High Definition Powder after applying the BB cream. All in all, I'm very happy with this BB Cream and definitely prefer it to the other brands that I've tried without even having to think about it.
I wrote a longer review with photos and swatches here; http://fevertwin.blogspot.com/2013/05/skinfood-good-afternoon-peach-green-tea.html :)

Mainly for lighter skin tones
I own two extremes from this collection, the mattifying Peach green tea and the moisturizing Honey black tea and I must say I like both of them. The coverage rather sheer, but does the job if your skin isn't too acne prone. It gives a natural looking clean finish. I love how easily it applies onto the skin. I use my hands and it doesn't streak or patch. It has a very pleasant smell, but contains fragrance, so beware for those who are sensitive! It is quite long-lasting and after hours at school or work, my skin still looked fine. This Bb cream is quite affordable compared to other brands ( 8-15 CA$) and can be bought online, but make sure you're getting an authentic product especially on e-bay or amazon. A little goes a long way with this one so the 30g tube is just enough. I did a review with some swatches and pictures here http://beautychokes.blogspot.ca/2013/03/confessions-of-bb-creamaholic-good.html#more , if you wanted to see, but I personally find this product worth it if you want something light and simple. However, I understand it might not be for everyone so make sure your expectations suit what this bb cream has to offer:)

Mary Anne M.
Sep 01, 2012
Sheer, Natural, Semi-Matte Finish Best for Neutral-Cool Undertones
I had this BB in my possession at same time that I had obtained the Skin79 Super+ Triple Functions BB Vital. Both claim to have matte finishes with oil-controlling properties, so I pitted the two BBs against each other to see which was true to its claim.
Asian BBs have a tendency to be gray- or yellow-toned (the latter is the case for Japanese BBs as well as Skin79's Super+ BB Vital), so it was a surprise that this Skinfood BB (in No.2 Natural Beige) actually has a cool, pink undertone! I have yellow undertones so typically cool-toned bases don't match me, but the coverage of this BB is sheer and buildable to a medium, so if anything it simply neutralizes my yellow-tones. The texture is thick but is still moisturizing and easy to spread, so I apply it sparingly. The result is still natural and fresh-faced, and not a mask. The only skin tone I would not recommend this for is warm, orange undertones. No.2, their deeper shade of their two options, may also be too light for those with medium skintones.
Unlike some of the other major BBs, this line of Skinfood BBs does not tout a very high UVA/UVB protection rating; just a standard SPF20 against UVB, and a low PA+ rating against UVA rays. As such, a broad-spectrum sunscreen or moisturizer is still recommended to be worn underneath.
Most importantly, this BB touts matte and oil-control benefits. Compared to Skin79's BB Vital, I believe that Skinfood is truer to its claims. While this BB does not have the staying power of Skin79's, it manages to keep my face matte for a lot longer. Skin79's BB Vital goes oily after 2 hours of wear in sweltering 100°F+ summer weather, whereas Skinfood's Good Afternoon BB has managed to control it for about 3–4 hours before I've had to blot.
While neither BBs have particularly impressive oil-control as far as wear time, and Skinfood's pigment staying power is not as impressive as Skin79's (the former has maxed at 5–6 hours of wear for me, compared to 7 hours), it feels more lightweight, breathable, and comfortable on the skin. It is also far more affordable, at around $6–8 for a 35g tube compared to Skin79's $31 for a 40g can.
As such, I find that Skinfood's Good Afternoon BB line is a great option for those who like a natural look and are foraying into BB creams for the first time, but are not so sure about committing to the cost of higher-priced BBs. The Good Afternoon BB line has 5 different formulations depending on the type of skin you have, so if Peach Green Tea (oil control, matte finish) isn't your cup of tea, you have four other options that my work better for your skin type. Skinfood does have another oil-control BB in their lineup called Peach Sake Pore BB Cream, which is yellow-toned and has slightly better sun protection, but I have yet to try this one.
---