Super Plus Triple Function BB Vital Cream SPF50 PA+++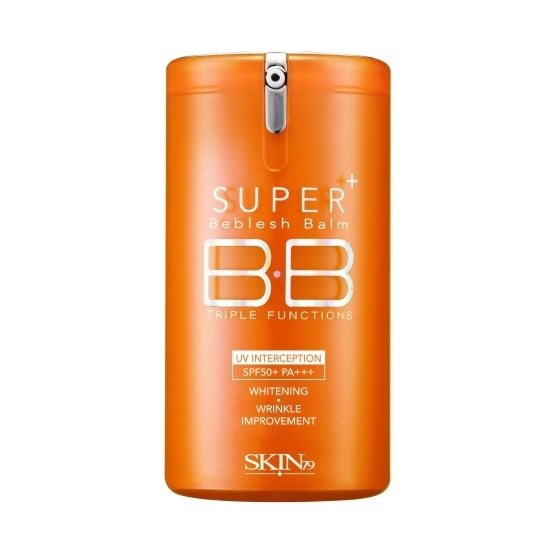 Rollover image to zoom
Reviews

LOVE IT
It goes on very smooth and it's easily blendable. A little goes along way, it has a medium to full coverage. This product is best used with your finger tips because of the heat coming from your hands helps blend the product in a lot smoother than a brush.

Mary Anne M.
Sep 01, 2012
Thick, Yellow-Toned, Semi-Matte, Good Coverage, High SPF
This particular Vital BB claims to have a matte finish, so I obtained it to test it against my oily, summer skin conditions. The cream dispenses via a squeeze pump, and because this has medium to full coverage, it should be applied sparingly to avoid the mask-like effect.
However, this negates the effectiveness of its very high SPF; to avoid the mask-like effect and still protect your entire face, I recommend wearing a separate clear sunscreen underneath first.
If you have very fair, neutral- or yellow-toned skin, this should be a good match as it only comes in a single, yellow-toned shade that will not work for cool undertones or medium to deep skin tones. I have light-medium skintone, so while the yellow undertones were perfect for me, this was actually too light for me, as I've had to mix it with darker BBs or foundations to match my skin tone.
This BB applies semi-matte and dries to a matte finish with little oxidation. I tested this in 100°F+ humid summer weather and found myself blotting oil already after only 2 hours of wear, so this does not stay matte for long and isn't very effective at controlling oil if the climate is extreme. But in 80°F–90°F its mattifying effects last a little longer, where I've blotted only once after around 4 hours of wear.
Over all, the coverage or staying power of this BB has lasted me around 7 hours in the summer. I have not tested this for winter wear. Also, because this has a matte finish intended to keep the skin dry, I'm not so sure that I recommend it for dry skin types, for which it may accentuate dry patches. This is probably best for normal to combo-oily skin types year-round, but it can't hurt for those with very oily skin to try this during the winter when their skin won't be as oily but still needs a matte finish.

Most Coverage, Best finish
This is a medium full coverage bb cream, suited for oily red skin. Anyone with rosacea would benefit greatly from trying this product. It goes on smoothly, leaves a satiny matte finish and reduces redness. I absolutely love laying this over a makeup base, because it leaves my skin looking absolutely flawless. I would purchase over and over. Plus, I absolutely love the pump. Very hygienic!

Best coverage!
I love this product. It has the best coverage out of all thee other bb cream i used. Not only that, in a few days, you will start to see that your face has whiten. It does not clear your face from acne or scar marks but the color of your skin will begin to even out. It blends in great with ALMOST any fair-medium color skin. It does not give your skin that irritating feeling. No scent since my skin is allergic to any makeup that are scented. I recommend this product because of the high SPF and the little usage of the product.
Many people misuse the product by applying too much onto their skin, making their face super white. I use about half a pea size and get awesome coverage and does not make my face white. I apply the product with a stippling brush.
the con for this product is that at the end of the day you do see that your face becomes shiny and glowy. A little blotting with blotting paper would do the trick. yet, you still have coverage afterwards.
its also a great alternative for foundation. since MY skin is acne prone, I use this product and it has became my best friend. my skin stop breaking out when i begun to use to product.
---