Premium Professional Kit with Brush Roll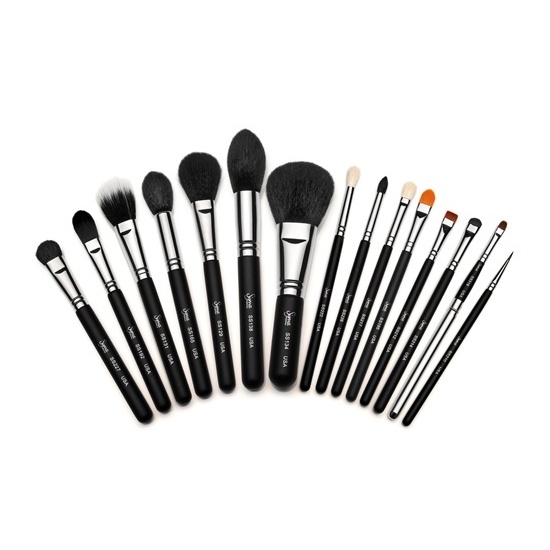 Rollover image to zoom
Reviews

GREAT QUALITY
I was a little skeptical about Sigma, when they first came out. Some MAC brushes including some that are similar to the ones in this kit run up to $50.00. I decided to try them out, and it was a great decision.
The brushes are really well made, and do remind me a lot of the MAC brushes. The F20 and F25 are such great brushes that make the whole set worth it. Soft hairs that don't have lots of hair fall out. I just want to remind people to wash them carefully. They won't last if you don't take care of them.
They are solid good brushes. A great investment.

My subscribers always ask me what is a great brush kit for beginners and I always say this one! Besides not having a proper flat eyeshadow brush like the MAC 239 (major flaw) it's almost perfect! Well worth the money for someone just starting out who wants quality brushes at a good price!

Great
I just recently got this brush set it's not really for beginners but i wanted it for its tapered brushes and it is great quality and soft but dense and all brushes preform well. The only thing that i dont like is that the tapered brushes didnt retain its tapered shape but it's still tapered

Very soft. BUT!
I have experienced a wide range of brushes that were very hard especially to eye shadow application. I must admit that these brushes are VERY soft and they apply make-up very well. My only down-side is that my blending brush got loose a couple times after use and now I have to order another one. I don't like the stippling brush that they put in this set mainly due to the shape of the brush, its NOT dense, and it just looks kind of flimsy. The one they had in the first set they created like this looked like it was better quality, I never owned it but just according to looks it seemed better quality. Overall I do recommend these brushes and they do give professional results.

Really great, but ...
I LOVE Sigma brushes. They were the first "serious" make up brushes that I owned and am now an affiliate with Sigma. Good quality and great for every day or professional use, or if you're like me, you have a set for each. This kit however really should only be purchased if you are planning on using them professionally. There's not really a lot in here that you would use on a regular, day to day basis. It would be a lot more prudent to start with the "Complete Kit" and then purchase this kit if you think you need the slightly more advanced brushes.
---