Complete Kit without Brush Roll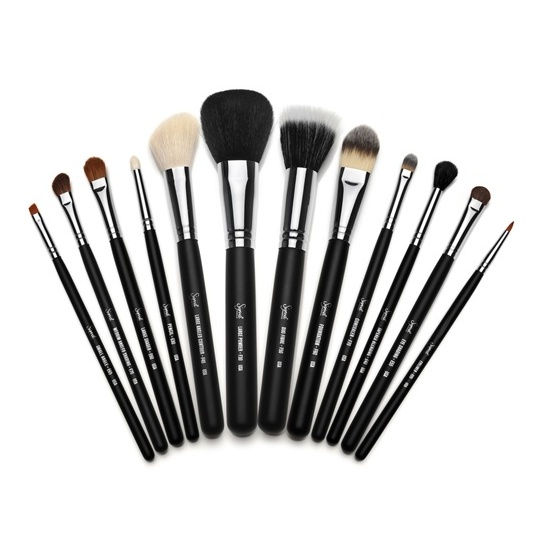 Rollover image to zoom
Reviews

I am totally head over heels in love with these brushes. They are the best blending brushes I have ever used, and I've been thru plenty. They are easy to clean and fit perfectly for my small hands. The handle is just right & the brush itself is durable & soft. It really holds the eyeshadows well and blends the colors seamlessly. I highly recommend it for all beauty professionals and amateurs alike.
These are my absolute favorite brushes. These brushes are amazing no shedding, durable, long lasting and very affordable. Sigma has a brush for your every need. If you're just starting out in this business I highly recommend adding Sigma brushes to your kit. You will not be disappointed.

Jacqueline H.
Jan 5, 2013
Nothing Special
When it comes to brushes, I believe 'you get what you pay for. If there is one thing that you don't want to skimp on, it's the quality of your makeup brushes. The brush is the vehicle that transfers the product to the targeted area. A good brush, made with good quality fibers, will make your life so much easier; however, a cheap brush that is made with poorly cut inferior bristle, and overtly lightweight shaft material will most definitely effect how your makeup looks.
So, where do Sigma brushes sit? In my opinion, Sigma brushes are completely average, mid-grade brushes. Will they get the job done? Yes, but there is nothing about these brushes that 'wow' me. In fact, I find that the natural bristle brushes used to make these brushes( mostly goat, pony pahmi) are poorly cut, and when the bristle is poorly cut, it will completely eradicate its intended use, and turn the brush into a splayed mess of scratchy bristle. This has been my experience with these particular brushes.
This set is good for someone that is just starting out, or for someone that does not have to use these brushes on a consistent, repetitive professional level. These brushes are a good 2 steps below a MAC brush and it is quite evident to me that Sigma is trying way to hard to clone a MAC brush.
In all fairness, I am very analytical when it comes to brushes, so this review may come off as a bit harsh, but I can only review a brush/brush set with a hypercritical eye. Are these brushes horrible, No. Are they anything special, No. If you are on a budget and looking for a basic, mid-grade set that will get the job done, then this Sigma set would work for you.

Great buy!
Love my sigma set (wish I waited for the Mrs. Bunny set since it's cruelty free). Didn't wanna splurge on MAC brushes. Sigma is a great beginners brush set. I find myself using every single brush a lot. These brushes include a wide selection of brushes to use to create any makeup look. My favourites are the Angled blush brush, short shader brush, pencil brush and angled liner brush. The only problem I have with these brushes are that all the natural haired brushes smell like a petting zoo and I've had my set for more than a year and the smell is still there! If you're really sensitive to smell, go for the all synthetic line (Mrs. Bunny set). Maybe it won't smell as much.

The ish...
I can't even tell you how amazing the e.l.f. line is. I've always been brush snob but my friend recently turned me on to this line. For the price (usually $3 a brush),you cannot go wrong! I purchased an e.l.f. slanted eyeliner brush,along with their creme liner and omg,what a duo!!! It gives you the perfect cat eye without the headache. I'm like a total pro with the 60's eye make up,its amazing....

Great brush set for the money!
Why spend so much on MAC brushes when Sigma brushes are the same quality for less? This set is a great start for anyone who loves makeup. I feel like almost all of my makeup needs met by this kit, but I will say that I would have liked a smaller blush brush. The eye brushes are unbelievable, and will seriously improve your technique. I will say I've had some shedding on the stippling (duo fibre) brush. Otherwise I just plain love these! I'm hoping to get the precision eye kit soon!

This set of make-up brushes really improved my applicant of make-up, the foundation brush had very fine bristles making it less streaky. I really liked all of the brushes and they are great way to start off your make up brush collection. Each brush was very soft and delicate with made it nice when applying make-up. I would definitely recommend these brushes as they are a very nice quality and will be perfect for any makeup collection.

Great Starter Brush Set
This brush kit comes with all the basic brushes you need to begin your brush collection. The quality of each brush is exceptional, the only brush that sheds a bit is the Duo Fibre, and they're easily comparable to MAC brushes. I would highly recommend buying this set if you are just starting out your collection and are in need of face and eye brushes, but if you're willing to spend some more money I feel the Premium Professional Kit is more worth it because you also get a Lip, Flat Definer, Small Tapered Blending, Powder/Blush, Tapered Face, Tapered Highlighter, Large Concealer and Large Fluff for all for only $60 more (and these are pretty expensive brushes).

Great Starter Set
This set of brushes comes with everything you need to start your brush collection! It is perfect to add to your brush collection or to give to someone who is new to makeup that needs good, affordable brushes! I use these more than my MAC brushes, as they are more affordable and the same, if not better!
---