Complete Kit with Brush Roll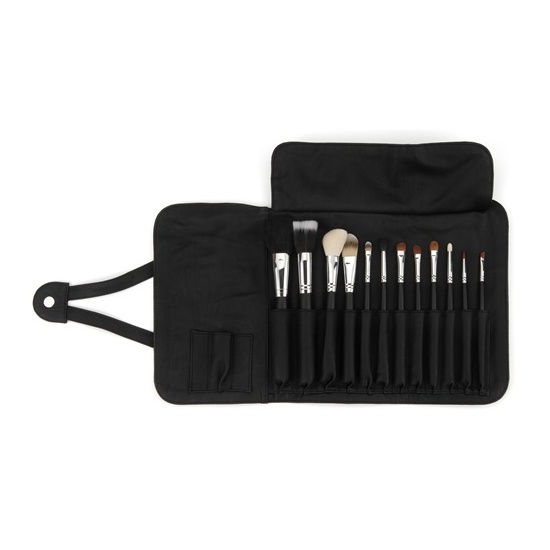 Rollover image to zoom
Reviews

Crisstyna D.
Mar 08, 2012
Excellent Brushes... Only One Complaint.
These are amazing brushes!! The price point is fair when you compare them to MAC brushes, which they seem to be dupes of. This kit is great for beginners, with a brush for every need. They are a lot better than most brushes I've tried, and like I said the price is fair. The ONLY complaint I have is that some of the brushes shed a lot... even after washing them multiple times. The ones I've had issues with are the F30 Large Powder Brush, the F50 Duo Fiber, and the E40 Tapered Blending Brush... also my E40's are kind of rough, I don't know if it's just mine, or if other people have this problem as well. ALL THAT ASIDE, they are definitely worth purchasing, and you will have endless fun with these brushes!!

Love them!!
After about a year of learning and hearing many great things about these brushes my husband surprised me with them. I wasn't disappointed. The brushes are so soft. It makes you feel like someone else is doing your makeup. I just love how it gives you such a flawless look. I can't wait to try they're other products!

THE BEST!
right now i have the complete kit and let me just say, i cant wait to purchase the professional kit and the complete kit in the "make me up" colored versions! the brushes are so well made and super soft. each brush does the job its supposed to do amazingly. this is great for beginers because it has any brush you will need but also great for professionals because of the quality of the brushes and how well they hold up and do the job right! i cant rave enough about the sigma brushes... LOVE LOVE LOVE THEM!

Great for beginners or professionals!
I adore this set! My dad got it for me for my birthday this year and I use these brushes all the time. I couldn't be happier with the quality of these brushes. They shed slightly but no worse then any other brushes. It has a great diversity of brushes. The only thing I think they could have done to improve this set is instead of giving a travel size E25 make it a full size :D. Just saying....haha! I use that brush almost more then all the brushes combined. If you are in the market for high quality brushes, I definitely recommend picking this up. Or even if you aren't sure what brushes you would need this would be an ideal set as well.

Sarah-Louise H.
Jun 25, 2011
High quality and great for beginners
I am totally in love with this kit. I have both the Pink and black set. The pink set come with a pink mirror and the black one was supposed to come with a black mirror but they ran out of the black so i choose the pink and black one =)
I really love that it has a brush for everything you need. Before i got this kit i didnt even know what the different brushes were for.
They are high quality and will last a life time if you take good care of them. Deffo worth the money you pay for them. great for beginners.

My morning wouldn't be right without these!!!
If I didn't have these brushes, I literally wouldn't be able to get ready in the morning. It's kind of ridiculous. They are soooo well made, the quality of the brushes rocks, they are so soft and don't shed at all when you wash them. I want more NO DOUBT and wouldn't even mind having a second one of these sets. It literally has every brush you need!!

The name describes itself!
They weren't lying when they called it the Complete Kit. This brush set has everything you need for a full face makeup application. The quality of the brushes are comparable to MAC brushes but for 1/4 the price! The brushes are super soft and well made. I haven't had any problems with shedding, the F50 shed only about 3 or 4 hairs the first time I washed it, but that's normal for this type of brush. I haven't had any brushes bleed dye when I washed them which is surprising. I love the brush roll it's really soft and yet durable, I travel with it all the time. I like that it has three extra slots to add more brushes (which I've already filled up). I would definitely purchase these brushes again and have since purchased more brushes from Sigma.

My Favorite
These are my favorite makeup brushes. At this price, you are getting SO much quality, you feel like it should be costing you a ton more. For just about $99 (which I paid), you are getting 12 brushes that will last you very long, considering you take care of them properly. I didn't see much shedding, maybe a FEW tiny hairs before my first thorough wash, but after that nothing. I am so pleased with this set, it is really all you need for your kit!

THE BEST!
These are my actual first professional makeup brushes. I hinted to my boyfriend to get me the set the past 2 Christmas' and he got them for me! I guess they got popular so much that my cousin even got me the pink set last Christmas! Yes, it was the perfect gift I say! I love these brushes and the fact that they're so versatile and affordable.

I get why people loves these, but...
These are pretty nice brushes, especially for the price. However, they are nowhere near flawless. One of mine broke completely, two of them constantly bleed dye when I was them, and a few of them are not very functional. One of the eye brushes is absolutely massive and isn't really practical for applying eyeshadow. The pencil brush is not really a pencil shape, and does a much better job as a small crease brush. The other brushes are ok, but they do shed a bit and some of the bristles don't hold their shape.
---