Raw Shea Restorative Trauma Masque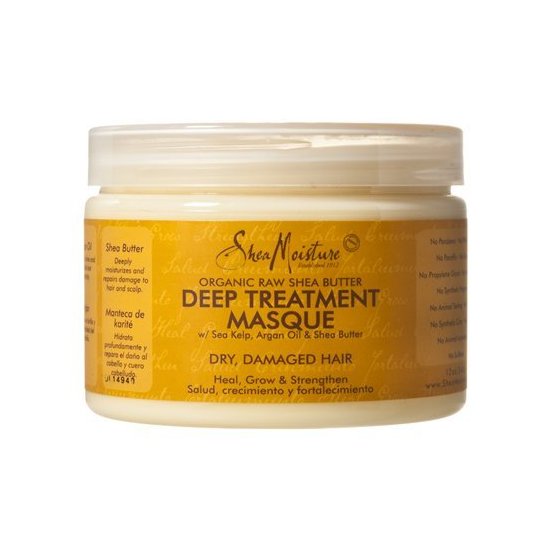 Rollover image to zoom
Reviews

Love the end result!
I decided to try this out and let me tell you-- I was skeptical because when I applied it to my hair, it felt to coarse and rough! Like it wouldn't soak into my tresses.
I left it on overnight and washed it out and washed in conjunction with the Co-wash conditioner.
HEAVEN. JUST HEAVEN! My hair was beautiful and bouncy and lasted all day! Minimal frizz.
I would love to try more products.

I've been suffering from heat damage and my hair would not curl for ANYTHING! Once I started using this product my hair became soo much better. My hair is FINALLY getting curly again. It's smells AMAZING! I use it every Saturday and leave in my hair for 30 minutes to an hour. Really helps your hair become healthy again!

Saved my Curls!
I absolutely love this product! I started with the masque and now I use the conditioner and soufflé too. My curls would always curl but they would fall straight at the ends. With a quick trim and using this product, my curls have become so much more bouncy, defined, and full of shine. I usually just put it in at night after I shower, comb it through my ends and sleep with it. The morning after I fluff my hair real quick with my hands and my hair is done for the day!

My Hair is 4a, 4b. I LAYER this product on after using the shampoo and conditioner in the same line. Sit under a hooded dryer for 10-30mins and wallah. I do add a bit of coconut oil to my hair after the treatment, for no particular reason. But yeah, I love it smells nice and I feel confident my hair is getting a good treatment. I use this product every.. single.. time I shampoo and condition my hair. I don't use it in any other way. I like to do what I'm told by the packaging. And my hair has gone from strength to strength and length to length probably with the help of this product and my other regimes.

Obsessed
This has honestly changed my hair. I started incorporating it into my hair care routine and my curls just look SO much better!!
Heres my routine: After I shampoo my hair I put a good amount of this product in so coat it all. I leave it up in a bun on my head for about 30 minutes then lightly rinse it out. I don't mind if it's not all the way out (just extra moisture for my dry curls). After the shower I pat the excess water out of my hair and add Biolage Leave-in Creme then just go to sleep. I wake up with beaufitully formed curls :)

So Much Moisture <3
I am wearing my hair natural for a little bit and it is leaving hair so moisturized! I love it! My ends are soft and my hair isn't breaking. I don't mind the smell, but if the smell annoys you, then you should just use a spray of some smell good leave in conditioner. Anywho, nothing has moisturized my natural hair as good as this product, and I will keep buying this product over and over, especially for when I wear my twist outs.

AMAZIIIING!!
I am currently using this product as I type :) I love that it uses natural ingredients. I use this product once a week as part of my hair care routine. You can feel this product working it's magic. It also keeps the texture of my blonde dyed hair feeling smooth instead of dry and brittle. It gives my naturally curly hair the much needed moisture it deserves.

Smellin it for dayssssss.
The product works great for my hair texture (which is mixed with black & white, but im Nigerian so the black dominates hehe..) The only thing im not in love with is the smell, and after wearing it to for an 8hr period, i can't get the smell to come out for atleast a week, so its a win lose. Overall its pretty bomb at moisturizing though!

Staple Product
Shea Moisture is my go to product!! My hair loves the deep treatment mask!! I am 1 year and 6 months natural so the longer my hair gets detangling can be a tad difficult. Well with this its a breeze. I detangle in four sections with this, twist and dc under dryer for 15-20 mins. Afterward my hair is so soft. When I rinse I rinse most of the product out but leave a small amount as this doubles as a leave in. I'm not really big on hair type but, I think I am a 4b.

Fantastic hair treatment
I always buy two of these treatments. one to use as a weekly hair masque, and another one to use as an everyday hair moisturizer. That is how much I love this product. This hair treatment keeps my hair soft and smooth, mends my split ends, and keeps my scalp healthy for a stronger hair growth. I love the shea butter scent, it is so sweet and addictive. An absolute must have.
---