Mineral Loose Powder Foundation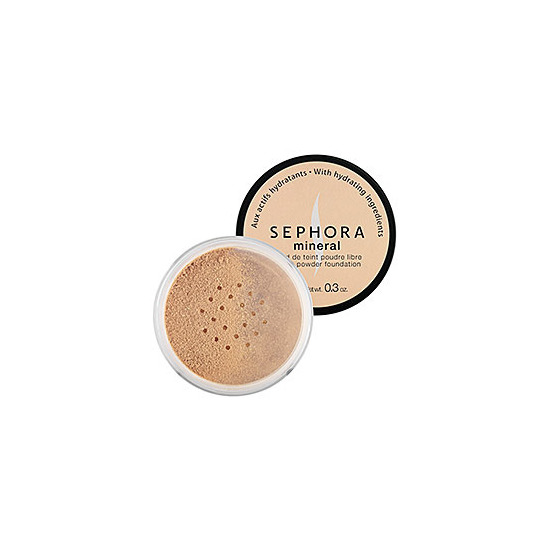 Rollover image to zoom
Reviews

PLEASE do not discontinue...
This permanently replaced my pricey Bare Minerals. I LOVE this product. Quality, size, and price = perfect. I buy the medium color and it lasts me year round. I keep seeing it on sale at sephora.com I really really hope they do not discontinue this great product!

Not bad at all!
I've used several mineral foundations; everything from Bare Minerals to el cheapo brands. This is by far my favorite (especially for the price). It's not too heavy or greasy at all. If I moisturize and prime first, it never fails to look great. It's not something I'd use in every occasion (especially not on super hot days), but if you're short on time (or just short on give a care), it's a great one to grab for. It evens the skin tone really well. It blends well onto my skin. Add a bit of concealer and you're good to go. Doesn't need to be set (unless you want it to last longer). Stays without transferring fairly well so long as you buff (or blend) into the skin really well.

Best for the price!
This is an amazing loose powder foundation! I must say I'm not the biggest fan of powder foundation, but this one is really,really great. It covers your skin perfectly, with just the amount you need, and it feels like your not wearing anything at all. I as truly amazed by this product BUT if only it matched my skin perfectly:( I got it for like the cheapest price ever in italy- 4 dollars! so they didn't have my exact colour. All though, an awesome product!

It is ok.
I got this product cause I heard good this about Mineral make-up & I love Sephora. It works but it isn't my cup of tea. It is too loose & doesn't stay on for a very long time on my face. I can only use a little on my T-zone if not it will just ugh ! But maybe it is just me, but it is a good product all in all, maybe not for me.
---