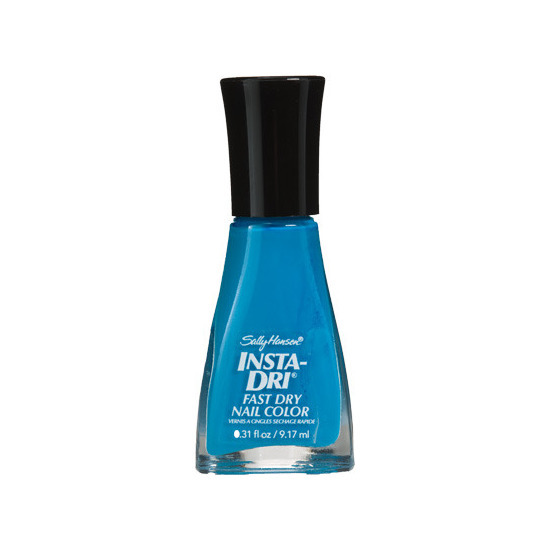 Rollover image to zoom
Reviews

Colours are so opaque!
I love a good nail polish that does NOT need three or four coats to look really opaque ( also because I am lazy when it comes to drying time)
These polishes are amazing in that they are really fast to try, and they go on super thick!!

Nothing to complain about...
I like this polish. But it needs a top coat. No doubt about it. I love fast dry nailpolish. As my skills have improved, so has my patience, so I can do without fast dry, but I secretly cry inside when I use a polish that isnt quick dry. So I love this polish for that. The brush is wide, which I love because you can do the whole nail in one swipe, almost... It does tend to have product drip down the brush because of its width, assuming it makes wiping excess polish off a little trickier. But you deal. Its a decent price, dries fast, comes in nice colors, so I like it. Just use a topcoat.

Sure did dry fast!!
I really like this nail polish. I usually hit or bump my nails before they dry and they get totally ruined. Well, I still bumped them, but they were completely dry by that time and didn't budge! I even bumped them DURING the application of my nail color, there was a little imperfection but I covered it up right away and it looked like I had done nothing to them (a lot of nail colors don't cover so well when that happens to me). The big brush is great for that and makes it supper easy to appy an even finish. I got the best color in 2 coats-which is normal I know. I also love the color, which was a very bright yellow with no glitter in it, just what I was looking for =)

Really love it
Best white nail polish in history. Nuff said.
I use "Whirlwind White" for my french manicures. Works amazing! Packaging is a little clumpy and awkward - the brush is huge so it makes application in one stroke possible. For details, I place the polish on an artist palette and use a painting brush. It also dries extremely fast which is good for your manicure but not good for storage so keeping a nail polish thinner at home is a must with this product.

KrizzTina M.
Dec 16, 2011
ITS GOOD
FOR THE MOST PART I LOVE SALLY HANSEN PRODUCTS. PARTICULARLY THIS COLLECTION BECAUSE, SO FAR, IT HAS ONLY COLLECTION THAT HASNT SO QUICKLY THICKENED UP ON ME AND THEY LAST A VERY LONG TIME. THE FORMULA IS GREAT AND THE CURVED BRUSHES ARE GREAT FOR GETTING CLOSE TO THE CUTICLE.

love the color and the brush!
the color i got was sleek slate, first off i LOVE that color! Its amazing! lol but most of all i love the brush!! I find that most quick drys get goopy fast, because its open when you are painting and dryes up so with the thick brush it allows you to get the paint on on there with an even and fast coat! The color also dryes very similar to the wet color!

Quick and easy
I loved this because I have a shakey hand and other polishes would just have so much product and the brush doesn't help my cause! This polish drys really quick the brush gives u a more precise application. It's shiny, it didn't chip for about a week I did use a top coat on it!
---