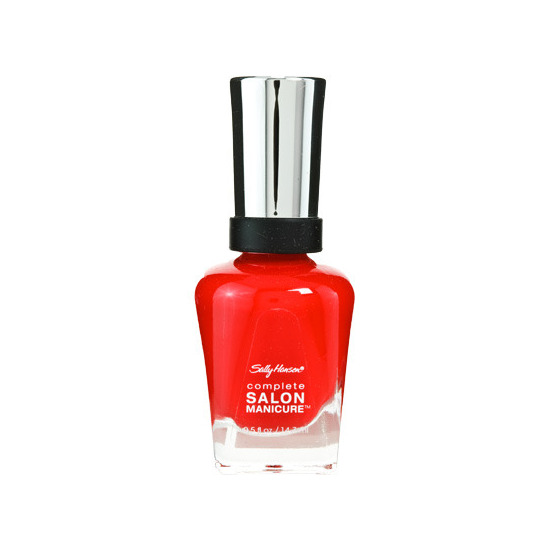 Rollover image to zoom
Reviews

Perfect
Love the nail polish and the color is so vibrant and pink! I really like the brush, you could do your nails really quick because it's larger than normal brushes. You have to be careful not applying to much, do more layers, for me I think two layers is enough. It also dries quick and stay on for a long while, and doesn't chip before some days of wearing, but that's normal. It's also a lot of nailpolish in the bottle!
This is really one of the best nail polishes I've tried, and I have like 50.. This is a good drugstore nailpolish!

FAVOURITE COLOUR EVER
This nail polish is pretty opaque and I usually apply two coats to make it perfect. I love the finish; it stays quite glossy for a long time. It might just be because I have had mine for a long time but it is quite thick so it takes a while to dry which doesn't bother me too much. The colour is the most amazing thing about this product by far. I have gotten so many compliments on it and it's definitely the best nail polish I own :)

Great quality and great color!
This is some of the nicest nail polish I've ever bought. The formula is fantastic - very opaque and smooth, and it doesn't take too long to dry either. I like the style of the bottle and the wide brush works really well, too. It lasted almost a week before any significant chipping happened.
I love Pat on the Black! It looks black on this site but in person it's a very dark almost-black reddish-purple. It's a very vampy color and looks super classy. It's totally opaque with two coats, but you can get away with one if you don't mind it looking more reddish-purple than black.
I don't like spending more than $5 on nailpolish, but $8 is very fair for the quality you get with this brand - and the price wouldn't stop me from buying more in the future. The other colors are lovely and actually make me want to buy some nude shades for once in my life!
BEST NAIL POLISH EVER!
This nail polish is the best. Not just this shade but all shades. It glides on so easily. You only need one coat. They have such pretty colors to choose from. When you take them off it's not that frustrated, it comes off less than a second once you place nail polish removal on it. Out of all of my nail polishes I own (I only own drugstore brands) this is the best. It doesn't ware out that quickly. It dries the fastest. And nothing goes wrong when you put this on. If you don't have this nail polish you're missing out.

Everything you want in a decent nail polish and more
This is definitely the best nail polish I've ever used. It takes weeks and weeks to chip off even the tiniest bit, it's smooth, with a perfect consistency and stays that way for YEARS without getting to thick, always stays perfectly shiny, easy to apply, doesn't spread too much, dries up quickly. What more could you want! I've had Raisin the Bar for about 2 years I think and it's as good as new.

I LOVE this nail polish. It goes on smooth and I love the style of the brush. What I love most is this color - absolutely beautiful! I don't think I'll wear it in the summer but the deep reddish/burgundy color is great for the winter and holiday season! definitely one of my favorites.

Love it!
I love this line of polish! The colors look great on and I never need more than two coats! It also have a great shine to it! I'm also a huge fan of the brush for this polish. It's a flat brush for better control, but it's not too wide for your thinner nails.

I really love the colors of this collection. My favorite is defenitly Plum Luck. They do dry fast (faster than the hars as nail xtream wear) and you only need 1 or 2 coats. Not a fan of the brush, it has the same as the insta-dri one and it can cause problem with short nails.
---