BX-SET6 Revolution Complexion 6 pc S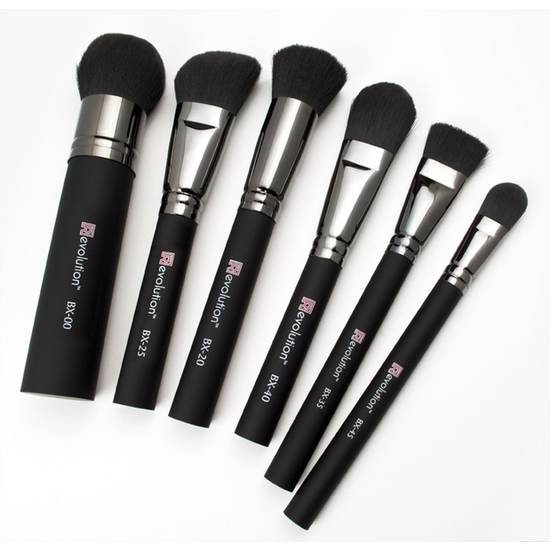 Rollover image to zoom
Reviews

Jacqueline H.
Feb 04, 2013
WOW!
When it comes to brushes, I admit, I am a bit, no... really finicky. As a general rule, I do not care for synthetic brushes, but these Revolution brushes have made me a believer. What makes these brushes so great? Keep reading....
1. Brush Construction: The first thing I look at when I am looking to purchase new brushes is construction: What is the ferrule made out of, what material is the shaft composed of and last, but certainly not least: The type and cut of the bristle. I am very hard on my brushes, so durability is a big thing to me. These Revolution brushes are made with titanium coated brass ferrules. Most low to mid-grade quality brushes have aluminum ferrules. Aluminum is extremely weak, and the minute a few drops of liquid get into that ferrule, the brush's days are numbered. The Revolution brush ferrules are designed to be outrageously resistant to damage. In other words, these brushes are like Timex watches: "They take a licking and keep on ticking."
The handles of the brushes are made of molded acrylic. Most mid to high grade brushes are made with heavier wood shafts that are coated with heavy layers of varnish. This protects the handle from water damage, and if you ever see a small fissure on the handle, that means that the brush's integrity has been compromised, and it's not too far off from being thrown in the trash can. You don't see too many brush shafts made from molded acrylic. The only other brushes that I have seen that are made from this very specific type of molded acrylic are Kevyn Aucoin's, and his brushes are EXPENSIVE. The Revolution brush handles are also coated with a rubber of sorts that makes them very easy and comfortable to work with. These handles are impervious to any type of water damage.
The Bristle: Revolution brushes are made with mono-filament fibers with 'micro-studded' surfaces that mimic the exterior cuticle of a natural hair. This provides for precise pick up, deposit and blending of even powder products. They are very very soft to the touch and the bristles will never be affected by age or wear. The fibers are 'inorganic,' meaning bacteria is less likely to fester. When you do cleanse your Revolution brushes, they dry faster and they don't loose their shape. You can use these brushes for both wet and dry applications as well.
All in all, I am seriously impressed with the quality and performance of these brushes. I think what I like most is the actual balance of the brush. When you pick one up, you'll know what I am talking about; There is some weight to them, and in order to apply makeup properly, there has to be balance and symmetry. All too often, when you pick up a brush, it is unbalanced. The head of the brush is not proportionate to the weight of its components. This leads to what I call a heavy handed application wherein you have to spend more time blending down the intensity. In my business, time is money, and these brushes do not waist my time. I have gotten a symmetrical balanced application each and every time.
Join the Revolution, and get these brushes. You will not regret it! Two thumbs way, way up.
---