Stay Glossy 6-Hour Lip Gloss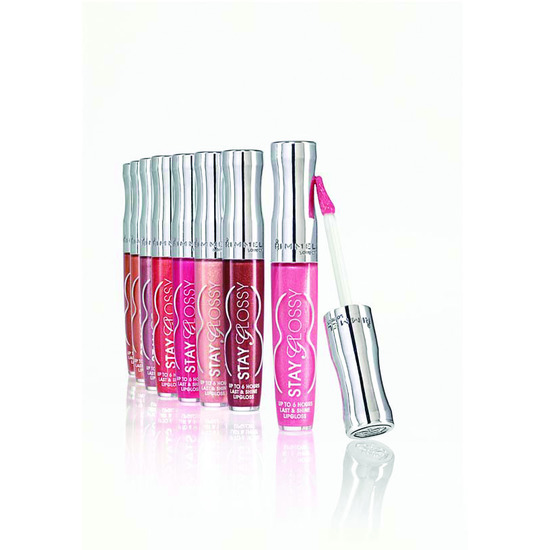 Rollover image to zoom
Reviews

Pros and cons abound, still a fave!
I'm glad I tried these suckers. They're just another product to add to the ever-growing list of Rimmel London products I like!
Pros: I love the shape of the glosses, especially the handle. The applicator is a doe-foot but has more of a flat, spatula-like surface, perfect for applying just the right amount of gloss on. The tip of the applicator comes to a point, so its perfect to get that precise application. I love the range of colors, especially the darker, mauve shades. Unlimited Gold 050 is a great golden pink beige shade that looks gorgeous over my fave nude lip products- the Revlon Lip Butter in Creme Brulee, and Revlon's Colorburst lipstick in Soft Nude. 050 Unlimited Gold, 260 My Eternity, and 720 Endless Night also look great over concealer to create a one-of a kind nude lip. I can't wait to layer them over my Rimmel London Exaggerate lip liners, as well as create a thousand other combos with them, they're that versatile. They have great shine, and are very smooth and look great on bare lips too.
Cons: The smell is a little weird. In theory, I want to love the fake rosey scent, its the epitome of cute and girly. But for a lip product, I'd rather go scentless, or maybe vanilla, fruity, candy, all-natural scented. I've noticed looking at other Rimmel lippies at the drugstore, that their other lipstick lines also have that cloying rose scent. It doesn't nauseate me or give me a head-ache, I just find it a little annoying to always smell it when you put the gloss on. Once you go to apply gloss you need to be careful not too apply too much, as the applicator really grabs a lot of product. Luckily, the mouth of the gloss catches a lot of product when you take the applicator out. And, putting on a ton of product is not a bad idea because, lastly, these are not super pigmented. I looked at the darker shades and thought they looked so mysterious and unique....in the tube! It shows how much of a lipgloss noob I am, that I immediately figured the color in the tube would be the color on your lips. You do get some color pay-off even on naked lips, but not much. I saw an ad for these recently, and they're obvi nothing like the super pigmented pink lips on the model. They are not liquid lipsticks, or lip creams- just glosses. They look great over other products, but they are not as pigmented as I had hoped.
All in all, I still am smitten, but am well aware of the cons, as well the the pros. And you should be too!

amazing!
I have "non-stop glamour 120" and "stay my rose 160" with 120 being my favourite, they stick on the lips well but don't feel sticky or irritate! they're not super pigmented, but they are shine glosses, being quite sheer and gives a lovely shine to the lips and can make you feel glamorous and complete a look! The only bad thing I would say is that they definitely do not last 6 hours, which I dont really expect a lipgloss to. But they claim it does?..

Chloe Monique D.
Jun 19, 2012
Shine And Suppleness
This Is A Wonderful Feeling Gloss With A High Shine, And A Pleasant Scent.. The Color I Hoped Would Be Brighter, However I Get A Ton Of Compliments Whenever i Use This Product.. Everyone Wants To Know What Gloss It is!! I Recommend For Your Lip Gloss Collection..

Cute and Feels Really Nice on the Lips
I haven't tried using this product over a lipstick yet, but I have worn it by itself and I looooove it! I can't really say that it lasts for SIX HOURS, but when do products ever last as long as the hour claim says they do? Except for maybe Revlon ColorStay foundation (24 hours), haha.
I have this in Eternal Flirt which is an adorable pink with a hint of berry color. I love it. The texture of this gloss is definitely my favorite because it's soooo smooth on the lips without being oily.
The color payoff isn't exactly what I was expecting, but I still really enjoy it and it does have a lot of pretty shine.

Emma Kirstine K.
Jan 02, 2012
Holy Grail Lipgloss
I have two of these, and i absolutely loooove these ! I have the Nonstop Glamour, wich fits the most makeuplooks i wear :) then i have another one, wich i dont know the name of, but its a coral/orangy/bronze color with a golden color, this is the one i wear with my cool-toned eyelooks. it's amazing... even as they wear of, they don't loose their shine.. they stay shiney for amazingly looong time. I was quite surprised:) i reach for these allmost every day, worth every penny :)

Pretty good lip glosses
I saw these at the store and the colors were so beautiful that I HAD to get some. It was one of those times where I literally couldn't stop myself, LOL. The colors are pretty basic but there is something about the shades and shimmer mix that makes them look pretty original.
I got the colors Always Lovely (pink, tiny silver shimmer), NonStop Glamour (pale golden pink, gold shimmer), and Unlimited Gold (gold/beige with silver shimmer). The colors are beautiful, not glittery, just very fine shimmer. When I swatch them on my hand they have a decent color payoff but on my lips, they all ended up looking pretty much exactly the same, being that they are so sheer. I did not get any dark colors - there were red and plum shades, so I am not sure of the color pay off or sheerness of those. I was rather disappointed by the pink shade, Always Lovely, because in the tube it is the most gorgeous bright candy pink with a great foily silver sheen but the color is nonexistent on my lips :(.
Overall, they are pretty and last decently well (I am not sure about 6 hours though...). They are just a tiny bit too slippery for my personal taste but definitely not a bad consistency by any means. They are extremely affordable at around 4-5 dollars each. They have all the basic colors anyone would need to add some oomph to your lipstick; there were I think 8-10 different ones that I saw. I also noticed the colors perfectly complement their lipstick selection, so you can get a lipstick AND a gloss that matches for under $10!! I say that's worth a try. Oh, and I of course have to add that they don't have an annoying smell...there is a slight "cheap perfume" smell to these but once it is on your lips you will never notice it!

LOVE IT!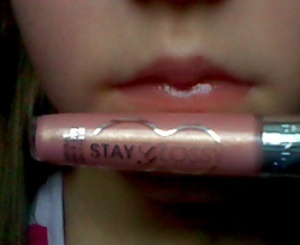 I have the colour: 120 Non-Stop Glamour and i LOVE IT! It is a very nice colour, they are very pigmented in my case; they also do have alot of shimmer! I really like the brush, it is quite big but not to big! They have a wounderfull range of colours aswell! The one thing i think this lip product doesnt live up to is that it doesnt last on as long as it says, i would say it will last for and hour 2 hours at the least that was in my case, in the six hours it quotes i would say you would just have the shimmer, no gloss etc. So thats the only disadvantage, apart from that I LOVE IT! :) x
---