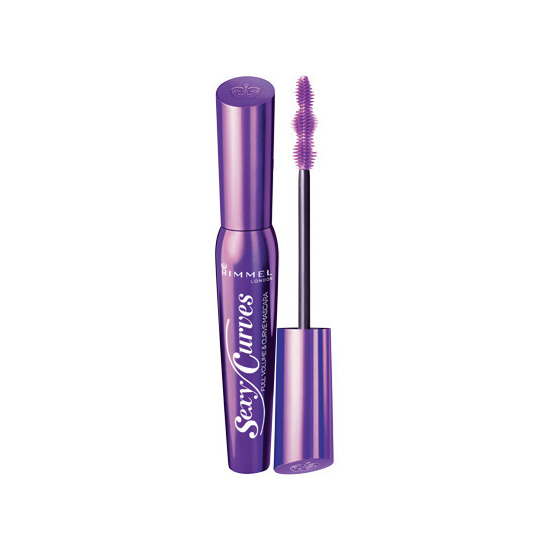 Rollover image to zoom
Reviews

LOVE LOVE LOVE
It gives amazing volume. It makes your lashes thick without the clump. It is my favorite mascara i`ve ever used. I like that it doesn't give like 5 feet long lashes, but still adds length to your lashes. The brush and formula are both amazing. I super suggest this.

Alli Rose G.
Dec 26, 2011
Who knew drug store mascara could be so good?
This is my favorite drugstore brand mascara. I've tried Covergirl Volumizing Mascara and their Lash Blast. I've used Bare Minerals Volumizing mascara as well. I find that this actually works the best for the price. The Bare Minerals is great, but it's about $20 and you're supposed to replace it every 3 months. I love the Rimmel London Sexy Curves. I naturally have long curled lashes, so it enhances them. The brush doesn't make my lashes clumpy. It gives my lashes the right amount of separation. I think it's a really great product, it being about $7 isn't bad either.

Exactly what I needed.
THIS is perfect, my lashes are already pretty long , but this mascara makes my eye POP! I didn't even go looking for this ,lol, it found me. It popped up in my cart, and at the register I noticed it, so I figured "ehh, I'll get it" best decision I made that day
Now... I love it ( but its only been like a few days) so until then this is my have... We'll see if it last. BY FAR IN MY TOP 5 BEAUTY ESSENTIALS.

Stunning Lashes!
I have this mascara and i absaloutly love it! It gives you lashes absaloute volume and seperates the perfefctly! Most of the time most mascaras i use volume but they dont seperate the lashes but this mascara does! You wont get no clumpiness, but what i did find out after about 2 months or something the mascara does start to get clumpy so i throw it out! But it is defiantly a product i am going to buy time and time again and the price isnt that bad either! Defiantly go out and try this mascara :) x

This is just my perfect mascara!!!!! I luv it, is amazing, it gives my lashes length and separats them (no clumpiness) those little 3 balls work wonders =) my lower lashes are big and they tend to look like spider's legs (is it legs or webs, whatever) and the wands gives enough product to give my lashes that perfectness... So nothing bad to say about this I just Luv it <3 this is perfect for medium to long lashes I think, i dunno about small lashes. the formula is strong enough to hold the curl, but not to hard is gonna make ur lashes all weird. I can't say enough good things about the product, the packaging is classy and cute, besides who doesn't luv purple right JK... but try it out if you have the opportunity thumbs up for this one.

Love It!
I stumbled on Sexy Curves in Walgreens, as I always do with products in a store lol! This is one of my favorite mascaras of all time! It really enlongates your lashes without that long lasting wet feel. I hate it when mascaras does that to me, but this one did not and I was surprised. I do two new favorites, but I still use this one from time to time.

Loveeeeeeeeeeeeeeeeeeeeeeeeeeeeeeee!
The brush is light and just nice. It applies really well and make's my lashes just subtle and refreshing in a way. It doesn't make them clumpy or anything, so great! Perfect lashes fo'sure! Do get this, it will not be a waste of your money. Honest.

This is my ultimate every day mascara! It's very lengthening, and seperates lashes wonderfully. It doesn't have much volume, but for every day, I feel that volume, length, and curl may be a little too much! Lovely formula, and for a reasonable price. The brush is pretty cool as well! One of my HG products, I just wish they had a brown!
---