Rimmel London Day2Night Mascara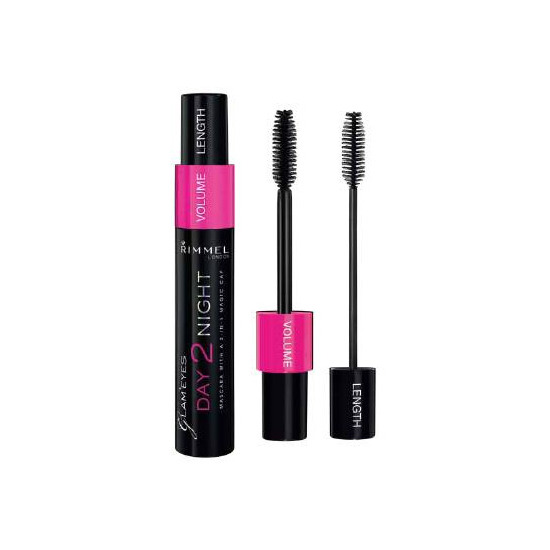 Rollover image to zoom
Reviews

Aw I'm the Debbie Downer of the reviews :(
I just really could not work with this mascara at all! I bought it because the sisters of Pixiwoo rave about a similar product from Bourjois, but it's not very easy to get your hands on in the US. I was in the market for a new mascara after I got over an eye infection, so I picked this up.
The first time I used it, I figured I would try the "length" cap to start in case the "volume" cap deposited too much product on the brush. (FYI, I'm sure most of you know this, but it's one brush with two different filters. The length one takes off more product than the volume one as you pull the wand out of the tube.) The brush came out with so little product on it that it was roughly raking through my lashes. It was like there was not enough mascara to lubricate the brush against my lashes. Then I went for another swipe and again, it was more dragging than swiping or stroking, but this time there were random, gigantic blobs on some of my lashes. I was able to use the brush, still without re-dipping it, to kind of distribute the globs and make my eyelashes look somewhat normal before I had to go out, but it took ages and actually made me late.
The problem is that the brush is pretty much perfectly spiral-shaped with huge gaps between each layer of the spiral. Also the brush is very stiff. When you use it, your much flimsier lashes just pick up the pools of mascara between the spirals rather than getting combed through by the actual bristles. This effect is worsened by using the "volume" cap, which leaves the brush drowning in product. I ended up looking like a crying heroine junkie after apply one coat. My lashes were just wet, weighed-down triangles of lash stuck together and leaving gobs everywhere whenever I blinked.
I did try to give this product a chance, because I hate wasting money on products I don't end up liking, but every time I try it, I end up with spider lashes and have to enlist the help of a spooley brush, a lash comb, and q-tips to get things looking presentable. Even after I'm done combing and separating, my lashes don't actually look good, they just look less disgusting.
I saw some of the other reviewers get good results from this product, so maybe they have more patience then me or something, but I was not willing to go through the effort. I did once get good results from it by playing with it a lot and employing a safety pin to really get in between every lash (see my photo of the green eyeshadow look), but I'm just not really willing to do that every morning, and a good mascara should not require that.
If anyone wants a multi-tasking mascara that goes really well from day to night I would suggest Maybelline One-by-One mascara. It's got kind of a thin texture and is very buildable for nighttime. I don't think you need two filters to suit your different mascara needs.

I bought this product about a week or so ago and totally fell in love! I was pretty skeptical at first because it seems like a really stupid idea. However, I love it! The formulation is great, I love the brush. The only complaint I really have with the product is the wand for the lengthening side is reallly flimsy and it kinda feels like it's going to break as your applying it. Also I know if your looking at this for the first time then your probably wondering about the brush and how one is lengthening and the other is volumizing. Basically its the same brush, same mascara the lengthening side just has a stopper to get a lot of extra product off. Overall, I think this is a really great affordable mascara and I will re-purchase it in the future.

Favourite mascara! :)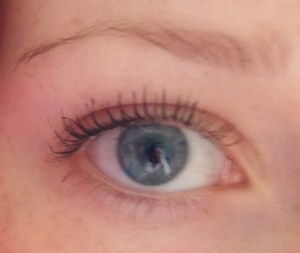 I've had this mascara for about a month now, and I love it! You get 2 wands: One for length, and one for volume. the idea is that you have 2 different types of mascara in one tube, the lengthening tube has a little stopper to get extra product off, which I thought was really clever. It also means I've got a choice of how I want my mascara to look. In the photo, my eyelashes are curled and both the length + volume wands were applied. I'd like to point out that my eyelashes are quite short, thin, and pretty much non-existent when I don't curl them and apply mascara! The volume wand doesn't really have a stopper, but surprisingly, neither of the wands are clumpy at all. My lashes look really long and defined, unlike most mascaras this cheap (£5.99), it looks like I have millions of thick, long, black eyelashes, instead of 4 fat clumps! My only complaint would be that the volume wand can sometimes be a little messy because of all the product on it, but you just have to be a little careful. I am really impressed with this mascara. especially for the price. This is definitely a favourite!

this product is amazing!
this is really a wonderful product and i have never had any problems with it. the only thing i can say, is that a beginner shouldn't start out with this one, it is a little harder to use if you don't know what you're doing, but if you do, than it's perfect, you can achieve thick feathery lashes with this product, i'm quite satisfied :)

MY FAV
This has got to be my absolute favorite mascara I have ever used. I use to use multiple mascaras on a daily basis and now I only use this one! The double cap is a great design it works great. I hope you buy and use this product! It works great for my lashes! Even a friend commented on how great my eyelashes looked when i started using it!

Sara Makeup Craves G.
Apr 22, 2012
Loving This Mascara!
I just Love this Mascara
Packging:
The mascara some in black and pink tube,i love the packaging its cute and gurly,it looks so glam in my makeup bag. The secret is the Double Day and Night cap system to create Length (Black Cap) & Volume (Pink cap)
Company's Description:
Buildable Formula allows you to create a look you want for day or night...Choose Pink cap for up to 75% more Length, Choose Black cap for up to 12x more volume!
Volume Brush:
i loved the volume brush result that makes your lashes thick and dark without smudging.It has denser bristles,it gives a lot of thick mascara,volumish lash look.using volume brush first then length brush to define and separate the lashes.it gives more thickness and darkness.
Length Brush:
the length brush comes with widely spread bristles.to create Day time look for larger lashes.
Now Have a look on Results!!
Bare LAshes
LAshes with 2 coats of Length
Lashes with 2 coats of using Voulume
Now moving Forward to Pros and Cons...
Pros: It comes off esily with makeup remover,cute packaging.
Cons: you have to put on several to get a Noticeable effect.

Christina T.
Dec 09, 2011
My current favorite!
I am loving this mascara right now!! It literally makes me love my natural lashes way more. Ever since I started using this mascara, I started to wear less of my false lashes. It really separates the lashes and gives length and volume! And it's cheap! I love it!

Perfect Lashes
I really love this product because it's two in one, also it's great quality for the money. I normally use the 'length' side to lengthen my eyelashes and it gives a great finishing look. I can't really say anything bad about it because it does exactly what it's meant to.
---