Match Perfection Concealer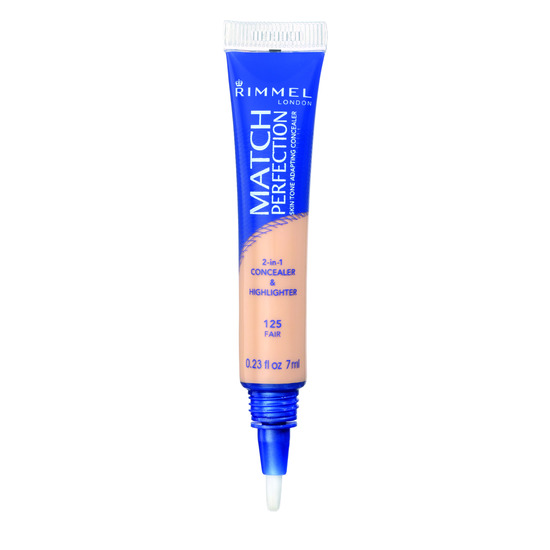 Rollover image to zoom
Reviews

Fair 125
Rimmel's Match Perfection Concealer is a liquid, brush on concealer, that supposedly adapts to your skin's color. I use the shade 125 Fair. Rimmel calls this concealer a "2-in-1 Concealer and Highlighter" that "conceals signs of fatigue" (under eye circles) and "highlights and illuminates the eye area". This concealer also has a "soft, precision brush for delicate under eye area". I got my .23 fl oz (7ml) tube at Walmart for $5.65. This product is made in England. I'm on the fence about this concealer's packaging. On one hand, it's travel and purse friendly, especially for those who like to apply their concealer with a brush, and reapply through out the day. But on the other hand, I feel like the packaging makes it easy to waste product. Some gets caked inside of the cap, and its easy to squeeze too much out. Maybe this would've been wiser to put in a dial-up packaging instead of a squeeze tube. I guess the pros and cons balance each other out. This concealer's formula has a nice consistency. It's moisturizing without being oily, and not too thick or thin. The great consistency makes it really easy to blend in, giving it a very natural finish. The color of 125 Fair is mostly neutral, I can see both yellow and pink aspects to the color. I think, being an under eye concealer, it leans a little bit more yellow than pink. Yellow tones are supposed to neutralize blue tones in under eye circles. I never really considered the "skin tone adapting" technology in this concealer until just now. In fact I forgot it did that til I was examining the packaging, trying to get all the facts off of it. Upon testing, I think it really does adapt to my skin. How does that work? Either way, its pretty epic, especially since I assumed it'd be a gimmick. However, I don't see any highlighting and illumination from this concealer, but that's not exactly what I'm looking for a concealer, so I don't mind. I get really good coverage from Match Perfection. It's not quite full coverage, but close, more of a medium, buildable coverage. It covers under eye circles like a boss. It also does a really good job covering up redness, which I sometimes need a lot of help with. Match Perfection covers pimples well, but not perfectly. I can definitely still see them, but they're somewhat obscured by this concealer, which is better than nothing. Combined with foundation I get a really nice, natural flawless look. I really want to try Rimmel's Match Perfection foundation now. I hope it's as good as it's corresponding concealer. Speaking of the foundation, the concealer has a little chart on the back, denoting what foundation shades it matches up with. Handy. I don't feel the need to reapply or touch up this concealer at all. I get all day wear with only a little bit of fading towards the end of the day. Overall, I love Rimmel's Match Perfection concealer. It's definitely the best concealer I've used. It covers very well, matches my skin tone perfectly, and has some cool, non-gimmick chemistry going on. It's packaging is a little weird, but I'll overlook it, as it's worth it for the great product it contains.I recommend this if you're looking to cover under eye circles, or want an all around good concealer for a reasonable price. There's no doubt I'll be repurchasing this concealer, and the foundation that goes with it.

Holy grail
Beyond obsessed. The best drugstore concealer I have tried by far. I have the DARKEST EYE CIRCLES, and this concealer covers them right up- no color corrector needed. I have it in the shade fair/light so it does work amazing as a highlighter, just as the product claims. Great formula, easy application. (However, the only downside is the applicator brush which I don't find very hygienic. Still love it, nonetheless.) And let me tell you ladies and gents, this concealer does NOT CREASE FOR NOTHING! I have issues with concealers that crease under my eyes, but this does not budge. Amazing product at an affordable price. Why not? I would repurchase over and over again. I'm COMPLETELY in love. <3

One of the best!
I have this product in 2 tones: 030 Classic Beige and 010 Ivory. I use the Classic Beige for under my eyes and in some cases as an eye primer! The tone is perfect for my skin and I notice that if I use it on my eyelid and then use eye shadows, this last one last all day without forming those ugly lines in the middle of the lid.
The Ivory tone I use it to highlight and define under my eyebrows.
The texture is so soft and it blends very well with a brush. It doesn't gets oily during the day. The build in brush is very very soft, so it treats your eyes skin gently when you use it. I love it.
I think it's a MUST HAVE.

having 4 yr old twins i still lack sleep so ive tried every brand of concealer for my undereye circles and out of all ive tried, expensive and cheap this is my absolute favorite. it conceals, brightens and isnt cakey at all.great for late nights and early mornings. im only sad it only comes in 3 shades (well atleast here) and the darkest is slightly too light during the summer!

Stephanie H.
Oct 16, 2011
Amazing under eye concealer!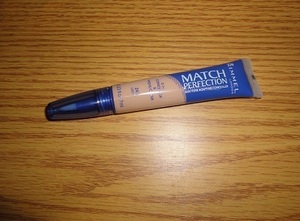 I was so happy when I found this. I have seen the YouTube U.K. Gurus using and raving about it for a while and they were not lying. This concealer is tone adjusting which I was skeptical at first. But it truly does match my skin perfectly. It is also highlights the area. It was an instant hit for me.

MacKenzie B.
Jan 24, 2015
Fair 125, LOVE
I just bought this product recently, within the last few days. I absolutely love it. Previously I was using the Maybelline Super Stay 24 Hour Concealer, and I needed a new one. I heard lots about this concealer in particular and decided to give it a go. I love it. Most of the concealers I have bought have had tip applicators but this one has a built in brush which isn't really a bid deal to me. I've just been brushing it around my under eyes and blending with my fingers or my separate every day concealer brush. The formula isn't too liquidy like I've previously experienced but also not too thick and doesn't get cakey. I would say it has a light to medium coverage, but closer to a medium. I use this mostly under my eyes and to highlight certain parts of my face but I wouldn't necessarily recommend for blemishes. All in all, probably the best under eye concealer I have purchased yet, definitely would recommend!

Best Concealer!
I've gone through 2 tubes so far! Love it! It does run out pretty fast, though, so that kinda sucks. Not cakey or oily! You do need to powder it, but I have a matte obsession lol.

Love it!
I discovered this concealer a couple of years ago and I love it. It works great whether used on eye circles, scars, blemishes, discoloration, and is lightweight and non-greasy. The best part is it the skin tone matching. No need for several different types of concealer.
---