Fix & Perfect Foundation Primer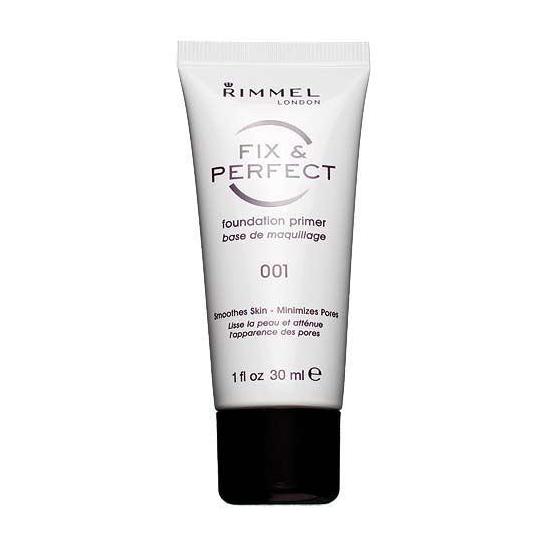 Rollover image to zoom
Reviews

Weird color but good primer
I tried this primer for the first time a few days ago. I like the feel of this product but the color is very peachy. Some say that the color disappears but I'm not sure that it really does. For those who don't like the greasy feel of some primers, this would be a good option.

Nice, inexpensive primer!
This is probably the cheapest primer on the market, and guess what? I love it! It does exactly what you'd want a primer to do.. It smooths your skin prior to any face products and helps fine lines and pores. It has an orangey tint that doesn't come out orange on the face but just adds a little color which isn't bad at all. I've tried high end primers and I would say this is a good value. It's too cheap not to have in your kit. It's just nice. It's not the most miraculous product on but it's good! and cheap! I love cheap. The only downer, I'd say is that it has a strong fragrance to it. It's not bad, it's pleasant but I'd rather it have little or no fragrance for skin can be sensitive to that. And yeah, thats all I have to say!

Sojourner W.
Apr 07, 2012
Nice feel to my skin!
I purchased this primer after my e.l.f one was an epic fail. I had heard about it before, but I just never picked it up. I was surprised when I bought it and opened it and the primer had a tint to it because I thought they were all the same (and to my knowledge they actually all are the same). But when I put it on my face the color blended right into my skin. I think the primer has a smooth consistency and is a little thicker than most. The packaging is really good for travel since it's a plastic tube and not a glass bottle. As far as helping my foundation last all day I think it does a pretty good job; some days are better than others. When it reallys lasts, it is able to withstand the softball practices I have afterschool too. (since I wear makeup to school, I end up wearing it to practice too). My choice area to really apply this are my t-zone since I have combination oily skin. Since this is a drugstore product it is of course affordable and luckily I caught it on sale for $2 (from Walgreens), but regularly it's about $4 to $6 depending upon the drugstore.
Pros: - Price - Availability - Longevity - Texture
Cons: - Sometimes it doesn't last all day

Yesss
The peachy tint seems to help even out my face tone while smoothing my skin and creating a fantastic barrier between my skin and my foundation. My oooooooonly little caveat is that I don't like that if I apply this, say to my neck to cover less than appealing marks someone decided to leave behind(ahem, thanks honey.), the peachy tint doesnt totally blend and it leaves the patch it was applied to just the slightest bit discolored. But I still love it.

Inexpensive primer
It's not a bad primer but as Kimberly O. mentioned it does have an orange ting to it. It's not the worst drugstore primer out there but it's most certainly not the best.
The primer doesn't make most drugstore foundations to cake up. I've used this primer with various Covergirl foundations and Revlon foundations with no problems. There are a couple of other drugstore primers that cause other foundations to cake up (such as Revlon's Professional Secrets Primer).
I gave this product 3½ out of 5 stars simply because the product is too orange for my liking. I hope Rimmel will come out with other primers with a green, purple and yellow base to it.

BRILLIANT, ESPECIALLY FOR THE PRICE
This primer is as good, if not better, than it's high-end counterparts. It smells nice, applies evenly and makes your skin smooth and I found it even brightens my complexion. A little also goes a long way - you don't need to use a ton to cover our whole face. It also makes my foundation more long-lasting in my opinion. It's also great in terms of price - since not a lot of drugstore brands offer alternatives. And the tube packaging is a plus as you can cut it open to scoop out the rest instead of just throwing it away.
---