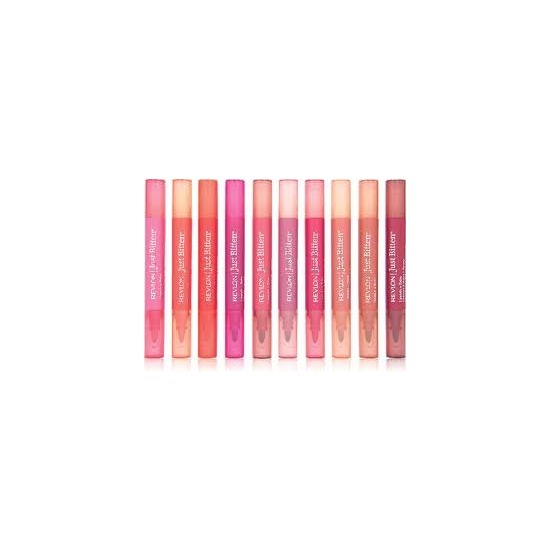 Rollover image to zoom
Reviews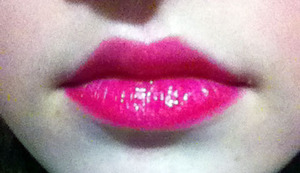 This is by far the best lip stain I have ever used. I have been through loads of lipstains, and this one is the best. I have it in Passion and it's a very vibrant color. The balm is also very moisturizing. I find it best used when you apply a bit of the balm first, let it dry, apply the stain, let it dry, and then top it off with balm. Another thing I love with this stain is that it really does stay on your lips and does not come off. I tried this out by rubbing my lips with my hand, I even went out to dinner with this on and by the end, my lips had looked the same. This is truly an amazing product, and I will definitely repurchase this.

I LOVE THIS!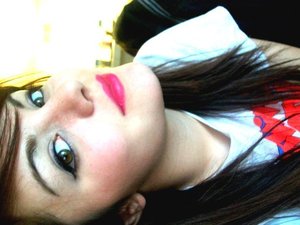 I fell in love with the Covergirl outlast lipstain a while back and never really tried any other drugstore lipstains since. But I picked up this one in Passionate which is a hot pink and this blew Covergirl out of the water. It is more pigmented, it stays put, and is just a great lip product.

Revlon Just Bitten Lip Stains are marker style lip stains with a clear lip balm attached to the end. Just Bitten is "kiss proof color with soft shine, meets a moisturizing balm for supreme comfort." These stains are available in 15 shades. I have the color Gothic, a bright red. Revlon products are not tested on animals. This stain was made in the USA, as are most Revlon products. I can't find the amount of product you get in each pen, actually Revlon barely offers any info on their product on their website. I purchased this stain on sale at Rite Aid for $4.99 on sale, but they usually retail between $8 and $12, depending on where you buy them. My local Rite Aid sells them for $10.99, so I scored quite a deal! Just Bitten Lip Stains come in color coordinated tubes with loosely attached caps, which isn't good considering marker style lip stains already dry out easily. The name of the product, and the name of the color are written on the tube in silver lettering. It looks pretty nice. Once again, Revlon comes out with attractive packaging, specifically by drugstore standard. I really wish the caps were sturdier and stayed on better. I wouldn't suggest throwing this product into your purse or makeup bag unsupervised. I also wish Revlon would offer more product information on the tube and on the website. The felt marker tip is well saturated with product and comes to a rounded tip. Not too conducive to drawing thin lines to line the lips, but because of the additional width you need fewer swipes to cover your lips. Application is easy, but Gothic can go on a bit uneven and needs two coats to be fully opaque, however it's no where near as sheer as most lip stains are. Some of the more active parts of your lips, such as the corner of your mouth may need extra coats to keep the color even. No matter how many coats you apply, the color will not show up even in close up flash photography. I learned that today while taking pictures for this post. It will appear even irl though, and that's what matters, at least on a daily basis. The color of Gothic is kinda great, but it definitely doesn't suit the name. Gothic sounds like it would be a deep, plummy color or a blackened purple, or at least a deeper, more burgundy red. Gothic is actually a bright, almost blood red when first applied, that dries down to a more classic, red lip color. It leans just a little bit cool, but could be considered neutral. Obviously, like with most lip stains, the resulting color varies on the natural color of your lip. The swatch on my arm looks like a different color than how it appears on my lips.Gothic suits me really well, which is great because I tend to have a harder time pulling off red lips, because of my pink cheeks and nose. I, personally think it looks quite good on me, though Roommate makes hooker jokes, and mum says it's almost overwhelming. What do they know though? The balm on the end is controversial. Not many people seem to like it. Lots of people say that their balm popped out or broke off the very first time they applied it. I have yet to have any issues with this balm, but it's also not anything to write home about. It's pretty much just regular chapstick stuck on to a lip stain. It's not really moisturizing, but it adds a nice shine to the matte stain. Of the four lip stains I've tried, Just Bitten is probably the most comfortable. It's a little, tiny bit drying, but nothing the balm can't handle. Just Bitten feels weightless on the lips, which is great. I actually tend to forget to touch up sometimes. Oops. On the subject of touching up, Revlon doesn't get very specific about how long their Just Bitten lip stains are supposed to wear. Good thing, because I don't get super wear from Gothic. Gothic fades in a patchy manner after 3 or so hours. The stain is still there, but it's no where near as bright red as when freshly applied. Reapplying in public may draw you a few strange looks. I guess people just aren't used to a girl coloring in her lips with what appears to be a marker with a chapstick stuck on the end. Revlon's Just Bitten stains are the first ones that I haven't noticed a slight artificial, fruity scent or taste, so if you have a scent sensitivity, consider choosing this stain. I like Revlon's Just Bitten lip stain in Gothic. I like it equally as much as NYC's Smooch Proof Lip Stain. You won't get hours and hours of wear, unless you layer a lipstick over it; I really like to layer NYX's Sunflower over Gothic. I think the color of Gothic is lovely and a true classic. Good job Revlon, this is the kind of color yinz are good at making. I do think Gothic was a weird name choice for the color. Just Bitten lip stains are pretty pricey for what they are, and I would never pay full price for it, but they're a solid buy if you get the on sale or with a coupon, or better yet, both. I would repurchase this stain if I could get a deal on it. Though Just Bitten isn't a perfect lip stain, they're pretty dang good. Pick one up if you like stains or if any of the colors catch your eye.

Amazing Summer Lips
This product was in my bag the WHOLE SUMMER! It was my best friend I absolutely LOVED IT! The colour I have is Flame which is a coral colour..it left an amazinnnng stain and the lip balm bit just sealed the colour in for the whole day. I would only need to touch up after eating...but it was only a touch up not a re application. It is very buildable and I could get quite an intense colour after 2 applications. I would definitely recommend it if you don't like that feel of lipstick or lipgloss. <3 it

Impressed
I bought the shade Frenzy today and it's beautiful. I was worried about the product bleeding on my thin lips, I was pleasantly surprised to find that it doesn't. I had to put two coats on to stop it from looking blotchy but that's not something that bothers me. The staying power is on the better side of average, it doesn't come off while kissing but making out on the other hand fades it. Eating isn't a problem and the balm on the end feels amazing and has been super moisturising so far. I'm impressed after having heard so many bad reviews.

Great Way To Get Into Lip Colours
Tried this out, firstly I really like that the lip balm doesn't actually have a scent and while it's the balm itself doesn't have the best staying power, I found that it's best thing to apply after using the actual stain part of this product, after the first application of the balm, it doesn't really matter what you use in my opinion but the balm just really seems to lock in the stain.
The stain application was really easy, with no issues with bleeding past the lip line which was a lovely and unexpected trait as I thought with a product such as this, bleeding would definitely occur. I also found that this product doesn't come out with too much of the stain at once, which makes application easier as it allows you to take your time and build the product up from being beautifully subtle to extremely bold depending on what you're after.
My only qualm about this product is that you can't put the lid on the product and I'm just one of those people who always seems to be losing lids.

For some reason, I've never been a fan of Revlon lip products. This is no exception. I bought 2 (Lust & Twilight), didn't like the way they looked on me. Dried out my lips really bad. It looked like I took a regular Crayola marker and filled in my lips. The only good thing was the actual balm on the other end. It feels really nice and moisturizes well. The balm is short lived though since it either gets smushed or breaks off from the cap. Revlon would benefit if they just sold the balm. It's better than most brands.

I love it!
I bought this lip stain and I tried it on and OMG. it looked amazing! I was taking all my makeup off and going to sleep and it literally wouldn't come off! I went to sleep with it on and it was still on in the morning! I thought it was crazy and it was great and unlike a lipstick or lipgloss it wouldn't come off in your pillow or something. now I tried the lip stain on maybe 3 hours before sleep so it wasn't on the whole day but the fact that it was still on the next morning shows it is great and will stay on. the only problem I had with it is the color was flame so i thought it would be coral or red but I put it on my arm and it was pink. the pink was nice anyway and I think putting the balm over it made it better or a lipgloss from ulta I put over it and I looked nice too. well this stuff is great and I recommend:)

I love all 3 shades I've bought.
I bought 3 of these when I was just starting to like red lips. I got Flame, Gothic & the purpleish berry shade. I don't remember what its called. Anyway, these can look a bit patchy. My solution? I get my ring finger a little bit wet, like 1 drop of water & use it to blend the shade & even it out. The result? Hours of fierce lip color. I'm not a big fan of the balm, but as something I keep in my purse, its very convenient. the only downside I can think of is that when i keep it in my purse as opposed to with the rest of my stash is that they tend to dry out quicker. Not a big deal as it is expected from any marker type product. I usually just take it out & store it upside down for a few days & its ready to go again. I'll be buying tons more soon.
---