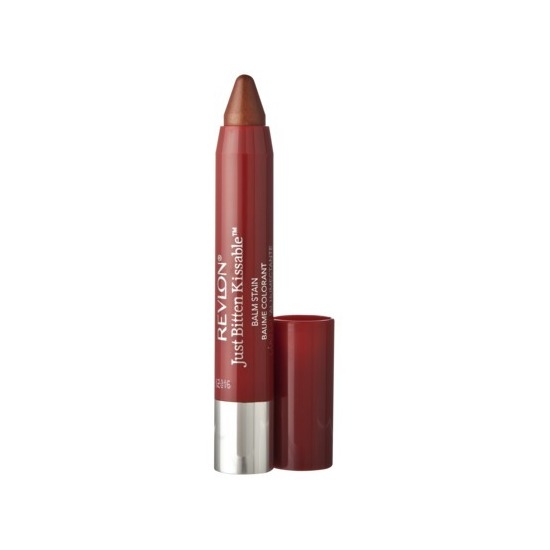 Rollover image to zoom
Reviews

Crush on Crush
I'm in love with the Just Bitten Kissable Balm Stains. They are absolutely amazing and I cannot get enough of them. I honestly want to purchase every shade. But out of all of the shades I do currently own (I believe I have 6) Crush is my ultimate favorite. I am a Mac NC30 and the shade of Crush really compliments my skin tone. I wear this shade in the summer and winter. I honestly cannot get enough of it, it is what introduced me to the beauty of darker shade lipstick, and it lasts forever without drying out my lips!!

Last summer, I was searching for a long time for a light but bright pink colour lipstick. When I saw this, I knew straight away I had to buy it after trying the colour - plus it was £2 off! The colour stays on for quite a while and is very prominent, which I am in love with. What makes it better is that it's a lip balm aswell as a lipstick. It stays on for quite a few hours which is really good. And when you reapply the colour, you don't get parts which are darker than the others. It's the same colour over all the lips. There's a beautiful peppermint smell to the balm which you would think was off putting, but actually seems lovely and it a great addition to this balm. I love Revlon products now as they've really stepped up to the mark of what a great beauty brand should be. I'd definitely recommend this product to anyone and everyone! Very impressed!

Love.
Another purchase solely on the the display in the store lol. It actually lived up to my expectations! A simple, fat crayon if you will, not gooey or waxy, really it`s a soft balm. It has a soft minty scent which I love, and the colour pops more and more with additional applications throughout the day. You simply turn the silver end and the crayon rolls out more, and can roll back down into the package. It keeps my lips looking lovely with no irritations (peeling) and it`s doesn`t take up too much space in my purse, makeup bag or even my pocket. You really can`t go wrong with this one! I have to try the other shades :)

My lips have not touched another product since I purchased my first revlon just bitten kissable balm stain
I started out with one which was love sick and I was immediately in love. This product last long it's moisturizing and after purchasing 6 more I have not found a bad color yet. I know I'm going to eventually have all 12 colors and I cannot wait

Sojourner W.
Jan 05, 2013
Beautiful Summer Color!
I have recently become obsessed with lip products and during the summer this orangey shade (Rendezvous) was my FAVORITE to wear. I got really bored with wearing lipstick and lip gloss in the summer so I wanted to try a stain. I went with this really pretty orange color which is really nice for WOC. It's not too pigmented that it's over-powering but not to sheer that it's barely noticeable; a nice wash of color. The tube is very accurate to the product color which is a plus when buying it at the store. These do have a minty scent to them, which I personally don't mind, but if you do then you might not like the smell. What I like most is that these twist up so I don't have to sharpen it. My only complaint is that the the glossy shine doesn't last for as long as I would like. Overall, I would definitely recommend this product.
Pros: - Price - Availability - Pigmentation - Shade Range - Moisturizing (But always apply a balm underneath) - Packaging
Cons: - Glossy finish can fade

This is my go-to lip product. It's a sweet fuchsia color that can be patted on for a summery flush or layered twice for all-day, full-on color that would look great on any skintone. I wore this to a summer wedding with a Southern menu and only had to reapply once through probably 5 hours of drinks, greasy food, kisses, and sweat. I don't find it to be drying at all, and it fades very naturally so that you don't have any weird spots or lines. The gloss does fade quickly, but that's fine by me.

Love!
Let me start off by saying, this product is completely amazing! It gives both smooth lips and color... I own two of this product, Precious & Honey. Both are amazing, Honey is more of a plumish maroon, while Precious is more of a sandy nude. They also have a mint taste and smell to them. Both are amazing and I recommend this product to everyone!

I Think I'm in Love...
I love love love these! Oh my gosh the color darling (its a lavender-y color) is gorgeous! It's pigmented perfectly and I love the packaging for it. But don't be surprised if you have to reapply it every few hours but besides that its a great product I love it and I'm probably gonna get more as well.
---