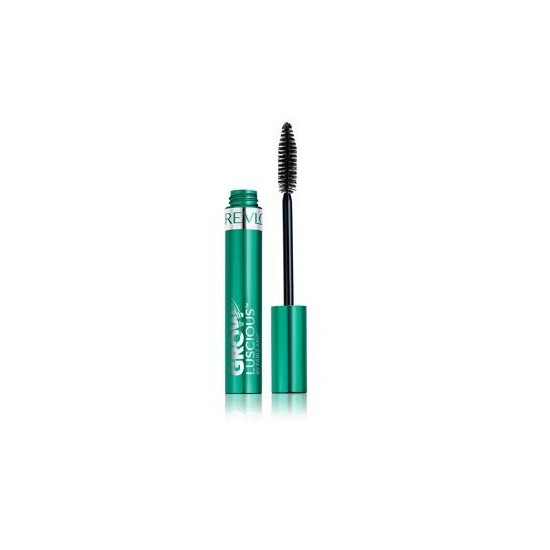 Rollover image to zoom
Reviews

Another Fantastic Drugstore Mascara
This mascara was my homegirl for a month before it dried out and started clumping up in the tube. Despite that it has served me well. It also gave me long luscious lashes with the use of a lash curler. It seperated my lashes and never made them look clumpy, and it was perfect for all day wear. I only had to use one coat to get perfect lashes. And I love the huge brush on this. Revlon mascaras always have the best mascara brushes! <3

Yay!
This stuff claims to make your lashes grow longer, but that never happened for me :( But the mascara itself it FANTASTIC! It looks like a high end mascara, it doesn't clump, and the mascara wand is awesome, makes it easy to get all of your lashes :) HOWEVER, this stuff smudges like crazy. by the end of the day I always have racoon eyes from this stuff if I'm not careful.But overall its an amazing mascara for what I paid, I will buy again for sure :)

A little let down, but not surprised
I initially got this because I needed a new mascara and all my faves were way or just about past their expiration date and I'm way more into mascara than I've ever been! My fave drugstore mascara is a Rimmel London one, and I can't wait to try more, but something about the gorgeous metallic sheen of this packaging made me want it SO BAD. The reviews were pretty positive so I thought it was time to change it up from my Rimmel London Volumeflash Scandaleyes, Estee Lauder Sumptuous Bold Volume and Benefit Badgal Lash mascaras. But I guess being spoilt rotten by the nice mascaras made me forget about the mediocre ones. The best part of this might actually be the packaging/color of the tube- but I can't say I'm surprised as I kinda figured this would be sub-par.
The brush is a nice size, but the mascara itself gets all gooped up on the brush and clogs the opening of the tube- it gets messy this way. So make sure you scrape as much as you can off the brush. The formula is a little sticky and it clumps easily- something my faves barely ever did. I almost would need a lash comb for this, but I'm too lazy to use one. Also, this gives me raccoon eye smudges on the lower lash line- whereas the Badgal and E.L. ones I used on the bottom lashes never left a streak or flake- just gorgeous definition. With lashes curled this does have some nice hold, but not a substantial amount of volume and length. Its also a little smelly. I wouldn't re-purchase- I guess curiosity did kill the cat! Maybe this will work better with a nicer mascara layered over it, and I'd certainly use it up more!
EDIT* The hold on this one is actually great, especially after a long day, and there is a good amount of volume. I just need another mascara for my bottom lashes!

Great mascara
As a mascara, it does it's job very well. It separates the lashes and adds volume and a bit of length and I love thickening it for smokey eyes or "sexy eyes". I've had this mascara since it came out, even tried the other version they make (which is crappy in my opinion), and it's still my go-to and I'll always have it in my makeup case. As for lengthening, I have noticed a pretty good amount of difference in the length of my lashes.

Only mascara I use.
I've been using this mascara since shortly after it came out and I love it. I really like the formula because it isn't hard and cakey. It's a nice light flexible formula and it separates my lashes and gives them tons of volume. As far as the growth enhancement, I did notice some difference. They're a little longer and there is definitely more lashes/volume. People can't really expect this stuff to make your lashes grow in like false lashes or something though. That's just ridiculous. The ads clam that it will help "enhance your lashes natural growth cycle" not give you lashes like Elizabeth Taylor.

It does the job.
I've had this mascara for a while now, and does give a bit of volume and lengthening. It's not the best, but it does make your eyelashes at least noticeably thicker. It doesn't make your lashes grow (Or so I think so) The brush does pull your lashes up and it holds a curl. But that's just my opinion and experience. I would rate it 6/10

My greatest complaint with this mascara is that the brush doesn't actually grab any product. You have to keep dipping back into the tube to actually get anything. The brush is good in that it does separate your lashes. It doesn't do as promised, which is make your lashes grow, but then again I didn't expect that to actually happen. Just mentioning that for those that want to know if it works.

beware of this
I bought this initially because of the ads and raves on youtube and I thought it'd help my lashes actually grow. NO IT DOES NOT. It's a big damn lie. and the formula is so wet that putting this on my eyelashes did NOTHING. No lifting, nothing. It was a waste of money. And the big bulky wand was weird too. I thought since the brush was big it'd provide volume. Nope that wasn't the case. This mascara is a no go and I'd advise everyone to save their money.
AMAZING!!!
i absolutely fell in love with this mascara when i saw it on my friend. it has amazing results and your eyelashes will look so amazing and long. the only downside is that i have a problem with it clumping. even when i try different techniques with the brush it still clumps
---