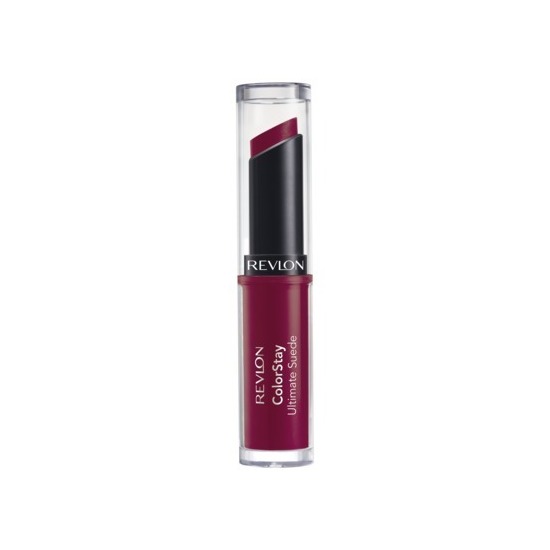 Rollover image to zoom
Reviews

Amazing color selection.
Revlon products never cease to exceed my expectations, but something needs to be done about their lip products. These lipsticks come in a variety of different colors. My main problem with Revlon lipsticks (especially the Colorstay line) is that it's really drying. Unfortunately, this product isn't exempt from that problem. It goes on smooth, but as the day goes on, the lipstick wears off. I feel like I have to put an extremely intensive balm on my lips before and afterwards just to provide some moisture. Another problem is the longevity of the product. It is marketed as a long lasting lip product, however, after a few hours, you have to reapply.

Amanda Nicole G.
Mar 18, 2013
really dissapointed with these lipsticks
there wasn't a lot of color pay off to these, and it really dissapointed me because I LOVEEE revlon! I wear lipstick pretty much everyday, and own so many revlon lipsticks, but to me these aren't lipsticks they are compareable to the lip butters/color whispers because the color is very sheer and it's supposed to stay on all day but I didn't think that was very true, the color was pretty dull and sheer and these were really drying. :( just overall didn't like these, but please don't let them scare you off from revlon products because the rest of revlon's line is ahhhmazing!

horrible!
i cant remember exactly which colour i bought..was a nude kind of one, but man was this a horrible lipstick! it was so drying and stuck to any dry areas and went on so weird and cakey. it was very short wearing too..worst lip product ive gotten in a long time

Favourite lipstick! Very good!
I LOVE this product! This color is really nice and goes with almost any skin tone. Very matte. This is the only lipstick in the Colorstay Ultimate Suede range, but I will definitely be purchasing more of these because they're so good! Don't dry out the lips, and the color stays SO WELL. Like, INCREDIBLY WELL. I went to a wedding wearing this lipstick, the wedding went for several hours. Throughout this time guests were served a lot of food and several drinks. The wedding started at 7:00am, and went until 11:00pm. At roughly 10:00pm the colour was beginning to fade. It was amazing!
Would definitely recommend this product!!

I actually really love these lipsticks!
I am not the one to use lipstick very often, but I really love these lipsticks by revlon. They come in many different colors and I have about five of them. I would recommend these for school or just something casual, like an every day look. I usually coat some lip gloss on top not to much and it makes it look all the better. One thing I dont like about it, its a little dry but putting the lip gloss on top really helps!

NicoleRose C.
Feb 13, 2013
I have always been a fan of Revlons Colorstay line. My biggest complaint about their long wear lip colors is how they dry out your lips, this new line they have does not do this. It goes on very creamy and feels great! it lasts pretty long as well. Not quite as long as the other colorstays they have, but good enough for me to keep repurchasing it!

As much as I love virtually all things Revlon, this one let me down a little. Yes, the colour stayed well, and was really smooth and easy to apply, but despite the shea butter and aloe my lips still felt quite dry when the lipstick starts to wear during the day. Admittedly, not as badly as the other Revlon lip lines but enough. Despite this, I'll still find myself repurchasing as the shades are lovely.

Pure craporama
I picked up a couple of these at Ulta for 2 reasons...1) buy one get one 1/2 and 2) Olivia Wilde was sporting the color Backstage in a picture and it was amazingly gorgeous and vampy and divine. So I got that one and Coutoure. Got home and swiped it on my lips and was shocked by the lack of color payoff. So I thought, maybe I need to wait a minute and apply another coat...boo! This is a glorified tinited lip balm and that's it. For 9.99, I was expecting waaaaaay more than that. Skip this. I'm returning mine. Boo, Revlon.
---